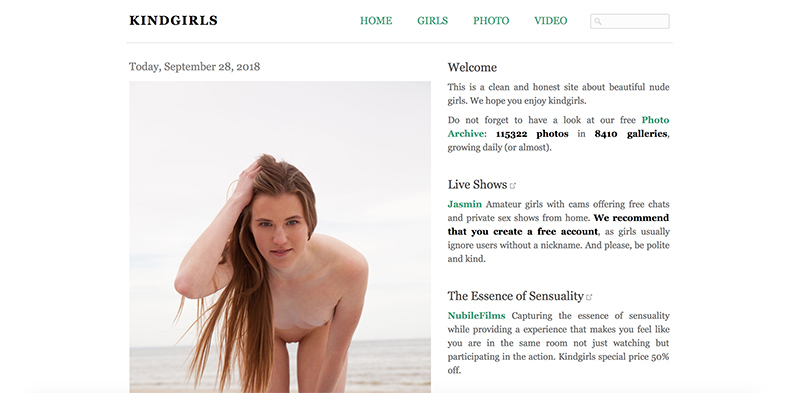 User Rating:
Kindgirls.com is an erotic image gallery site, with a small video collection. They've been posting glamorous, high-quality photo galleries since January, 2005. Some might call this site porn, others might call it art. We think it depends on whether or not your fly is open while you're browsing.
Kindgirls is owned by Seville, Spain-based Dirsim Networks, SL. As of January, 2019, Kindgirls is the 2,650th most-visited website in the world, the 231st most-visited adult site, and the 1,707th most-visited website in the US. Its Alexa ranking is 6,894th worldwide, and 5,031st in the US.
Kindgirls Content
Kindgirls.com is primarily an image gallery site, with a focus on classy, artistically shot nude photos. They currently host over 118,000 images in more than 8,500 galleries, and the site is updated daily with new photos. The main page displays the newest galleries at the top, and the entire archive is accessible from the Photo tab at the top of the page.
This site also has a small video section, with 336 videos at the time of this writing. All videos seem to be in HD, but are also under 3 minutes in length. Kindgirls does not stream any live videos, but they are a LiveJasmin affiliate and link to Jasmin from their homepage. They also link to several other affiliates for premium video, niche content, and more erotic galleries. Kindgirls.com has no games or VR content.
This site looks and feels more like a cooking blog than a porn site, with a relaxed, friendly look that makes the ads look like blog posts rather than obnoxious flashing banners. The layout is simple. Recently-posted image galleries appear on the main page, with all other content viewable from the Girls, Photo and Video tabs at the top of the page.
Kindgirls.com is, first and foremost, an image gallery site, so the best way to find what you're looking for is simply to browse the Photo category. Each gallery has a thumbnail, so you'll know what you're opening before you load the whole gallery. There's also a search field at the top of the page if you want to look for photos from a particular model.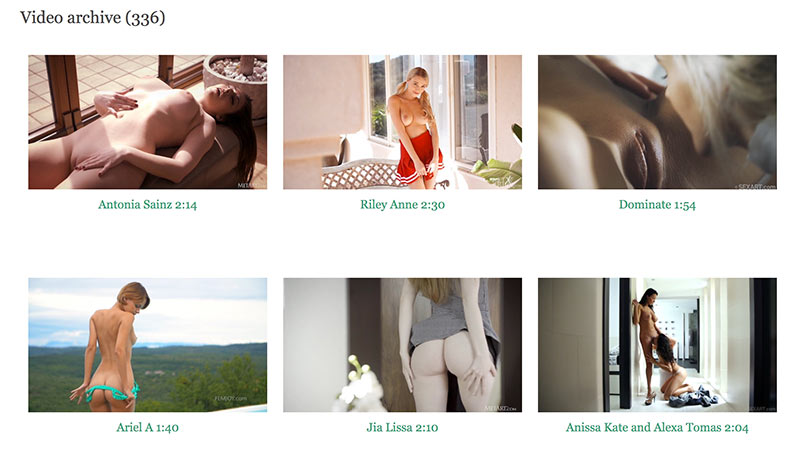 Kindgirls Categories
The idea of categories doesn't really apply to Kindgirls.com. They're a nude photo site, so they try to stay away from hardcore sex. Most galleries are lingerie shoots, beach shoots, stripteases or masturbation, with a few softcore lesbian galleries thrown in. Videos follow a similar pattern. You'll see lots of clips of girls in the shower, girls fingering themselves, and passionate lesbian sex.
For these reasons, Kindgirls.com doesn't have a category search feature. You can scroll through gallery thumbnails to look for something in particular, or run a text search through the search bar to find a particular model. These searches will return results for models only. For example, if you search for "anal", you'll get the model page for "Analese", but no anal photos.
There's a saying that erotic means using a feather, but kinky means using the whole chicken. Kindgirls is most definitely erotic. If you want to see classy nude shots, fingering, and lesbians, there's plenty to find here. If you're looking for fisting, dildos, strapons, transsexuals and anal, look elsewhere. The models are also strictly female, so this site will appeal mostly to straight men and lesbians. Straight women and gay men will prefer other sites.
Star Power
Kindgirls features hundreds of models from all over the world. Most of the models have either a glamorous look or a girl next door appeal, which is fitting for these kinds of artistic nude shots. This is a free site, so most of the girls are amateurs. That said, some of the biggest names in porn have classy nude galleries on Kindgirls.com. Big names include Shyla Jennings, Whitney Westgate, Dillion Harper, Mia Stone and other hot up and coming pornstars.
Network
Kindgirls.com is owned by Dirsim Networks, SL, a Spanish holding company. They do not appear to be part of any network of sites, although they do host affiliate links for LiveJasmin.com, nubilefilms.com, nubiles.net, and a handful of premium image gallery sites.
Subscription
Kindgirls is 100% free. There are no fees of any kind, and no membership option. This is only the case for the main Kindgirls.com site, though. Their live and premium video links will take you to third-party affiliate sites which charge for their content.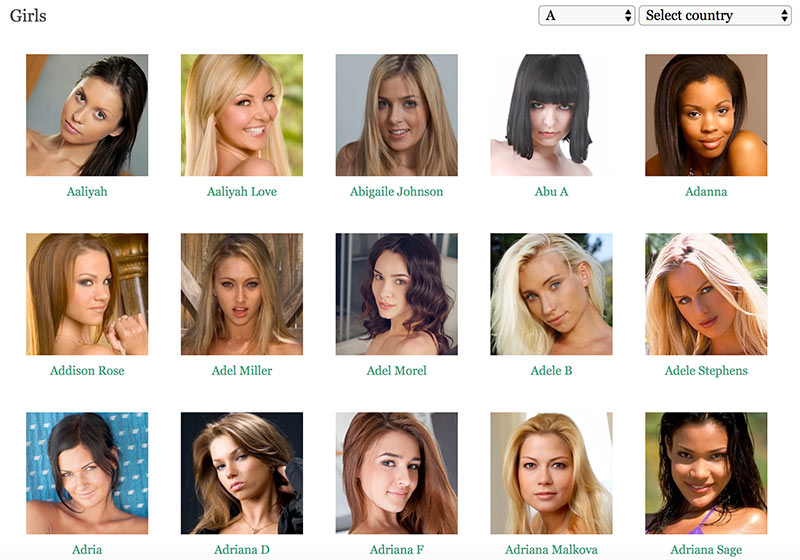 The Money Shot
Kindgirls.com is one of the best photo gallery sites on the net. It has a clean, blog-style layout that's easy to navigate, and a mountain of hot photos. You can find many free, nude photo shoots of current pornstars and thousands of amateurs. That said, this site isn't for everybody. It's an erotic photo site, not a porn site. If you want to see three men jerking off over a blindfolded woman on a Sybian, you won't find that here. What you will find is classy, nude photos that really bring home that naughty, girl next door vibe.