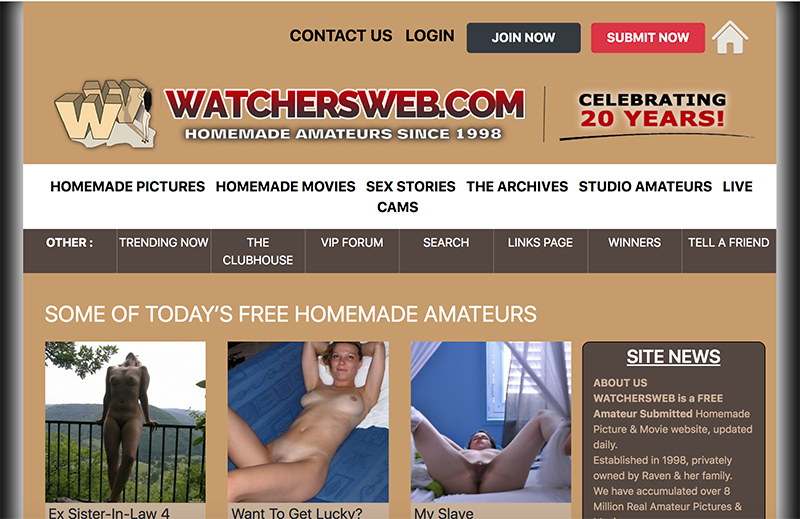 User Rating:
Watchersweb.com is a porn site that features user-uploaded amateur photos, videos and erotic stories. It was founded in 1999, and is the flagship site of the Watchersweb network, which includes WatcherswebLiveCams.com, WatcherswebClubhouse.com, and affiliated gay sites.
As of January, 2019, Watchersweb is the 15,797th most-visited website in the world, the 1,224th most-visited adult site, and the 3,910th most-visited website in the US. Its Alexa ranking is 30,617th worldwide, and 11,461st in the US.
Watchersweb Content
Watchersweb.com is a true amateur site, with an emphasis on community interaction and voyeurism. They have hundreds of thousands of videos and image galleries available. Anyone can view softcore content. Hardcore content is viewable by paid members only. Because this is an amateur site, image and video quality varies from cell phone cameras up to higher-end webcams.
They also have a large selection of erotic stories, which reads like an old issue of Penthouse Forum; the stories may or may not be true, but they're generally sexy and entertaining. This site has no games or VR porn. While they don't host any cam models themselves, do link to an affiliated voyeur cam site, WatcherswebLiveCams.com, which has a separate membership system.
The main page displays the most recently uploaded content at the top, with earlier days' content displayed below. Softcore galleries and videos will display a preview thumbnail, while thumbnails for hardcore content are covered by an image of a padlock unless you're a premium member. The search bar at the top of the page has links to show only images, only pictures, only stories, or to run a search.
Watchersweb's videos and galleries are often accompanied by a short description from the uploader, and usually a request for compliments. The people here are real amateurs, so there's definitely a lot of exhibitionism and voyeurism going on. The community is extremely active, and there are lots of comments. Since there are prizes for the highest-rated content in each age group, it's considered common courtesy to upvote anything you like on this site.
The advertising on Watchersweb is limited to a few banner ads in the right sidebar. All of the advertising is for paid features or affiliated sites, and there are no popups or other disruptive ads. The mobile version of the site loads cleanly, and is just a scaled-down version of the desktop site. It works well on both Android and iPhones.
Watchersweb Categories
Watchersweb.com doesn't have categories in the traditional sense. That said, uploaders typically provide their age and a few keywords for their content. Users can search by age or keyword, but not both. For example, you can search for all videos with the word "pussy", or for videos of women 18-21, but not videos of women 18-21 with pussy in the title.
This limited searchability can be annoying if you're looking for something in particular, but that's not really the point of going to Watchersweb. It's not about seeing anal or big tits or fisting. This site is one giant "voyeur" category.
There's one exception to this: the studio amateurs' page. Clicking the studio amateurs link at the top of the site will take you to a separate category with professional models. While there still aren't any advanced search features on this page, the video quality is much higher, and the content is more along the lines of traditional porn. You'll need a paid membership to watch anything on this page.
The site's users seem to be split about 50/50 between exhibitionist women and men who are sharing pictures of their girlfriends and wives. This is strictly a straight site, and almost all the content features women, so gay men and most women won't really find much here that turns them on.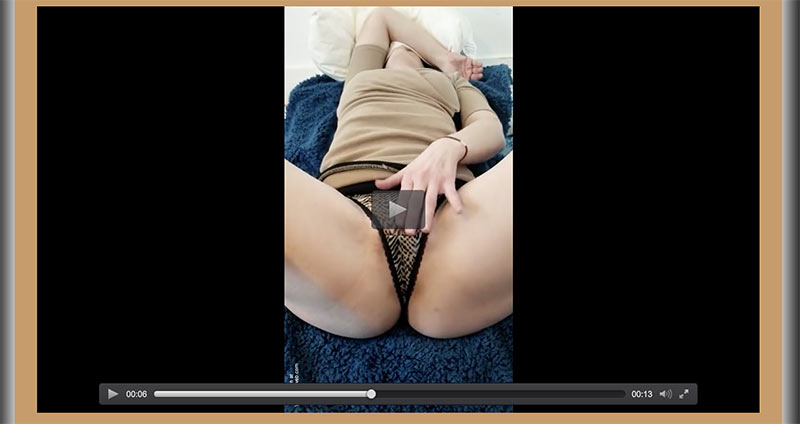 Star Power
If you're looking for the latest hot porn stars, there are plenty of other sites out there. Watchersweb is primarily a place for kinky amateurs to show off their assets. While there is a separate category for professional models, there aren't any big names there.
Network
Watchersweb.com is the flagship site of the Watchersweb network. They're affiliated with WatcherswebLiveCams.com, a live cam site, as well as adult dating site WatcherswebClubhouse.com. Both of these sites require their own separate memberships. Their affiliated gay site, WatcherswebGay.com, is no longer active.
Subscription
Most content on Watchersweb.com requires a subscription. They accept payment via credit card, or you can send them cash by mail. A year-long membership costs $39.95, and unlocks all content on the site, including the studio amateurs page. There's also a lifetime membership available for a one-time payment of $149.00. There is no auto-renewal for an annual membership, which is a plus.
The Money Shot
Watchersweb.com is a true, 100% amateur site. These are all-natural, real women who get off on you watching them. Of course, there are the usual amateur site issues with some of the videos being low quality, but that's par for the course and you're probably expecting it if you're checking out voyeur sites. What we really would have liked is more search features. There's just not enough meaningful ways to filter content if you're a casual site user.
What Watchersweb does well is engage with their users and get people commenting on videos. If you're into voyeurism or exhibitionism and get involved in the community, this is a one-of-a-kind site that's well worth the cost of a membership. For everyone else, it's probably not for you.