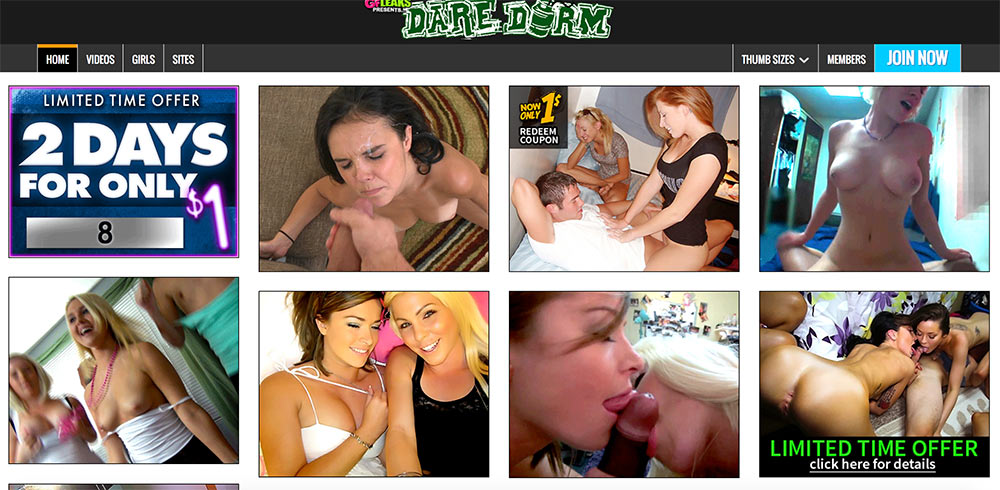 User Rating:
DareDorm.com was registered in May, 2009, and specializes in videos of college girls. They're part of the GFLeaks network, which is owned by MindGeek, owners of the PornHub network and their affiliated gay sites. In 2013, DareDorm won the AVN award for Best Amateur Release for Dare Dorm 9.
As of March, 2019, DareDorm.com is the 196,785th most-visited website in the world, the 9,767th most-visited adult site, and the 83,104th most-visited website in the US. Its Alexa ranking is 225,531st worldwide, and 181,037th in the US.
DareDorm Content
DareDorm is a premium porn site featuring mostly college students with a few professional porn actors thrown in. The site is about fun almost as much as it is about sex, with truth or dare games being a common theme.
At the time of this writing, there are over 182 videos on the site. They're well produced, with good video and sound quality, although they're generally filmed in dorm rooms, so the lighting sometimes leaves a lot to be desired.
The main page displays thumbnail previews of all videos, with the most recent ones displayed first. There used to be monthly updates, but the latest video was added on July 20th, 2019, which leads us to believe there's no new content coming to this site. The parent site, GFLeaks, hasn't had an update since September, 2019, so it may be that the entire GFLeaks network is now a zombie.
Every video on this site is paywalled, with no sample clips or previews other than the thumbnails. There's not even a site tour for prospective members, which is disappointing because that's an expected feature on any paid site. If you want to see samples, you'll have to go to PornHub, which has several long clips available for free.
There are no live cams, image galleries, erotic stories, games or VR porn on this site. There's no advertising of any kind for subscribers, while non-members will simply be asked to sign up whenever they hit a paywall. The mobile site is well-designed and loads quickly.
DareDorm Categories
DareDorm doesn't have categories in the traditional sense, because it's already a niche site. The most common format is truth or dare; some girls sign a waiver — off camera — then start playing a game of truth or dare that quickly escalates to fucking guys on camera. Other videos include naked dancing, orgies, threesomes and foursomes, usually with professional male actors and amateur girls.
DareDorm's primary audience is straight men. While straight women may also enjoy some of the videos, and there's a smattering of lesbian content, the focus is on young girls getting fucked. There's no gay content at all.
Star Power
You won't find any established stars on DareDorms, because these girls are all real college students. The whole kink is finding out how far regular girls will go when there's peer pressure involved.
Network
DareDorm.com is part of the GFLeaks network, which in turn is part of the Reality Kings network. Since MindGeek bought Reality Kings in 2012, all of their properties have been part of the MindGeek network, a truly dizzying array of porn sites that includes PornHub and their affiliated cam, gay and fetish sites.
Subscription
DareDorm requires a subscription to view any of their videos. Like many premium sites, they offer a variety of packages. The most affordable is the 12-month package, which costs $119.99, or $9.99 per month. Three month packages are available for $59.99, or $19.99 per month. A month-to-month membership costs $29.99, and a 2-day trial membership costs only $2.00.
Here's where things get weird, and where this site falls short. Since it's part of the GFLeaks network, you can also get access by buying a GFLeaks membership. Not only does it cost exactly the same as a DareDorm membership, but you'll get access to five other sites as well.
Autobill warning: Your subscription will automatically renew if you don't cancel it. It will do this at whatever your current rate is, so a monthly membership will rebill at $29.99 every 30 days, while a 12-month membership will renew at the 12-month price.
The 2-day membership is a trap. This one will rebill at $39.99 monthly. If you buy a trial membership, make sure to cancel before it expires and buy a regular membership if you want one. There's absolutely no reason to pay $39.99 a month for this site.
The Money Shot
DareDorm is a neat site with a fun concept, but it just doesn't have much content. It's a terrible value, too. Why sign up for 182 videos when you can join GFLeaks and get hundreds more for the same price? If that's not enough, it also appears to be dead, with no new content added in almost a year. Steer clear of this site, or go through GFLeaks if you really want a membership. It's a better value.