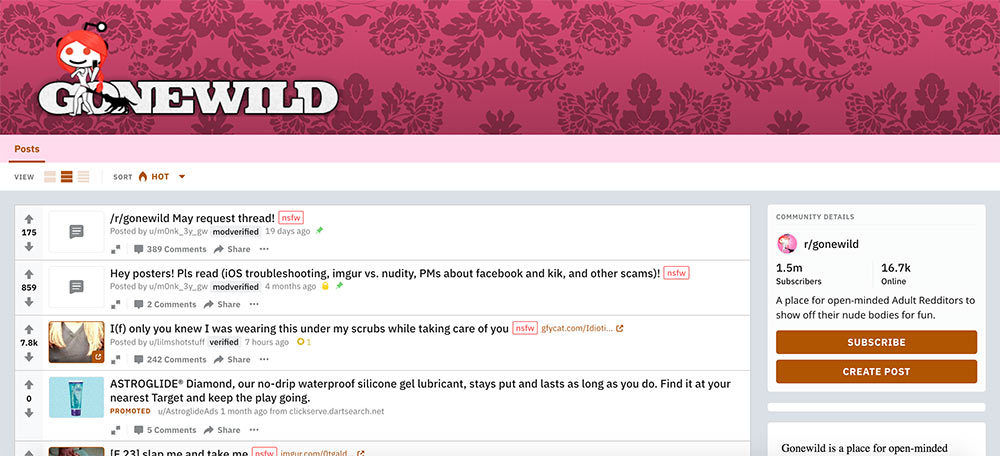 User Rating:
/r/gonewild is reddit's premier subreddit for the hottest amateur babes on the net. With literally hundreds of submissions a day and a subscriber base of 1.7 million, /r/gonewild is the place to be for free videos and images of real girls. Gonewild feels like one of the last few places to find authentic amateur content. After a short verification process , anyone can post almost whatever they want, and the best submissions get upvoted to the top. One thing we always do when we find a subreddit we like is filter by the top posts of the year - That way you can find the best these subreddits have to offer.
Gonewild is all about that sex-positive vibe. It doesn't matter who you are, or where you're from, /r/gonewild welcomes you with open arms. The gonewild community is generally supportive, but you will find your fair amount of creepers, like with anywhere else on the web. You do have to create an account to interact and post with any of the submissions you see, but we think it's worth it. Don't forget to take a look through the comments - some of the girls can be quite entertaining. A lot of these girls are incredibly sexy and if you are so inclined, click their profile and snoop around a bit. You're usually able to find these girls selling their premium snapchats, or panties. You may even find a link to their private cam shows! /r/gonewild does not allow the girls to spam the sub with these offers, so you'll have to do some searching if you want to find more of your favorite poster. Some of our favorite posters include, /u/light_of_aya, /u/natural_red, /u/fuckella and /u/RubyKodama.
Overall /r/gonewild might not be the best place to get off, but it's always a fun place to explore. Who knows, maybe you'll find someone you know!