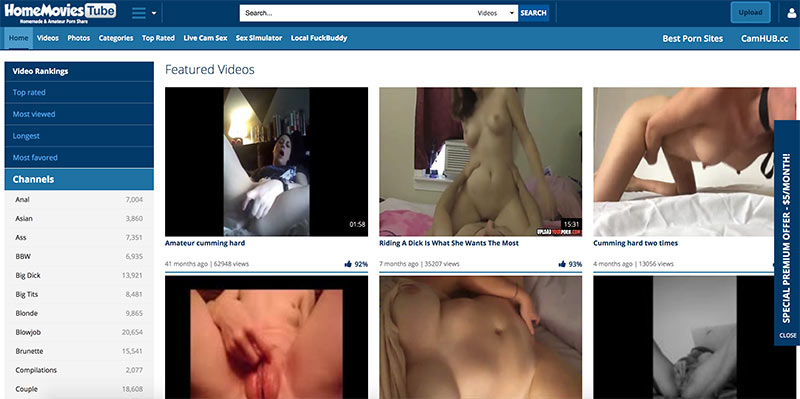 User Rating:
HomeMoviesTube.com is an amateur porn site that was registered in April of 2009. They appear to be independently owned and operated.
As of March, 2019, HomeMoviesTube.com is the 3,259th most-visited website in the world, the 288th most-visited adult site, and the 1,181st most-visited website in the US. Its Alexa ranking is 5,901st worldwide, and 3,780th in the US.
HomeMoviesTube Content
At the time of this writing, HomeMoviesTube hosts over 25,000 amateur porn videos. These range in quality from well-shot, HD videos to grainy, old-school cell phone footage. The site's only requirements are that the videos must be uploaded by the participants, and cannot be watermarked or otherwise obviously pirated.
How well they enforce these rules is another matter. Some of the videos are compilations of multiple clips, and others are clearly ripped from popular cam sites. We're not complaining, though. This only adds to the variety of their collection.
The main page displays large thumbnail previews of the six most popular clips, followed by the most recent videos. Mousing over a thumbnail will display a series of preview images, and clicking on it will take you to the video player page.
HomeMoviesTube is 100 percent free if you're willing to deal with some advertising. The ads play at the beginning of each video, and can be skipped after seven seconds. There are also ads in the sidebar, some of which are the kind of obnoxious fetish ads that try to catch your eye with extreme images. We're talking 400-lb women doing bukkake levels of ouch. Most of them really aren't bad, though, and you can always refresh the page if you've been served something disgusting.
The site also has an image section, with about 2,500 galleries. Each gallery contains anywhere from one to hundreds of images, although most of them are in the neighborhood of 20 to 50 pictures. Quality here is as variable as the rest of the site; some of these look professionally shot, while others have all the polish of Paris Hilton's sex tape.
There are no live cams, erotic stories, games or VR porn on HomeMoviesTube, although they do link to some third-party sites. These include local hookup site SwiftFling.com, game site bdsmsimulator.com, and cam sites CamsFreeFuns.com and CamHUB.cc. We can't vouch for any of these sites, and visiting them from HomeMoviesTube doesn't seem to have any kind of advantage.
The mobile site has a clean design, with thumbnails stacked in a single column. The search bar is collapsed into a menu, with only the third-party links visible by default. This isn't really a problem, but the pop-under ads — with sound! — are pretty annoying.
HomeMoviesTube Categories
HomeMoviesTube's videos are sorted into 39 different categories. These include standards like Anal, Lesbian, Blowjob, MILF and Teen, as well as a few niche options like Cuckold and Voyeur porn.
There's no way to combine categories, but there is a simple text search box at the top of the page. If your search turns up a lot of results — a search for "wife blowjob", for example, returned 71 pages of videos — you can sort them by relevance, date, user rating, length or total views.
This site is marketed primarily to straight men. Lesbians and straight women will also find some good content here, thanks to the large Lesbian and Couple categories. There's no gay category, however, nor is there one for transsexuals.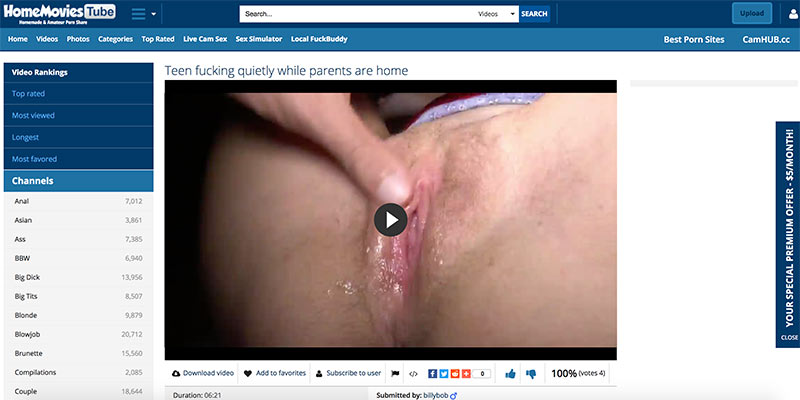 Star Power
HomeMoviesTube does not feature any well-known porn stars. That said, you can subscribe to your favorite uploaders if you have a free membership. You can also be one of the stars if that's your thing. All the site's videos are uploaded by members; why not be one of them?
Network
HomeMoviesTube.com does not appear to be part of an established network. While they do link to several other sites that we've already mentioned, these appear to be affiliate links. Basically, it's an independent site that makes money from ads, premium memberships, and linking to other paid sites.
Subscription
While HomeMoviesTube is free to use, there's a monthly viewing limit for users who aren't logged in. They don't mention how high the limit is, but it must be fairly reasonable, since we were able to watch over a dozen full videos without being asked to sign up.
A free membership lets you follow your favorite uploaders, rate videos and add videos to your favorites list. It also gets rid of the monthly viewing limit.
For an ad-free experience, you'll need to sign up for a premium membership. Not only does this eliminate all ads, but it also gives you access to special private videos that are only available to premium users.
HomeMoviesTube.com offers four subscription packages. While all of them have the same features, the prices are better for longer subscriptions.
The most basic option is a 1-day trial subscription that costs $1.00. A monthly membership will run you $29.95, while a 3-month membership will only cost $16.95 per month, or $49.95 total. The best value is a 12-month membership, which costs $60, or only $5.00 per month. This is less expensive than most premium sites, but keep in mind that you're paying for amateur content.
Autobill warning: Your subscription will already renew when it expires. If you signed up for the 1-day trial, it will renew at $29.95 per month every 30 days. Make sure to cancel your trial before the 24-hour mark if you want to avoid this.
The Money Shot
HomeMoviesTube is exactly what it claims to be: a well-designed amateur site that's chock full of free porn. You'll have to watch some ads, but that's to be expected on a free site, although the pop-unders on the mobile site rubbed us the wrong way. Still, the quality and selection are pretty good, and you can always get rid of the ads by buying a premium membership. All in all, this is a solid porn site for anyone who likes amateurs.