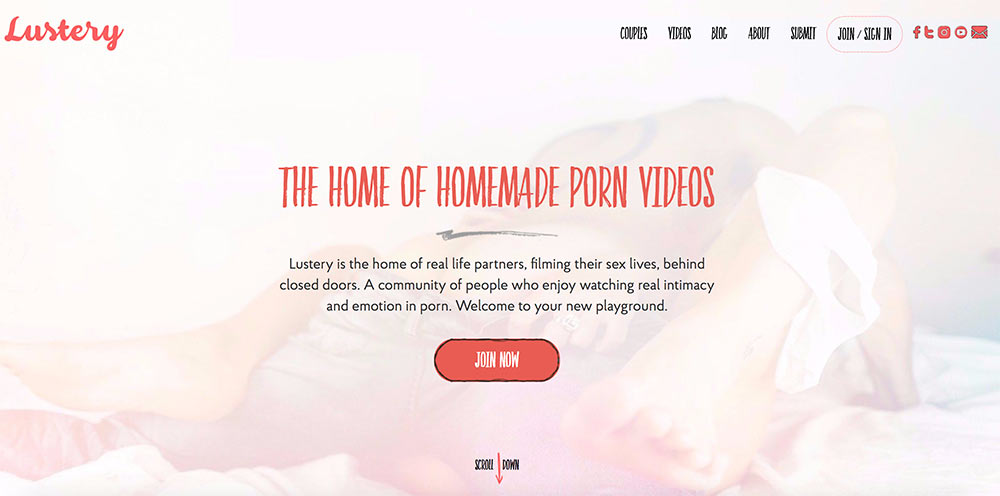 User Rating:
Lustery.com is a premium couples' porn site that was registered in 2014 in Scottsdale, Arizona. The site is independently owned and operated, and is not part of any porn network
As of February, 2019, Lustery.com is the 62,756th most-visited website in the world, the 3,957th most-visited adult site, and the 27,957th most-visited website in the US. Its Alexa ranking is 65,694th worldwide, and 16,016th in the US.
Lustery Content
Lustery is made by and for couples. As such, it's one of the few amateur sites that also charges for subscription. Their sales pitch is pretty straightforward: real couples having real sex just as they would if there were no camera in the room. This site is all about passion and connection, the feeling of lust, instead of watching actors fuck each-other. Every video starts with the couple introducing themselves, and ends with some kind of sexual activity.
The site loads quickly, and the main page gives you a good overview of what they're all about. There's a featured video at the top of the page, followed by some short profiles of the site's newest couples. Beneath that, you'll see thumbnail previews for the latest videos. The easiest way to find more content is to go to the Videos or Couples page, since the main page only shows the most recent clips.
Clicking a video link, either on the main page or on the Videos page, will bring the video up in an overlay. Free users will see a short, 40-60 second preview, and will be prompted to create an account. Paid members will have full access to all content. While there's no official count, Lustery appears to host at least 300 videos, with more being added regularly.
The quality of Lustery videos varies — these are amateurs, after all — but there does seem to be a minimum level of quality control. While there's no official minimum resolution, they all seem to be shot on modern cameras, and the sound generally seems to be decent. We didn't see any grainy cell phone videos here.
There are no live cams, image galleries, games, VR porn, or erotic stories on Lustery. You also won't find any ads, so you don't risk having an illustrated limp-dick GIF right next to your video. The mobile site is clean and well designed. Everything is collapsed into a single column for easy one-handed browsing, and the videos load quickly.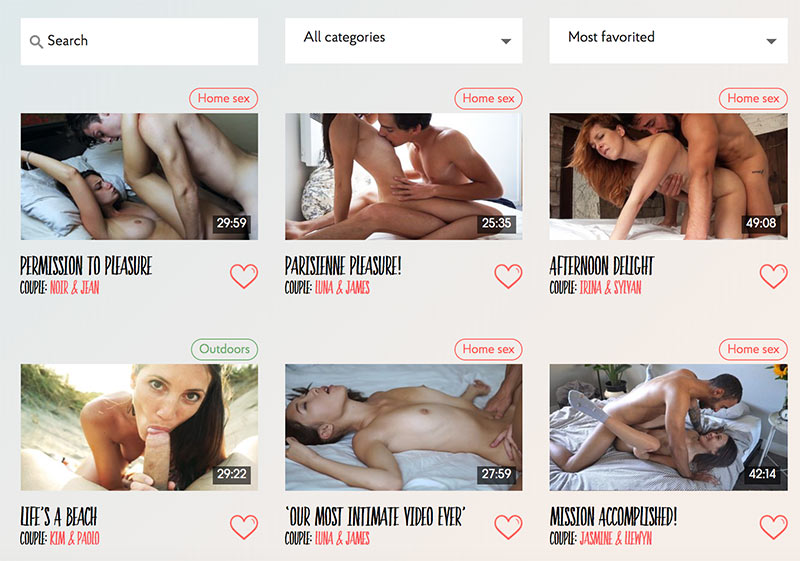 Lustery Categories
In one sense, there's only one category on Lustery. Since these are all amateur couples, you aren't going to find solo masturbation, 15-person gangbangs or any fantasy scenarios like stepmom or secretary porn.
On the other hand, this site is very searchable. From the Videos page, you can run a basic text search, or select from a list of tags. Many of these tags are conventional, like Lesbian, Anal, Handjob and Blowjob, others are more specific to the site. These include Biting, Smoking, Fucking With Clothes and Penis Sounding (if you don't know, for the love of God don't Google it). You just did, didn't you?
In addition to straight couples, there are several lesbian and queer couples on the site. Straight people, couples, lesbians and trans folk will all find good videos here, but none of Lustery's couples appear to be gay dudes in the traditional sense. If you're looking for gay porn, look elsewhere.
Star Power
Because this is an amateur site, you won't find any established pornstars here. Most of the couples appear to be doing these videos to satisfy their own personal kink, not to make money. As a result, you'll find that they don't typically give out social media or other information like actual pornstars.
Indeed, Lustery goes so far as to let couples upload videos to a members-only version of the site. These profiles and videos are only visible to paid members, so couples can share their sexy home movies without fear of coworkers or relatives accidentally stumbling across them.
Network
Lustery.com is an independent site. It's the brainchild of an exhibitionist/voyeur named Paulita Pappel, who owns and operates it. It's not part of any established network.
Subscription
In addition to the free membership, which is really just a preview, Lustery offers paid memberships to unlock full site access. There are three pricing options to choose from. The basic monthly plan costs $25, while a 3-month subscription costs $45, or $15 per month. The best value is the 12-month plan, which costs $96, or $8 per month.
Autobill warning: When your subscription runs out, it will automatically renew at your current rate. Unless you're absolutely certain you only want a short membership, you'll save money in the long term by choosing a longer plan.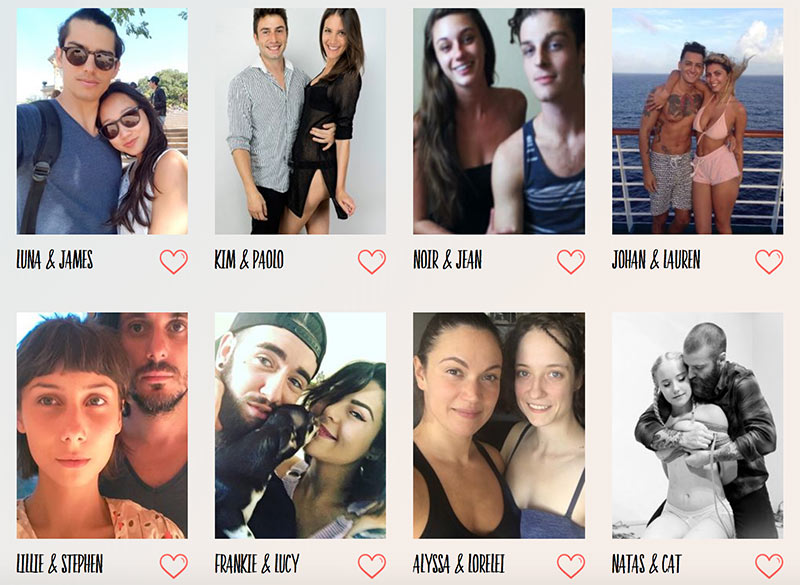 The Money Shot
Lustery is a niche site that's great at what it does: showing real couples who are really into each other. If you're sick of commercially-produced porn, this is a great site for you. On the other hand, this is still an amateur site. You won't be seeing your favorite pornstars, and the sound and lighting aren't as good as professional productions. While there's plenty of amateur porn available for free on other sites, a lot of free amateur porn is low quality. Lustery videos are typically much better made. At the end of the day, this site is a good value for people who have a fetish for amateur porn. Other people will get more value from a mainstream premium site.