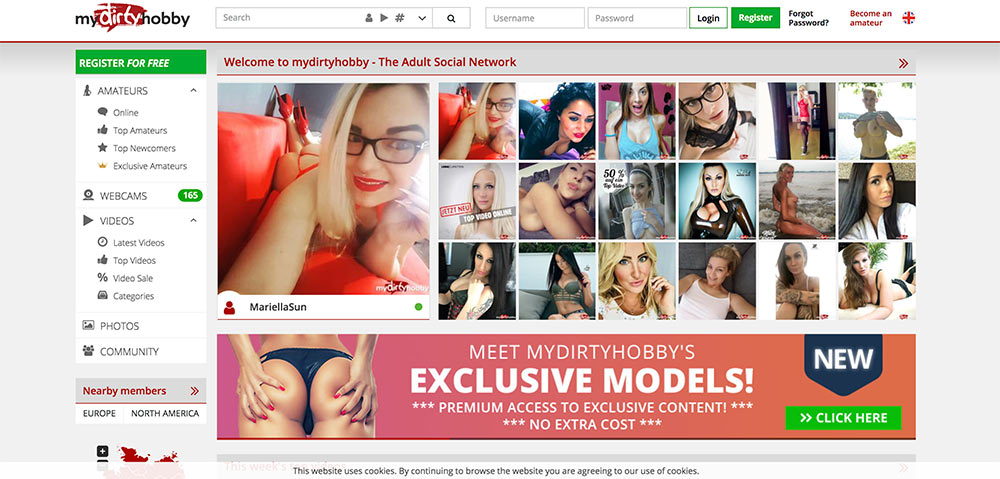 User Rating:
MyDirtyHobby started in 2006 in Germany, as a site where amateurs could upload and share videos of their sexual escapades – solo, coupled, whatever. Over time, this has grown into an amateur community, with videos, webcams, pictures, chat, and more, and become a truly global site, with members uploading content from all over the world. The site currently boasts over 5 million registered members.
Currently, the site is ranked around 4,000th globally across all categories based on traffic, and is in the top 200 sites for German IPs globally. No matter how you slice it, it's got a ton of traffic, which is unsurprising as it's got a ton to offer.
MyDirtyHobby is currently owned by MindGeek, formerly known as Manwin, the single largest conglomerate of adult sites and production studios in the world.
My Dirty Hobby Content
The site features several types of content, broken out roughly into a few key areas. Live amateur webcams are available, with free shows, private shows (for credits, much like other cam sites), and voyeur shows (spy on a private show, but no chat or interaction). There are also a great number of features for interacting with other amateurs on the site in the form of chats and similar. Amateur models also upload videos and pictures of themselves, which are available for purchase.
At present, there are over 440,000 videos and 4.3 million pictures on MyDirtyHobby. Both videos and webcam content vary in quality from SD to HD depending on age of the content and technical specs of the model's camera equipment. Likewise, picture resolution varies considerably. Many webcams are SD or at least not 1080p HD, though some are. New videos are added daily – in fact, most of the time several new videos are uploaded per hour. Members can follow the community tab for a live feed of the most recently updated videos and descriptions of their content.
The site is non-discriminatory, with over 60 categories of videos that include male/female, solo female, lesbian, solo male, gay, threesome/gangbang/orgy, and transsexual content.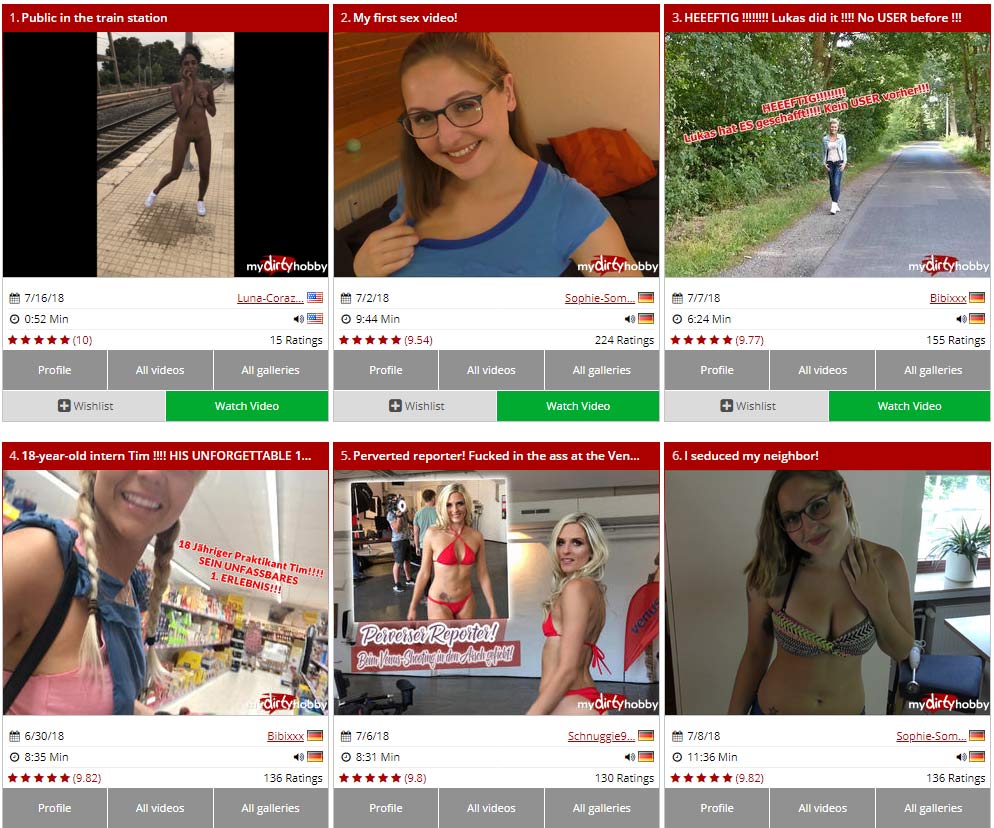 My Dirty Hobby Categories
MyDirtyHobby features videos in over 60 categories, covering mainstream content and some fetish content as well. Videos can be filtered based on category, rating/popularity, searched for by model, filtered based on when they were uploaded, and several other options.
Videos can fall into more than one category – categories can be thought of like tags or keywords on some other sites. The top 10 categories (based on how many videos they have) include Fetish (98k), Closeups (95k), Blowjobs (75k), Big Tits (69k), Teens (54k), Golden Showers/Pissing (49k), Masturbation (48k), Extreme Hardcore (45k), Solo (45k), and Blondes (40k).
Star Power
This is a community of amateurs, and therefore you won't find big-name pornstars here. However, well known independent cam stars, as well as other amateur homemade porn producers post content to the site often, and many have developed a more devoted fanbase among users than mainstream pornstars. At present, there are around 20,000 registered amateur models on the site, with around 100 on cam at any given time, and several hundred more performing scheduled cam shows each day.
Network
The site is, essentially, a stand-alone site, with its own webcam network and video catalog, along with its own credits and VIP membership program.
MyDirtyHobby is owned by MindGeek, based in Montreal, Quebec, Canada, with satellite offices in the US in Los Angeles, Houston, and Miami. Though this international parent company owns many sites and networks, they are independently managed and content remains exclusive, as do subscriptions.
Subscription
FREE CONTENT ALERT!
There is no subscription plan required for MyDirtyHobby. Registration is free, though to do anything once registered (and we mean anything, even browse the video catalog), you need to at least add some credits to your account. A nominal purchase of $10 worth of credits will do.
There is a VIP membership option as well for established accounts, which is available as an upgrade, and offers discounts and other perks.
Credits are necessary in order to purchase private or voyeur chats in the webcam section (though not necessary for free chats, aside from a single initial purchase after creating your account). They are also the currency used to purchase amateur video content, which vary in price, set by the model who uploaded them. The same is true for picture galleries.
Credit purchases can be made with a variety of payment options for those in Europe. In the US, you are fairly limited to credit cards as the only payment option.
We do the math so you don't have to! Below you can find a comparison of the different subscription plans available and our recommendations.
Porn Explosion Advice: As with many sites that operate on a credit-based model, the largest package is usually the best in terms of cost per credit. However, the good thing about MyDirtyHobby is all lesser packages are at the same rate – so if you can't afford the top package at $50, there's no downside to buying the smallest, $10 package vs. the $15 or $25.
We always recommend signing up for trials with a Visa, Amex, or MasterCard gift card, with a small balance, in case you have trouble cancelling or forget to cancel before the auto-renewal.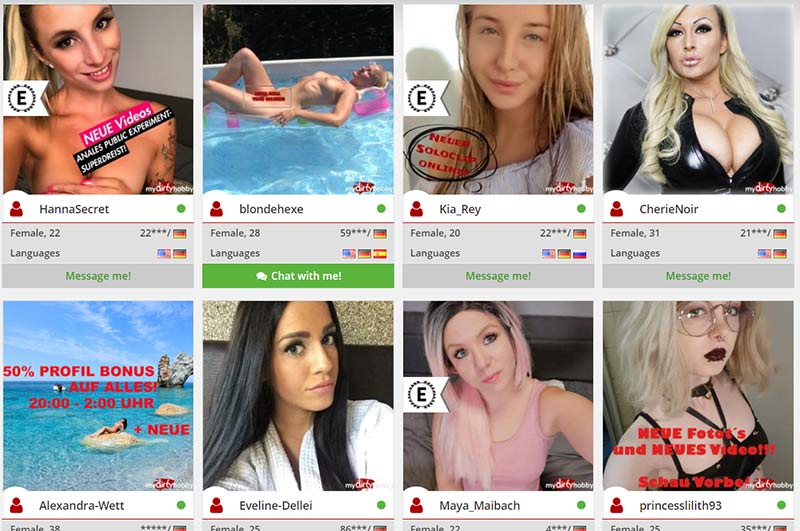 The Money Shot
If you're into amateurs, public videos, pissing, and other niche fetishes especially, then there's a wealth of content here for you to get off to. Likewise, if you enjoy being able to webcam chat or interact with the models whose content you're buying in the form of videos, you can do that too. There are a lot of good things going here, and a tremendous catalog. The only downside is it all costs money. You can buy videos, but they remain streaming-only and are not available for download. And it's kind of crappy that you have to deposit at least $10 to be able to even browse the video catalog after you signup – non-signed-up accounts have more freedom than signed-up accounts, which is silly. Nevertheless, if you've got $10 to spare and want to get your hands on some amateur content, with the possibility of interacting with the stars, then MyDirtyHobby is the place to do it.