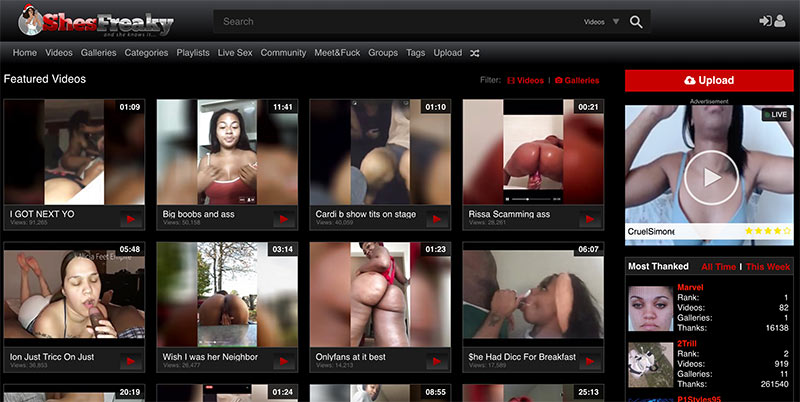 User Rating:
ShesFreaky is a free streaming porn tube site specializing in black amateur videos and photo galleries. While the stated focus is on ebony performers, they place emphasis on ethnic models in general, featuring tons of Latina, Asian and Middle Eastern content. There's even a 'white girls' category, if you absolutely need it. By the numbers, ShesFreaky is the 2906th most trafficked website on the internet, with 13.39 million hits in 12/2018. It is the 638th most viewed website in the US, and ranked 254 overall in the Adult category.
Content
ShesFreaky reports in its mission statement that it is dedicated to providing thousands of amateur streaming videos and photos featuring ebony, Latina and Asian models, and they most certainly deliver with a rough count of 169,000 videos that are mostly amateur and webcam content instead of the usual big studio productions.
The home page itself is pretty crowded and a little haphazard, with a crammed home bar tab, featured videos and galleries, ads, and links to member profiles. The home bar hosts links to streaming videos, photo galleries, organized categories, playlists, a link to an affiliated cam site, a community tab, a 'Meet & Fuck' link which jumps to Adult Friend Finder, groups, favorite videos and pictures, favorite playlists, tags, and a random video link. They're all options you've seen before, and the outside link to Adult Friend Finder is not appreciated because I find them extremely spammy. The ShesFreaky cam site is a re-skin of CamSoda, so no surprises there.
There's plenty of ads on here, for all the usual cam sites and studio pages like Brazzers, but they're pretty spread out. The first ad you see, which takes the top right corner on pretty much every page, is for that cam site and actually links directly to the model being featured instead of a sign-up page, which I kind of appreciated. Below that is actually a sidebar listing of the top 5 weekly and all-time submitters, with links to their galleries. Below them you've got an alphabetical listing of the categories, and then more ads for pay sites.
To start things off nicely, all videos have full video preview on mouseover (the best possible option), along with some additional data on run time and views. The media browser is pretty standard, but offers some nice features like a speed toggle to run things in 0.5, 1.5 or 2x speed, which is always a fun bonus to have, along with screencap previews below the video at 10% intervals, giving a good outline of what to expect and the option to jump straight in from that timestamp. Users can do the usual options of Thanking (liking) and favoriting a video, but there's additional buttons on standby for adding the video to a group or playlist, subscribing to the submitter's feed, and some pregenerated code to embed the video on other sites. Below that you've got a big chunk of ads, which usually gives the impression you've reached the bottom of the page, but below those is the actual video data with categories, tags, run time, view count, groups the video is featured in, user comments, and about a dozen related videos links.
I think it's cool that there's photo galleries, they seem a bit dated in this day and age, but they definitely feel like they're in the right place on amateur sites like this.
Categories
ShesFreaky hosts 48 categories, which can be filtered to show either videos, photos, or a combination of both, which can be fun. Categories are listed alphabetically and give 6 sample videos, so you can dive right in. There's the usual Big Tits, Big Booty, Cumshot, Blow Jobs, Fetish, Lesbian, and MILF listings, but we also know from the start that the emphasis here is on ethnicity, so you've got separate galleries for African, Arabian, Asian, Black, Indian, Island Girls, Jamaican, Latina and White. There's also some categories emphasizing hidden cams and candid stuff, which some people like, but always makes me feel like a creep. We also get a lot of galleries for specific positions like Doggy Style and Riding, along with some weird (but neat) ones like Plump Pussy. There's even a Funny section, which I'm scared of because the first featured video is called Fart Goddess X-Mas.
Star Power
ShesFreaky sticks to its amateur guns pretty strongly, there's no porn star listing to speak of. They do have a celebrities category, and some other categories about social media models, but it's all the same self-shot amateurish media with titles like Famous Rap THOT. If you're looking for the usual mainstream models, you're in the wrong place, friend.
Network
ShesFreaky does not appear to be part of any sort of network or have any significant sister sites or partners outside of the cam site. This isn't necessarily a bad thing, as most of the media here seems to be genuinely submitted amateur content, instead of the usual pseudo-amateur stuff that's all over the bigger studio sites.
Subscription
Subscriptions offer Facebook-style profile pages for users, which include a wall for sharing posts, as well as listing your videos, galleries, friends, groups, playlists, favorites, favorite playlists, subscriptions and blocked users. That's all pretty standard, but it does help the homegrown vibe here to make it feel a little more personal. The community tab takes you straight to a searchable listing of members, with additional features to filter by gender, age range and location. There's additional options to sort through users by Weekly and All-Time Thanks/Likes, Favorites, Top Uploaders, Views, and Recent, but these seem to be unstable links that result in a 502 Bad Gateway Error. Not cool.
The Money Shot
ShesFreaky is on the smaller side for a streaming tube site, and it's layout is kind of crowded, but it delivers exactly what it says on the tin. While most of the smaller porn tube sites can get away with libraries that are mostly preview and sample videos from pay sites, or even clips just straight lifted from larger competing sites, ShesFreaky stands out by giving exactly what it offers, tons of quality amateur content and not a lot of bullshit. There's plenty to be found here, along with an active community that makes this amateur site seem a lot less dead than a lot of these sites can be. Overall, it's a niche site, but if that's your thing, you'll have a good time. I give it a B.