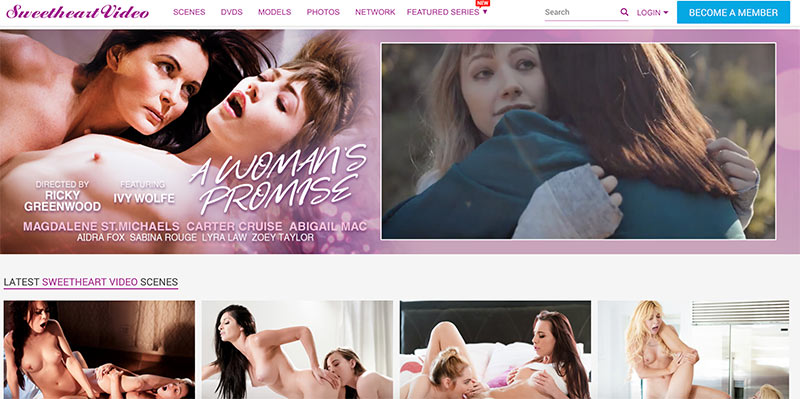 User Rating:
Sweetheart Video offers free and paid porn. Like most porn sites, Sweetheart Video offers its users a wide variety of pornographic clips to both stream and download. Unlike most major porn tube websites, however, Sweetheart Video focuses entirely on lesbian and girl-on-girl video clips and movies. In addition to this, Sweetheart Video takes a more professional approach to their content, offering options for paid premium content, such as entire full-length erotic narrative video series, in a style similar to TV shows. With a global Alexa ranking of 129,819 as of March 2023 and a ranking of 92,226 in the United States, where it is the most popular, Sweetheart Video is not a particularly popular adult entertainment website.
Sweetheart Video Content
As with most free and paid porn websites, Sweetheart Video specializes in pornographic movies and video clips that users can stream or even download with an account. Notably, however, Sweetheart Video focuses exclusively on lesbian content, with all of the videos offered on its website featuring female performers having hot, sexy fun with one another. Additionally, in another move that sets it apart from the competition, Sweetheart Video appears to produce their own content, and while this limits the type of content available, it also means that the kind of content featured tends to be of higher quality. Sweetheart Video, notably, appears to be a much more legitimate and professional website than other porn websites, with their movies taking on a very high-end quality that most other porn websites do not have. For a user interested in great girl-on-girl content, Sweetheart Video is, without a doubt, a solid choice with very high-quality content available.
Sweetheart Video Categories
Unlike most free porn websites, Sweetheart Video does not have a great number of categories by which to browse their content. There is a search bar feature available, but some users may balk at the exclusion of something so basic as a list of categories by which to filter content. This appears to keep in line with Sweetheart Video's focus on high-quality, boutique-style erotic content, as well as their limited number of total videos. The emphasis here is on full-length movies, rather than individual scenes. Sweetheart Video does, however, allow users to browse its content by series (such as Talk Derby to Me, Becoming Elsa, Confessions of a Sinful Nun, and The Candidate) or by porn star.
Star Power
As Sweetheart Video is a website catering exclusively to those interested in the niche genre of lesbian and girl-on-girl content, all of the porn stars featured here are, as you probably have guessed, female. Most, too, are known for their work in this niche, although there are some bigger name porn stars who are likewise known for doing work within this genre. These include performers such as Asa Akira, Riley Reid, Nina Hartley, and Dani Daniels. Users looking for bigger name porn stars might be disappointed, but overall, the girls featured here are beautiful and likely to satiate anyone interested.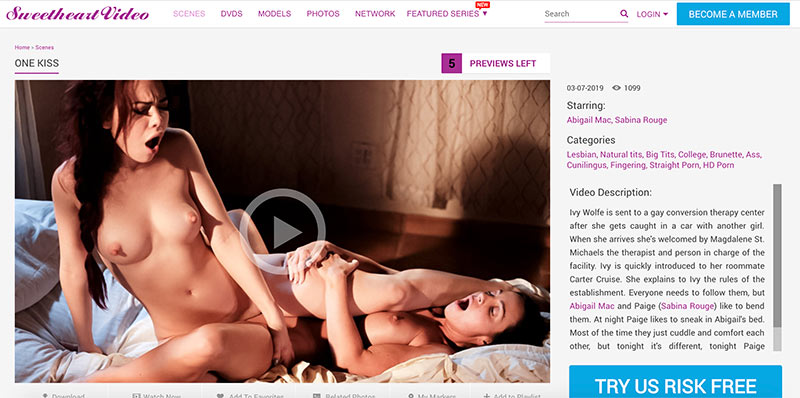 Network
Sweetheart Video is a part of the Mile High Media Network, a professional porn network that includes other websites such as Cherry Pop, Reality Junkies, Sweet Sinner, Lesbian Older/Younger, Doghouse Digital, and Bi Empire. The Mile High Media Network collective is known for producing high quality content, so users can rest assured that everything available is well worth any money they may want to spend.
Subscription
Sweetheart Video offers users the option to register for a paid premium account. There are no free accounts to speak of. The paid premium account grants users a number of special privileges, such as access to full-length movies and the ability to download videos to a personal device for offline viewing. The registration cost for Sweetheart Video is surprisingly affordable, with a recurring monthly cost of $24.95. For a website with content as high-quality as Sweetheart Video, this is a shockingly good deal for anyone looking to spend a little extra for premium content.
The Money Shot
For users interested in boutique style erotic content that features girl-on-girl action, Sweetheart Video is an excellent option. While there is free content available here, the primary focus is on the premium subscription, and users looking for a more general porn streaming website would be better off sticking to tried and true classics like Pornhub or YouPorn. For those looking for something extra special, however, Sweetheart Video is a solid option that, surprisingly, is somewhat affordable. The content here emphasizes a more directorial, auteur style that isn't typically the focus of most porn websites, but for those tired of typical porn, this might be a nice alternative that's worth the money. Sweetheart Video is a great option that offers something a little different from the typical porn experience.