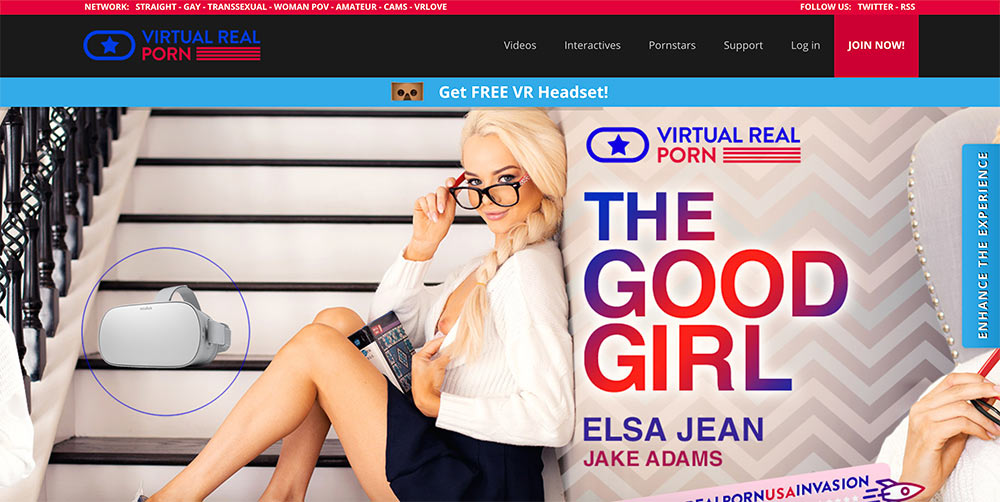 User Rating:
VirtualRealPorn.com is a virtual reality porn site that was registered in December, 2013. It's the flagship site of the VirtualRealPorn network, and was named as the web's best VR porn site in 2017 by the Daily Dot.
As of April, 2019, VirtualRealPorn.com is the 46,099th most-visited website in the world, the 3,026th most-visited adult site, and the 26,945th most-visited website in the US. Its Alexa ranking is 59,939th worldwide, and 25,463rd in the US.
VirtualRealPorn Content
At the time of this writing, VirtualRealPorn hosts 428 VR videos, with two new videos added every week. Most scenes are between 20 and 45 minutes in length, although there are a handful of videos that last as long as an hour. The site is 100% paid, although each video has a minute-long preview.
Most videos are available in standard HD or 5K, as well as VR. Some of the older videos are only available in split-screen, though. VR formats include Oculus Go, PlayStation VR, Gear VR, Oculus Rift, Windows MR, Vive, and smartphone VR.
183 of the videos are designed for the Lovense and other compatible teledildonic sex toys. The use of teledildonics requires you to install VirtualRealPlayer and enter a code to sync your toy.
The main page displays the most recent videos by default, although you can easily sort by popularity, title, and length. In addition, there are filters available to show only interactive videos, only sex toy-compatible videos, or to filter by model or genre. There's also a basic text search.
There are no images, erotic stories, or games on VirtualRealPorn. It's all about the red-hot VR action.
Advertising is minimal, limited to a single banner ad that promotes other sites in the VirtualRealPorn network. The mobile site displays all videos in a single column, with the search bar collapsed into a single floating button on the right side of the screen.
VirtualRealPorn Categories
Because VirtualRealPorn is a VR site, all of their videos are shot in POV format. These include the "lesbian" videos, which for some reason always seem to have a dick in them, and should really be rolled into the site's Threesome category. They also have a good selection of masturbation videos, where the actress jerks off right in your face.
VirtualRealPorn's content is sorted into 109 different categories. Since VR porn is all about the point of view, it should come as no surprise that a lot of these categories are based on position, such as doggystyle, cowgirl, missionary, and reverse cowgirl. There are categories for body type, ethnicity, and hair color, and categories also exist for storylines such as Shower, Massage, Real Couples, Infidelity and FemDom.
While this site is primarily designed for straight men, there is a small handful of female POV videos, although straight women will probably prefer VirtualRealPorn's partner site, VirtualRealPassion, which specializes in FPOV VR porn. Lesbians will also prefer this site.
Gay men will want to look elsewhere, possibly to VirtualRealGay.com, another VirtualRealPorn network partner.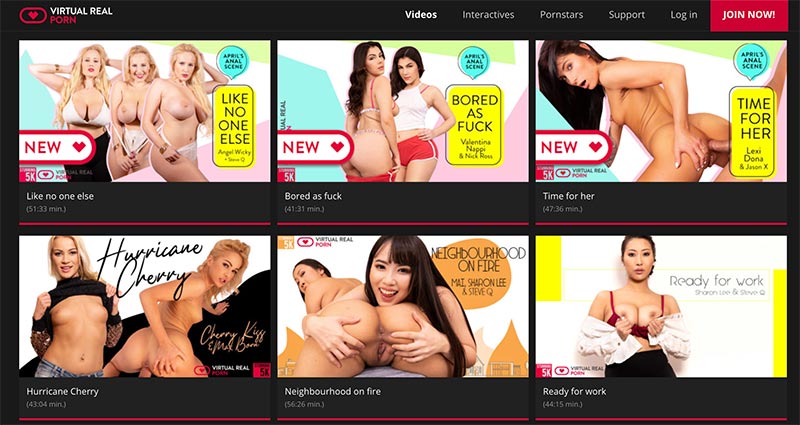 Star Power
Several mainstream porn stars have appeared in VirtualRealPorn productions. These include Valentina Nappi, Abella Danger, Taylor Sands, Canela Skin, Clea Gaultier, Alexis Crystal, Anissa Kate, and Gigi Love.
Network
VirtualRealPorn.com is the flagship site of its own network. Other sites include VirtualRealPassion.com, VirtualRealAmateur.com, VirtualRealTrans.com, VirtualRealGay.com, and VirtualRealJapan.com.
Subscription
VirtualRealPorn accepts credit cards, PayPal, and BitCoin. There are two tiers of membership: a basic streaming package, or an upgraded package which also allows you to download videos to your hard drive. Prices vary based on your package and billing method.
For basic streaming, if you use a credit card or PayPal, a monthly membership costs $9.99. Longer term packages are also available. A 3-month membership costs $20.07, or $6.69 a month. A 12-month membership costs $60.00, or $5.00 a month. The download package costs $15.99 a month. For 3 months, the cost is $28.17, or $9.39 a month. For 12 months, the cost is $90.00, or $7.50 a month.
If you're using BitCoin, the prices are a bit higher. Basic streaming costs $12.99 a month. A 3-month membership is $25.17, or $8.39 a month. A 12-month membership is $75.48, or $6.29 a month. The download package costs $19.99 a month. The 3-month rate is $28.17, or $9.39 a month. The 12-month rate is $90.00, or $7.50 a month.
There's also a 2-day trial membership available, with a 5-video download limit. This costs $5.99, and is only available with PayPal or credit card payments.
Autobill warning: All credit card and PayPal memberships will automatically renew upon expiration. This will be at your current rate, with the exception of the 2-day trial, which renews at $19.95 per month. BitCoin memberships do not automatically renew, and there are no sneaky cross-promotions on any type of membership.
The Money Shot
VirtualRealPorn is a clean, well-designed VR porn site with some of the hottest action around. Their videos are well future-proofed, with most of their content available in 5K. With plenty of star power and a growing network of affiliated sites, it's safe to assume they're not going anywhere anytime soon. The subscription is also very affordable for a VR site. The only real downside is the cost of VR hardware, which will only come down as it becomes more popular.