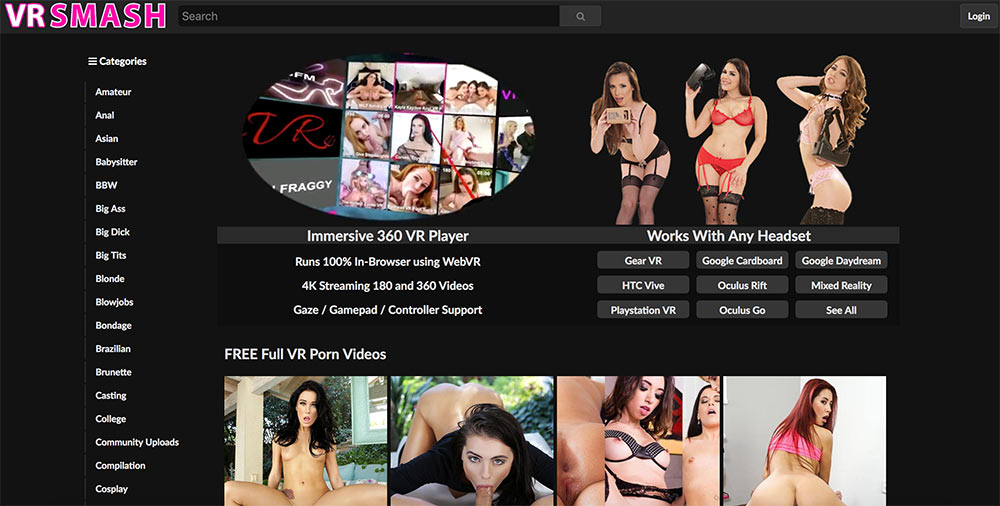 User Rating:
VRSmash.com is a virtual reality porn site that launched in November, 2014. It's owned by Technolust, Inc, a Toronto-based VR media company.
As of the time of this review, VRSmash.com is the 33,357th most-visited website in the world, the 2,285th most-visited adult site, and the 18,078th most-visited website in the US. Its Alexa ranking is 59,388th worldwide, and 26,874th in the US.
VRSmash Content
At the time of this writing, VRSmash hosts 1,049 full scenes, with new content added every week. This site doesn't produce their own content; they license it from 24 different VR porn studios. As a result, there's a wide variety of both quality and video length.
Quality ranges from 2K up to 5K resolution, with most videos falling in the 4K range. We're familiar with some of these studios, and it looks like they sell a license to VRSmash for slightly downgraded versions of the videos. So, you're not getting the same quality as you'd get by going directly to a studio website, but you're getting a lot more quantity. And frankly, we can't tell the difference between 4K and 6K. By that point, we're talking about extremely high resolution no matter how you cut it. Most videos stream at 60FPS, and are between 20 and 60 minutes in length.
There are also 35 free sample videos. They're between 10 and 15 minutes long, and are basically extended previews of full-length videos. It's enough to give you a good idea of the quality, and the functionality of both the VR and basic web players.
All videos can be viewed in a regular browser, so strictly speaking you don't need a VR headset to enjoy VRSmash's content. These are 180-degree videos, and you can look around by clicking and dragging inside the video player. Of course, you'll need a headset to enjoy true VR. VRSmash supports Oculus Rift, Oculus Go, HTC Vive, Playstation VR, Gear VR, and Mixed Reality. They also support Google Cardboard and Google Daydream for smartphone users.
Navigating VRSmash is simple. The main page shows thumbnails of their most recent videos. Clicking them will allow you to open the video player. From there, you can either watch the videos in your browser, or click the Enter VR button to watch them in virtual reality. You can search individual categories by clicking the category links on the side of the screen, or use the basic text search at the top of the screen.
There are no images, erotic stories, or games on VRSmash. This site is all VR all the time. Interactive content is limited to three videos.
The mobile site has a cleaner look than the desktop site, with tiles instead of thumbnails, and with all search and category functions collapsed into a hamburger button on the top of the screen.
There's no advertising on the mobile site, but the desktop site delivers a pop-under ad if you click anywhere on the screen except a thumbnail or button. This gets annoying if you prefer to use your up and down keys to scroll through websites, since you have to click the screen in order to scroll this way. There is no advertising for subscribers provided you're logged in.
VRSmash Categories
There are 106 categories of porn on VRSmash, ranging from popular categories like Blowjob, Anal, and Masturbation to more fetish-oriented categories like Latex, Pissing, and Upskirt videos. A lot of their categories are based purely on sex position, which makes sense given the nature of the site.
There's a Hentai section here, which we thought would be pretty hot, but which mostly falls into the uncanny valley of creepiness. Still, you can watch Miranda from Mass Effect ride your computer-generated dick. That alone is worthy of its own category.
Ladies have their own Female POV category on VRSmash, which contains 57 videos at the time of this writing. These videos are split about 50/50 between straight and lesbian content.
There's also a Trans category, as well as a Gay VR Porn category with over 120 videos. It's safe to say that no matter what your gender, kink or orientation, you'll find something here to get yourself off to.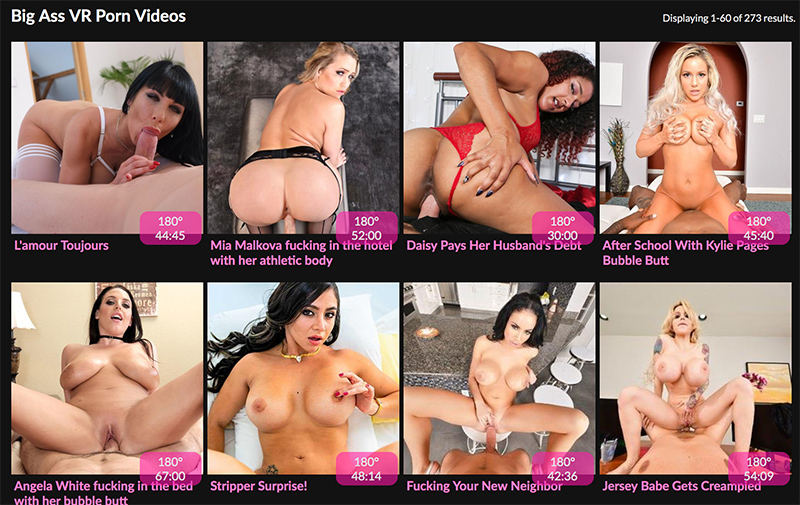 Star Power
VRSmash has videos with all the porn stars you know and love. Here you'll find Abella Danger, Rachel Starr, August Ames, Katrina Jade, Proxy Page, Brandi Love, Dillion Harper, Romi Rain, Nicole Aniston, Adriana Chechik, Veronica Leal, Keisha Grey and many other popular names.
Network
VRSmash.com is an independently run site. While they have licensing agreements with all of their content providers, they're not part of any porn network.
Subscription
VRSmash charges less for a membership than most VR porn sites. A basic monthly membership costs $19.95, and a full year costs $99.95, which works out to less than $10 per month. This is impressive, considering many standard porn sites charge more.
In addition to getting full access to the site's catalogue, paid members have the ability to download videos to their hard drive, so you can watch your favorite porn anytime, anywhere.
Autobill warning: Premium memberships will rebill automatically when they expire. If you don't want to renew your membership, make sure to cancel before your subscription runs out.
The Money Shot
VRSmash has more content than most VR porn sites, and their videos are compatible with almost any VR system. You can also watch their videos in a standard browser player. Subscriptions are inexpensive, less than many standard porn sites, and they have a wide enough variety of smut to satisfy almost any sex drive. Some of the videos are relatively low resolution, but even "low" resolution VR is very high quality. We highly recommend this site.