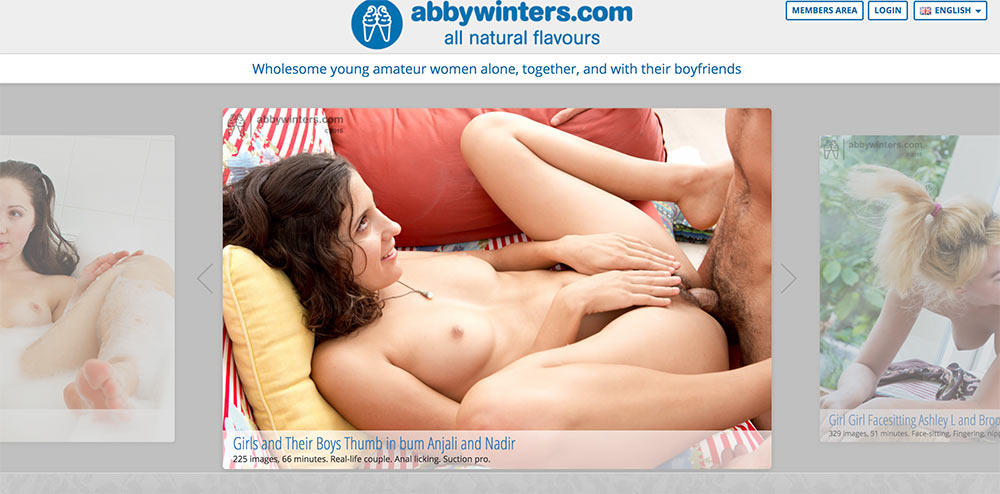 User Rating:
AbbyWinters.com is a premium porn site that was registered in August, 2000. They were originally founded in Australia, but moved their headquarter to The Netherlands in 2010. They've won two AVN Awards: Best Amateur Series in 2008 for Intimate Moments, and Best Membership Site in 2011. They also won the 2012 XBIZ Award for Adult Site of the Year (Solo/All-Girl), and the 2013 XBIZ Award for All-Girl Release of the Year for Girls With Girls.
As of March, 2019, AbbyWinters.com is the 31,714th most-visited website in the world, the 2,163rd most-visited adult site, and the 13,785th most-visited website in the US. Its Alexa ranking is 48,317th worldwide, and 31,693rd in the US.
AbbyWinters Content
AbbyWinters specializes in real, intimate porn with natural-looking girls. Most of the models are amateurs, including amateur lesbian and straight couples. The site specifically bans girls with fake tits, and claims that there is no airbrushing done on their photo shoots. A lot of the girls also have a full bush, in keeping with the "natural" theme of the site.
There are over 4,900 videos on AbbyWinters, with new content added twice a week. Typically, each release features a lesbian video, a straight couple video, and a solo masturbation scene, although they change things up from time to time. Most of their videos are in full 1080p, including all videos since 2009.
The site also features over 4,000 image galleries. Most of these correspond to a particular video, but some are standalone galleries.
The main page displays thumbnail previews of each shoot. A banner on top will tell you whether the shoot is a full video or an image gallery, and also what general category it fits into. Clicking a thumbnail will open a slideshow for image galleries, or the video player for videos.
AbbyWinters.com is a premium site. While anyone can view video descriptions, preview clips and sample images, you'll need a subscription to access the good stuff. In addition to unlocking full content, members also get access to a forum where they can suggest future scenes. Popular suggestions are often turned into actual videos.
There are no live cams, erotic stories, games or VR porn on AbbyWinters. The site is strictly for porn videos and images. There's no advertising whatsoever for paid members.
The mobile site loads quickly and has a clean design. Thumbnails are stacked into a single column, and the navigation bar is collapsed into a hamburger menu, with the search field prominently displayed at the top.
AbbyWinters Categories
In addition to their three primary categories — solo, lesbian, and straight couples — AbbyWinters allows you to search video tags. This is the best way to find what you're looking for, since otherwise you'll be sorting literally thousands of search results.
You can search tags either by entering a phrase in the top search bar, or by navigating to the Fetishes page. A lot of these "fetishes" are normal activities like Blowjobs, Lesbian Kissing, Small Breasts, as well as different hair styles and nationalities. Others are what you would typically think of as fetishes: Pee Porn, Hairy Armpits and Menstruation are just a few examples. All in all, there are over 3,000 tags, though the majority of these are user-created and only apply to one or two videos. The Fetishes tab helpfully limits this to the 50 most common tags, although other tags are still searchable via the search bar.
AbbyWinters is primarily designed for men and women who like to watch natural girls alone, with other girls, or with their boyfriends. As a result, it's a solid porn site for most genders and orientations, although gay men will want to find a site with guy-on-guy action.

Star Power
The vast majority of models on this site are amateurs. All told, there are almost 1,600 models on the site, most of whom have only appeared in one or two videos or image galleries. There are about 100 regulars who appear in a large number of shoots, but most of them are exclusive to AbbyWinters. If you're not a member, you've never heard of them.
Network
AbbyWinters.com is not part of any network. However, their founder/CEO Garion Hall is also the owner and CEO of GMbill, a popular processor for porn site payments.
Subscription
There are two membership tiers on AbbyWinters.com. The most basic package is the "Mobile-Only" subscription. This gives you the ability to stream all content posted within the last 7 days. While it's called a Mobile-Only subscription, you can use any device to access the site. It costs $9.95 per month.
A regular membership gives you access to the entire site, including the back catalogue dating to August, 2000. You'll also get access to the forums, and the ability to download unlimited pictures and videos. A monthly membership costs $39.25, while a 3-month membership costs $88.30. A six-month package will run you $178.98, and a full 12-month subscription costs $329.69.
Autobill warning: The mobile and regular subscriptions both auto-renew by default at the end of your subscription. This is non-optional for mobile subscriptions. Regular members can choose not to autobill by clicking the "Customize Subscription" button on the signup screen, but the cost of membership goes up by about 10 percent.
If you don't want to renew but you'd still like the renewal discount, simply sign up as normal, then cancel your account before the subscription runs out. Of course, if you sign up for a 12-month membership and forget to cancel, you can end up with a large surprise bill.
The Money Shot
AbbyWinters is an expensive site, but you're paying for some unique content. No giant silicon titties, no fake moaning, and no bad acting. Just high-quality porn with real girls and couples getting their freak on. If you're getting turned on just by thinking about it, don't let the price put you off. Take the free tour, and see if it's right for you.