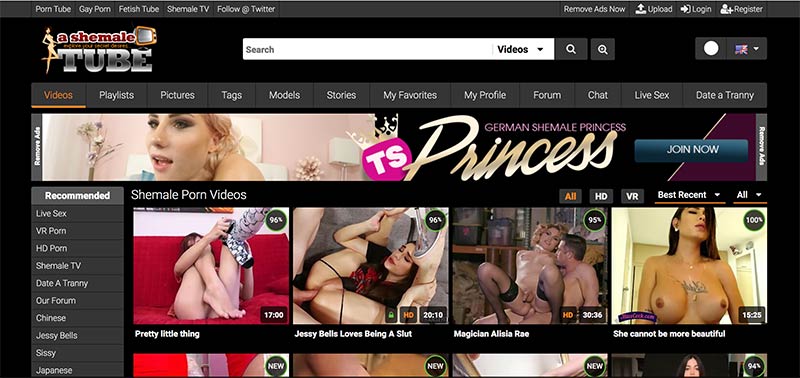 User Rating:
AShemaleTube.com is a transsexual porn site that was first registered in April, 2006. The site is owned by a Cyprus-based company, and appears to be independently run. At the time of this review, AShemaleTube.com is the 570th most-visited website in the world, the 54th most-visited adult site, and the 341st most-visited website in the US. Its Alexa ranking is 1,341st worldwide, and 1,207th in the US.
AShemaleTube Content
At the time of this writing, AShemaleTube hosts tens of thousands of videos. We're not sure how many. There's no counter on the site, but we counted more than 2,900 videos in the first half of June, 2023 alone. There are dozens of new clips uploaded every day, so you're looking at a virtually endless supply of shemale smut.
The videos are drawn from a number of sites, including professional, amateur, and cam sites. As a result, there's some variation in quality. About half of their videos are in HD, while the remainder are mostly in 480p. Even the low-res clips are generally well shot, with no cell phone videos or ten-minute shots from behind a dude's ass. You'll even find a modest collection of VR porn — 122 videos at the time of this writing.
The vast majority of AShemaleTube's videos are viewable by anyone. However, there's a small number — about 5 percent — that are flagged as premium. Premium videos require you to be a member, but are still free to watch. Just sign up, click the confirmation link in their email, and you're ready to jerk off to the site's full collection.
AShemaleTube's home page looks like the home page of most tube sites, with large thumbnail previews of each video. Clips are sorted by user rating by default, although you can also sort by date, popularity, or length. Each thumbnail displays the video's user rating, and shows a series of preview images if you mouse over it. Clicking the image will take you to the video player. If you want to fine tune your options, there's a text search bar at the top of the page, and a list of categories on the left side.
This site also features a small number of image galleries. Most of these are free, but a few are private galleries. You can unlock these by tipping models with "Tokens", which we'll discuss in a little bit.
There are no erotic stories, interactive porn, or games on AShemaleTube. The mobile site is a virtual clone of the desktop site, with preview thumbnails displayed in two columns, and sorting options collapsed into a hamburger menu at the top of the page.
Free sites need to make money somehow, so it shouldn't be surprising that there are ads on this site. They're mostly unobtrusive banner ads for other trans sites, although the first time you click on anything on the home page you'll get a pop-under ad for LiveJasmin complete with autoplay and audio.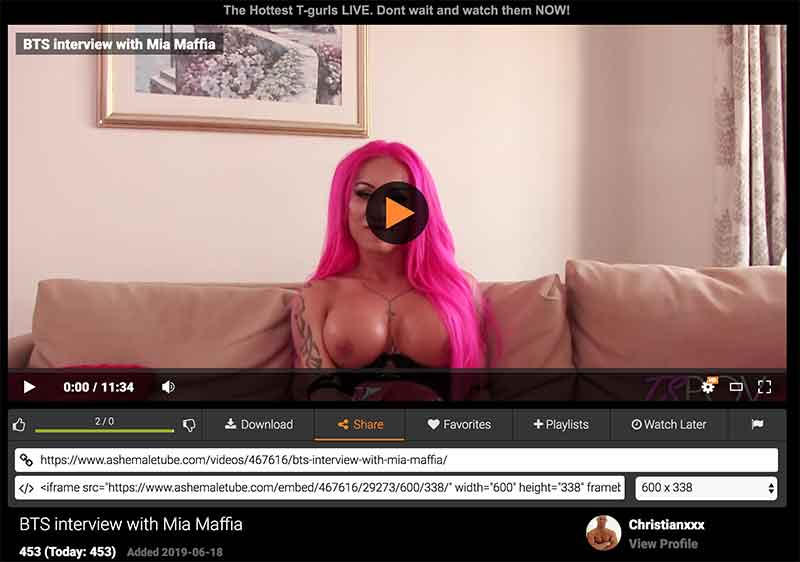 AShemaleTube Categories
AShemaleTube sorts their porn into 500 categories, or "tags". The most popular tags are shown on the left side of the screen, and clicking "More Tags" takes you to a page with complete listings. Once you've selected a category, you can select additional categories in order to fine tune your results.
Categories include the standard porn staples we know and love, including Amateur, Masturbation, Asian, Big Tits, Teen, Anal, and so on. You'll also find several trans-specific categories, like Cum in Mouth, Castrated, Fucking In Turn, Shemale Fucks Girl, and Hung Tranny. There are even 177 videos in the ever-so-helpful "Porn" category, just in case you were confused.
It's safe to say that as long as you're into trans girls, you'll find something you like on this site.
Star Power
Trans porn stars have their own little niche. If you're new to shemale porn, you've probably never heard of any of them. If you're already a fan, AShemaleTube brings you all the top trans stars you're familiar with. You'll find videos with Mia Isabella, Sarina Valentina, Domino Presley, Bailey Jay, Natalie Mars, Chanel Santini, Venus Lux, Vanity, Nina Lawless, Milena Vendramine, and Miran, just to name a few of the site's nearly 4,000 models.
Network
AShemaleTube appears to be independently run, and not part of any larger network. However, they're affiliated with a VR porn site: TSVirtualLovers.com.
Subscription
First, let's talk about the goodies you get with a free membership. Just by signing up, you gain access to the AShemaleTube forums, as well as to their premium videos. You'll be able to add videos to a favorites list, make your own playlists to share with other users, upvote and downvote videos, and leave comments. You'll be able to download videos as well, in either 3GP (mobile) or MP4 format. You'll also gain the ability to purchase "Tokens", which you can use to buy access to models' private imaggalleries.
As we've already mentioned, the advertising on this site is fairly minimal. However, if the banner ad and occasional pop-under really grind your gears, they do offer an ad-free membership. It costs $19.99 a month via credit card or PayPal, and includes a membership to TSVirtualLovers.com
Autobill warning: Paid subscriptions will automatically rebill every 30 days.
The Money Shot
AShemaleTube is an endless wellspring of the hottest trans girls on the web. With literally dozens of new videos added daily, you'd be hard pressed to run out of porn even if you were jerking off 24/7. This is a free site, so it has a few ads, but they're mostly unobtrusive. It's worth paying for the ad-free subscription if you want the TSVirtualLovers membership, but not to avoid a couple of pop-under ads. All in all, this is a top quality free site with a lot to offer. It loads quickly, the videos stream smoothly, and it's easy to find the porn you want. If you're looking for shemale porn, AShemaleTube is well worth checking out.