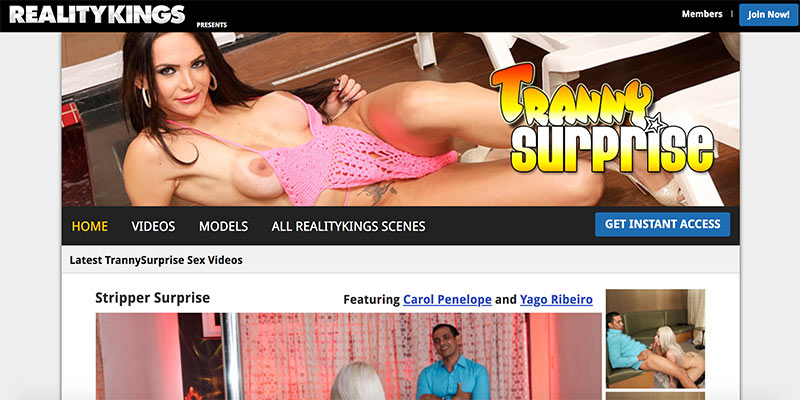 User Rating:
Another one of Reality Kings member sites, and this one's a doozy. I say this pretty often here and I want to get this out of the way now - "Tranny" is considered a slur by the trans community. So is "Shemale". These terms appear very often in the porn industry, but that doesn't make them OK. I think "Trans Woman" or "Girl with a Penis" are among the preferred terms. Don't argue, just be respectful. It's not hard.
Let's get started. Tranny Surprise is one of the member sites under the pay site banner of Reality Kings, an adult studio site dating back to 2000, making it one of the oldest pages out there that's not still floating around on geocities or whatever. MindGeek, the pornographic equivalent of Disney, bought them out in 2012, bringing them into the fold alongside other big name sites like PornHub, RedTube and Brazzers.com. Reality Kings pulled 12.44 million hits in February 2019, making it the 324th most popular Adult site, the 3800th most trafficked site on the internet, and the 1986th most visited web page in the US.
Tranny Surprise Content
You've gotta subscribe to Reality Kings Premium to get access to Tranny Surprise, so you're out at least $24.99 for the first month and even more in the following months. That gets you membership for the base Reality Kings site, plus it gets you access to Tranny Surprise and 50 other sub-sites.
To start things off, the last upload is dated Jul 19, 2017, and has once monthly episodes proceeding backwards from there for 697 videos. This page has long been neglected. If you're only here for the trans performer media, I'm afraid you're overpaying.
I don't recognize any of these performers, and most of these videos seem to be in Portuguese with a 50-50 chance of subtitles, and there's a definite quality drop when compared to the other media Reality Kings publishes. No big name stars, no graphic design or fancy video editing. Shoestring budget media for sure, not a lot of care or interest went into this content. It's all the same basic 1-1 male on trans media on a crappy set with a cheap camera. No real variety or creativity here.
Video previews are animated on mouseover, which is the tube-site gold standard, so that's a plus. The media player is fine, but one of the things that bothers me is there's no preview when scrubbing forward or backwards through a video, which I'm really noticing the absence of. There's the Reality Kings video shortcuts, little links that count out the different acts and moments in the scene and will jump to them. The one I'm currently on has one Sex, one Cum Shot, two Anal Play, three Blowjob, one Anal and one Doggystyle, which is pretty comprehensive for a 30 minute clip. Beneath that are the Similar Videos which in no way are similar to this video of a busty trans plumber getting her crack played with, hell, they're not even from the same page and are clearly marked as the latest uploads from RK Prime and MILF Hunter.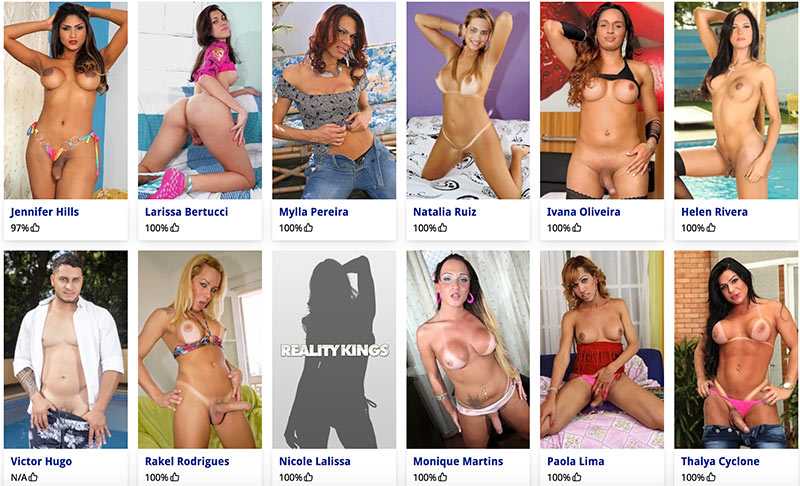 Tranny Surprise Categories
There's no specific categories for Tranny Surprise, the link just takes you to the general Reality Kings categories listing, which displays a few of the more popular categories like Big Ass, Bikini, Solo and Threesome. Reality Kings has plenty more categories, but they're trapped under a drop down menu instead of on their own separate page or just on the Categories page like they're supposed to be. Clicking a category gives you a general video listing along with some search narrowing options at the top, where you can organize videos by Release Date, Top Rated, Most Viewed, or Title, and can further modify the search with drop downs for Site, Model and Category (the Site option is where you can tell it to particularly search Tranny Surprise, adding yet another boundary between finding related content and convenience).
Star Power
When I think of big name trans stars, I think of performers like Bailey Jay, Natalie Mars, and Kimber James. They're not showing up here. There's a dropdown in the search bar for performers, and Tranny Surprise hosts a whopping 11 performers, each with no more than 4 tagged videos. Top names I've never heard of like Bianca Vitoria, Kananada Hickman, and Lourranny Kelly. This is just sad, 697 videos, 11 acknowledged performers accounting for 1-4 scenes each. I scrolled through the older stuff and found models with generic names like Jade and Nikki filling in the rest of the 650 or so videos that weren't fortunate enough to get a profile page beyond "N/A" and a stock placeholder image.
Network
Tranny Surprise is part of the Reality Kings network, which offers 45 other sites, with notable names like MILF Hunter, Big Naturals, and Extreme Asses. Each has been updated some time more recently than 2 years ago and is maintained like an actual active website.
Subscription
The Reality Kings subscription package is $120 a year. For Reality Kings, that's a fair, competitive price for studio pay site. For Tranny Surprise itself? That's a raw deal.
We do the math so you don't have to! Below you can find a comparison of the different subscription plans available and our recommendations.
*The 2 day trial membership has "limited access", but the exact restrictions cannot be found in the Support section of the website or in the Terms and Conditions of Membership.
Porn Exlposion Advice: For the amount of varied content here, we'd suggest skipping the trial membership and going straight for the annual membership. It will end up costing you only a little over a quarter a day in the long run, which is very affordable for the quality and quantity of videos available through RealityKings.
The Money Shot
Not good. No, it's not good at all. Tranny Surprise has a problematic name, only a handful of scenes, and has clearly been abandoned for the last 2 years. It's content is old and doesn't match the quality of all the other media Reality Kings puts out, and it's obvious. This isn't OK and it's definitely not $120 OK. Tranny Surprise is treated completely as an afterthought, even though it's been around since 2002. TS has been around since practically the dawn of internet pornography and has so very little to show for it. It gets a generous D+/