User Rating:
TS Playground offers quality transsexual porn content, starring both big names and amateur Tgirls. Some videos are solo, others have them paired with another Tgirl, and still others have them with cis guys, threesomes, and more. Both original video productions and high-resolution picture sets are available, all focused on the myriad of sexy shemales having a good time and getting off.
TS Playground is owned by Gamma Entertainment of the Netherlands, the same holding company that owns Evil Angel. TS Playground is officially an Evil Angel site, with content created and managed by one of their many directors – Jay Sin. However, it's not accessible via the content system on Evil Angel, and membership here doesn't include the main Evil Angel catalog, either. It ranks in the top 100,000 sites by traffic globally across all categories, and slightly higher in the US.
TS Playground Content
HD video content is the primary appeal at TS Playground, though they do also provide hundreds of high-res photos and picture sets from each shoot that are also available to download or view. At present, there are over 700 original, exclusive videos available at the site. They run from as little as 10 minutes to as much as almost an hour, with the average being in the 15-20 minute range.
The site receives updates every 3 to 4 days, meaning you get about 10-12 new scenes per month on average. This is in addition to the entire existing catalog that's available dating back to 2012, which makes up the total 700+ videos on the site.
You can also gain access to 26 other Evil Angel director's sites as part of your subscription, which provides additional thousands of videos and untold hours of content of all different genres and categories to enjoy.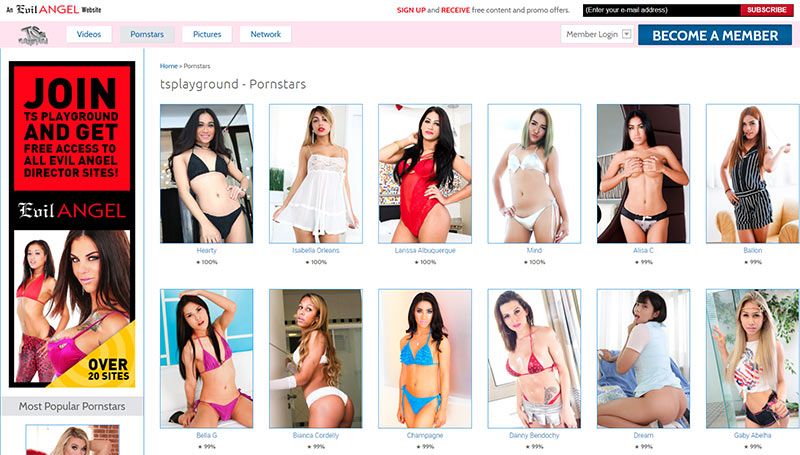 TS Playground Categories
Naturally, TS Playground is all about transsexual porn, so everything is a variation on that theme. There are solo scenes, of course, as well as transsexual-on-transsexual scenes. There are a number of scenes pairing a Tgirl with a cis guy, and/or mixed threesomes, foursomes, and more. It's about 70% solo, 15% trans-on-guy, 10% trans-trans-guy threesomes, and 5% trans-on-trans from our non-scientific accounting of the video catalog.
Within that range, common categories include Cumshot, Hardcore, Handjob, Blowjob, Big Tits, and similar. There aren't a ton of categories to sort from in the free version of the site, but like many premium sites, the layout, filters, and other options get more detailed and helpful behind the members-only paywall.
Star Power
At TS Playground, you'll find many of the big-name transsexual stars of the last few years. But, you'll also find a lot of amateur talent, ladyboys, and others you may not have seen before. It's a good mix between fresh faces and big stars. Some of the most popular models on the site should be familiar to anyone who is into transsexual porn, including Aubrey Kate, Sabrina Suzuki, Mandy Mitchell, Bruna Butterfly, Sienna Grace, Bruna Castro, Chanel Santini, Kelly Klaymour, Eva Lin, Sarina Valentina, TS Foxxy, and many others.
In total, the model catalog features nearly 500 transgirls of various looks, shapes, sizes, and styles, so there's always someone to catch your eye at TS Playground!
Network
TS Playground is officially an Evil Angel site, but it's not part of Evil Angel's core network. Evil Angel keeps their core catalog as a separate subscription. Then, many of their ancillary sites, which are managed and themed based on each of their in-house directors' preferences, offer access to all the other ancillary sites as part of becoming a member. So there are, in a way, two networks – the director sites (of which TS Playground is a part), and the core Evil Angel site and catalog – neither of which gives access to the other.
Subscription
Like most premium sites, aside from watching a few trailers and few teaser pictures in each gallery, you'll need a subscription to enjoy the full site contents. With a subscription, you can access all of the videos and photos, both streaming/online and via DRM-free downloads to enjoy offline, on the go, or whenever.
Subscriptions also provide access to the Evil Angel Director's Network of sites. This doesn't include the main Evil Angel catalog of content, but covers 26 of their director's personal sites, which does provide you with quite a lot of bonus content of all types.
You can pay for your membership with a credit or debit card, or trade in an unused gift card through PayGarden. While there is a cross-sell when you're checking out for "Fuck Book Flix", it's NOT selected by default, so just don't check the box, and you're good to go. We applaud TS Playground for not checking this by default, as so many other sites do.
We do the math so you don't have to! Below you can find a comparison of the different subscription plans available and our recommendations.
*Trial memberships offer streaming-only video services, whereas all others allow both streaming and downloading of scenes.
Porn Explosion Advice: Skip the trial unless you're completely unsure about becoming a member. Otherwise, the 1 year membership is the best bet, at around 1/3 the total and monthly cost compared to paying month-to-month.
If you do sign up for a trial, we always suggest you use a prepaid Visa, Amex, or MasterCard gift card, one without a huge balance, in case you forget to cancel or have issues cancelling before being auto-rebilled.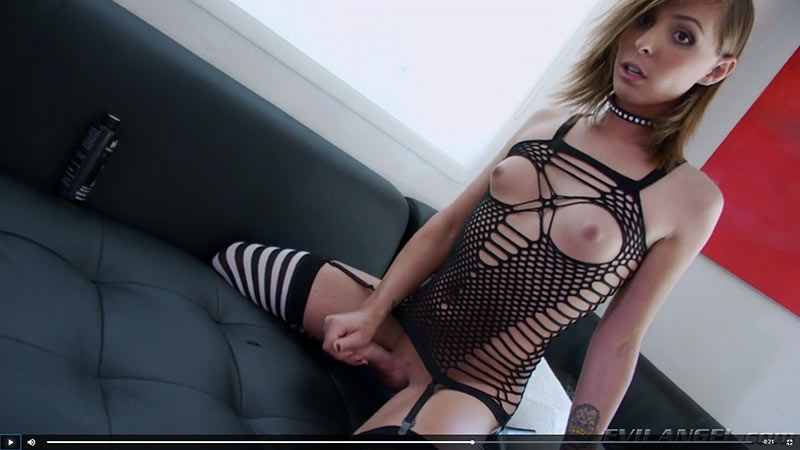 The Money Shot
If this particular mix of transsexual solo and paired content is your jam, then there's no reason not to love TS Playground. The quality is excellent, the variety of Tgirls is excellent, and the regular updates, original videos, and large catalog give you plenty of value for your money. As we note above, though, there is very limited shemale-on-female content. If that's what your mostly looking for, then that may diminish the value some. Otherwise, it's a top-tier site for transsexual porn that you should definitely give a spin, or two, or three…