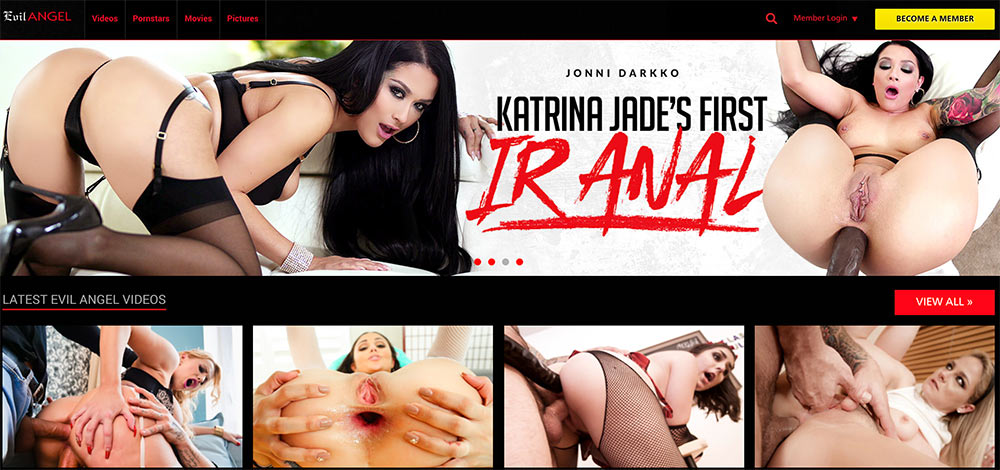 User Rating:
Evilangel.com is a premium porn site that was registered in 1996. It's the official online hub for Evil Angel Studios, which started as a traditional pre-internet porn studio in 1989. This site has won more than 65 AVN awards, most recently the 2017 award for Transsexual Release of the Year.
As of February, 2019, Evilangel.com is the 6,769th most-visited website in the world, the 549th most-visited adult site, and the 3.693rd most-visited website in the US. Its Alexa ranking is 8,422nd worldwide, and 5,223rd in the US.
Evilangel Content
Evilangel currently hosts 2,721 full-length, professionally produced porn videos. This is the entire library of Evil Angels Studios, every video since 1989, so there's quite a selection.
Make no mistake: this is a premium site. The homepage is basically a giant ad telling you to sign up. If you'd rather check the site out before paying for it, just click through the ad and you'll end up on the main page.
Here, you'll find a slideshow that cycles through previews of their currently featured videos. Below that, there are thumbnail links for all of their content, with the most recent videos being listed towards the top. Clicking one of these takes you to the video itself. On each video's page, there's a detailed description in the sidebar, so you know exactly what to expect. Paid members will have access to full-length videos that average about an hour in length. For people who haven't paid, full-length videos are replaced by 1-2 minute previews.
Because Evilangel's library includes content going back 3 decades, you're going to see some variations in quality. That said, the vast majority of their videos are in HD, and even the older ones are extremely well produced for the time.
In addition to videos, Evilangel hosts more than 8,800 image galleries. You can view the first few images in a gallery for free, but the majority of them are only available to paid members.
There are no live cams on Evilangel, nor are there any games, erotica or VR porn. Since this is a paid site, members will not see any ads. Non-members, of course, will see lots of ads urging them to sign up.
The mobile site is just a slimmed down version of the desktop site. The slideshow at the top of the page is removed, and thumbnails are collapsed into a single column for easier navigation. It loads quickly, and works well on Android or iPhones.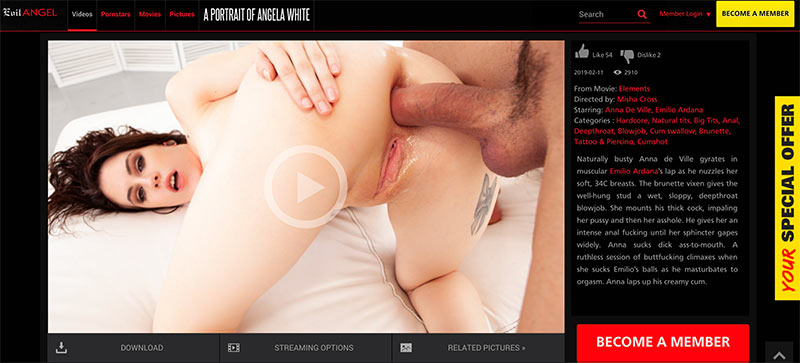 Evilangel Categories
As a studio, Evilangel focuses on gonzo, anal and transsexual porn. There's a lot of rough sex on here, including choking, forced deepthroating and ass to mouth. You'll find a variety of models, from teens to MILFs, and even some lesbian videos.
The easiest way to find what you're looking for is to run a simple search. The video descriptions are pretty detailed, and as a result the library is more easily searchable than some sites.
For more advanced options, you can click the Videos or Movies tab at the top of the screen. This will take you to a page where you can sort individual scenes (the Videos tab) or full length movies (the Movies tab). Filter options include directors, pornstars and series.
For straight people or lesbians who love rough sex, there's a lot to like here. There's no gay porn on Evilangel, though, so gay users will want to look elsewhere.
Star Power
Evilangel has videos from the hottest girls in porn. You'll find movies with Alexis Texas, Riley Reid, Asa Akira, Kendra Lust, Chastity Lynn, Dillion Harper and Remy Lacroix. If there's a star you like who we haven't mentioned, don't worry. Evilangel has over 3,800 credited pornstars, so there's a good chance your favorite is one of them.
Network
Evilangel.com is the official website of Evil Angel Studios. As such, not part of any porn site network. Although it used to be associated with Elegant Angel, the two companies have been completely separate since 1998.
Subscription
As we've already mentioned, you'll need a subscription to view anything other than short preview clips. Evilangel offers a few different packages, but all of them offer access to the full site. The only difference is the length of the subscription.
The most basic option is a 3-day trial membership that costs $2.95. This is a good way to get your feet wet if you're on the fence, but it's not going to do much for you after those three days.
The next option is a monthly membership, which costs $39.95. This is more expensive than most premium sites, and is really just an incentive to sign up for a long-term membership. A 12-month subscription is a better option. It costs $131.40, which works out to only $10.95 a month. For even more savings, you can purchase a 24-month subscription for $190.80, or only $7.95 a month.
Autobill warning: At the end of your subscription, it will automatically renew at the same rate. If you've purchased a 3-day membership to give Evilangel a try, you'll be charged $39.95 a month after that. Make sure to cancel your account before the 3 days are up, and buy a long-term subscription instead if you want to save money.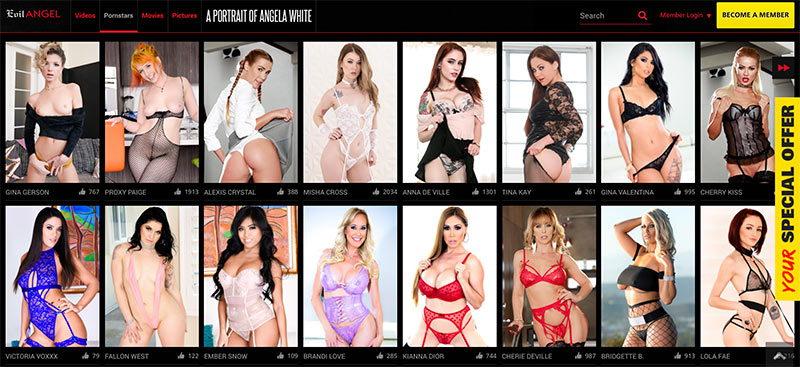 The Money Shot
Evilangel is one of the hottest porn sites on the web. They've won more than 65 AVN Awards, and they're sure to rack up more in the future. They have a very specific brand — rough sex, with lots of anal — and they release new movies on a weekly basis. You won't find any free content here, but you get what you pay for. In this case, enough hardcore action to cure even the worst case of blue balls. On a scale of one to five, Evilangel is a solid five.