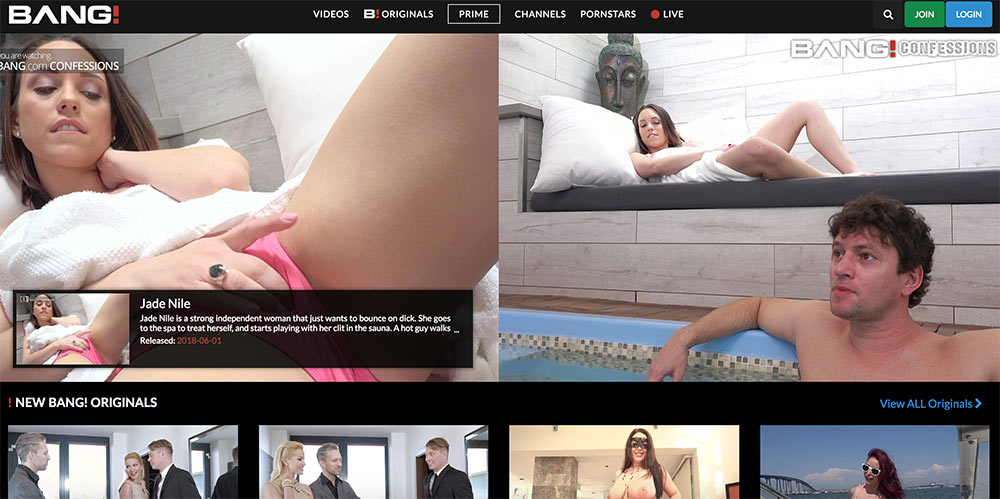 User Rating:
Bang! has one of the largest collections of professional studio pornography available on the internet today, cutting across all major categories. All are full feature clips – that is, no crappy short preview videos that bounce you to another pay site to see the full video. Bang! boasts over 300 studios in its list of primary producers showcasing on the site. Additionally, you have full, unlimited access to stream and download videos DRM-free from the site in a number of different qualities (including full HD or 4K, where available) with a paid subscription.
A relative newcummer, this site was born out of an interface update and expansion of content to the old VideosZ site (which still exists – if you're a member there you have full access at Bang!) and has only existed since 2016 as bang.com. It has really exploded onto the scene – with a bang! (forgive us the pun) – within the last six months to a year. They currently have over 1.5 million users. Ranked 61st globally by traffic in the adult site category as of May 2019, with an average of 50-75 million monthly visits, we think this gem deserves some attention, and to be bumped up a few spots on the list.
Bang! Content
Bang! primarily features full-length videos from most of the familiar studio names in business today - Adam and Eve, Combat Zone, DDF, Devil's Films, Digital Sin, Elegant Angel, Lethal Hardcore, New Sensations, Shane's World, Sudden Impact, Suze Randall, Video Team, and Woodman Entertainment, just to name a very, very few.
There are multiple daily updates, often with several dozen new professional videos added daily. As these videos are almost always full scenes or full-length features, they run from about 15 minutes on the short end to multiple hours in extreme cases. Videos are available in 1080p HD and 4K whenever offered in that format from the original source. As of May 2019, the site currently boasts a library of a mind-boggling 118,000+ videos! If they never added another video (they will) and the average video is 20 minutes long (they're longer), it would take you nearly 5 years of non-stop, 24/7 wanking to make it through the current library.
Additional content includes:
Bang! Originals, which are videos and series shot by their own in-house production team
Bang! Prime, their subscription service for full access to everything and unlimited downloading of all videos in full quality
An adult store, where you can buy Bang! Originals on DVD or VOD, as well as individual scenes on an a la carte basis, along with a moderate selection of sex toys
Live girls/cam girls linked through their Bang! Live service (banglive.com)
Deals and Discounts for reduced-price access to other pay sites whose content generally isn't available on Bang! (e.g. Brazzers, Reality Kings, etc.).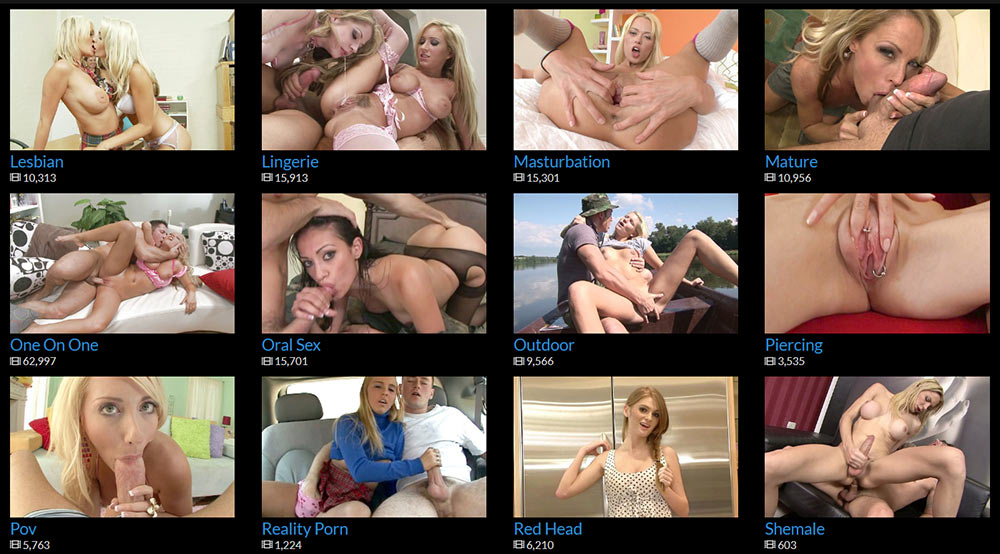 Bang! Categories
Videos are slotted into one of about 65 categories that cut across the typical genres and top-level fetishes that most major studios produce. Videos can exist in more than one category, so the numbers here won't match the 118k figure mentioned above, but some of the most populous and popular categories of videos include One on One (62k), Teen (22k), Anal (29k), Brunettes (57k), Blondes (49k), Big Boobs (35k), Facial Cumshot (61k), and lots more.
It is worth noting that Bang! is a straight/lesbian site only at this time. While they offer plenty of girl-on-girl action, as well as shemale and fetish porn, their gay porn offerings are available on a separate site, GayHD.
Naturally, there are many ways to navigate all these categories, including direct searches, browsing by category, popularity, or video newness, browsing by porn star, specific channels for each studio, a really great dynamic search filtering system, and a cool feature that lets you combine category tags to create custom searches to find niche material, for the true porn connoisseur.
Star Power
As most of the major studios are represented in the offerings at Bang!, it's a good bet the vast majority of top porn stars of yesterday and today have a number of videos available on the site. In a quick review of the top 25 all-time star ranking on their site, it seemed on average there were about 70 videos per star, with some having upwards of 200.
Network
Bang! is not part of a larger network, though, as mentioned above, they do partner with some 300+ studios to deliver the content on the site, and have discounts and deals available for other providers.
Subscription
FREE CONTENT ALERT!
While Bang! is a pay site, they have an extensive library of free offerings as well. The only catch is you have to at least pay for a trial membership once in order to create an account. They've divided their videos into two categories – free and Prime. Prime are only accessible to subscribers, and make up the majority of newer releases and updates. However, there are thousands of hours of free content available, and a dynamic filter that includes options to only search free content. Overall, about 78k of the 118k videos are free – that's pretty impressive! The ratio in terms of new updates looks to be about 60-70% Prime, and the rest free. Even in the free content, though, there's a good mix representing all the categories on the site, and plenty (over 12k) are in full HD or 4K. Of course, the latest and greatest, including early access to Bang! Originals, are in Prime, available by subscription only.
It's worth noting that with Prime, you can also download any and every video, typically in multiple quality levels including 1080p HD and 4K Ultra HD. Customer service assures us that downloads are DRM-free and do not expire – even if you cancel your Prime membership in the future, the videos you've downloaded are yours to keep and watch forever.
We do the math so you don't have to! Below you can find a comparison of the different subscription plans available and our recommendations.
Porn Explosion Advice: Most definitely worth a short trial, if for nothing other than the access to all the free content after your trial is up. They do occasionally offer totally free trial memberships for the 2 day period instead of the current $1 price, though that offer was not available as of this writing. If you love the interface, content, and the constant stream of new offerings, go for the 6 month membership for the best bang for your fuck buck.
There is also a really handy-j way to pay for membership – Bang! accepts a number of third-party gift cards (like Target, Starbucks, etc.) in trade, in addition to the regular credit cards, so be sure to check that out as well.
We always recommend signing up for trials with a Visa, Amex, or MasterCard gift card, with a small balance, in case you have trouble cancelling or forget to cancel before the auto-renewal.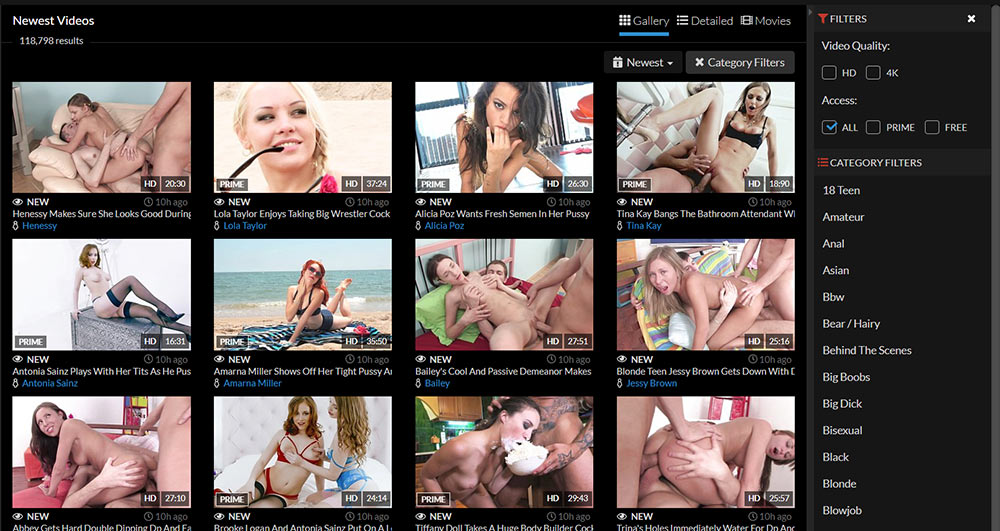 The Money Shot
Bang! may be new to the scene, but she's no virgin – definitely a whore. So much porn, so many full scenes, from so many studios! You'd be crazy not to at least sign up for a 2 day or month trial Prime membership, then cancel before it auto-renews, just to have access to all the free content. If user-created amateur porn, gay porn, or extreme/unusual fetishes are your thing, this probably isn't the site for you. For everyone else, go sign up for a trial membership and end your day with a Bang!