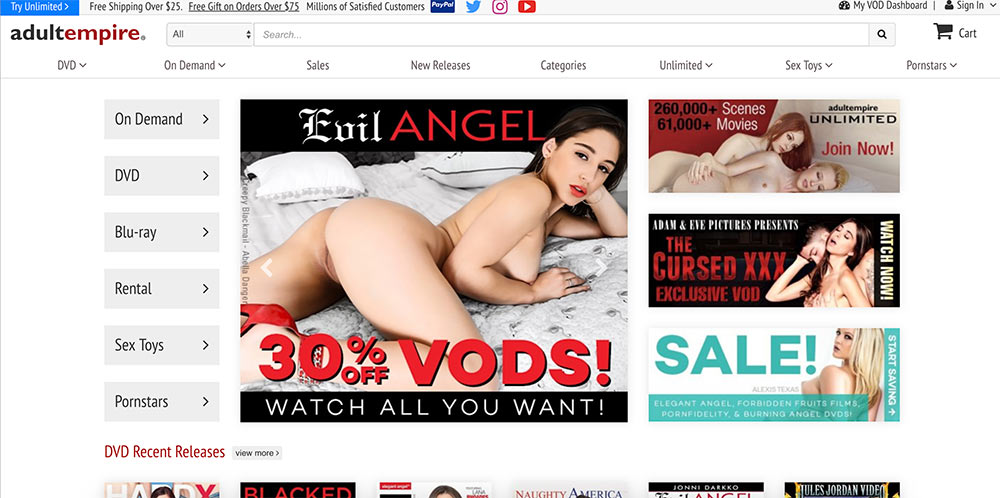 User Rating:
Adult DVD Empire is part of a network of Empire sites, which are all online stores, offering various porn, sex, and non-sex-related products. Adult DVD Empire, not surprisingly, sells adult DVDs, as well as offers up other content from their network stores, such as video on demand, sex toys, and more. Adult DVD Empire's sister site, DVD Empire, from which most of the other sites have sprung, was founded in 1997 in Pennsylvania by two computer programmers, and is still based in Pennsylvania to this day. The network has earned numerous awards as a porn and sex toy retailer.
The website interface is fairly straightforward and minimalist, though responsive and functional. Rather than spending large amounts of funds on marketing, the company has focused on customer service, discounts and deals, and is one of the few online porn DVD and VOD retailers that has consistently remained profitable and expanded over the years, to the point where they now employ over 60 personnel.
The prices of content are reasonable and comparable to what you find elsewhere online, with most major DVD or Blu-ray releases costing $20-$25, and VOD content ranging from $5-$10 in most cases.
Adult DVD Empire Content
The site offers DVDs, Blu-rays, and VOD downloads from most major studios and content creators of yesterday and today. Additionally, they have sex toys for sale (a decent selection), information on pornstars, an adult industry blog, and even an adult DVD rental service akin to Netflix, but for porn.
They currently offer over 61,000 movies and 260,000 scenes on their site.
One of the best features affiliated with Adult DVD Empire is the Unlimited VOD service. For as little as $12.50/month, you can have full, unlimited access to all of the VOD titles, for streaming anytime you want, online, to your mobile, or smart TV through a Roku, Chromecast, or similar device. That's a lot of porn for a low, low price!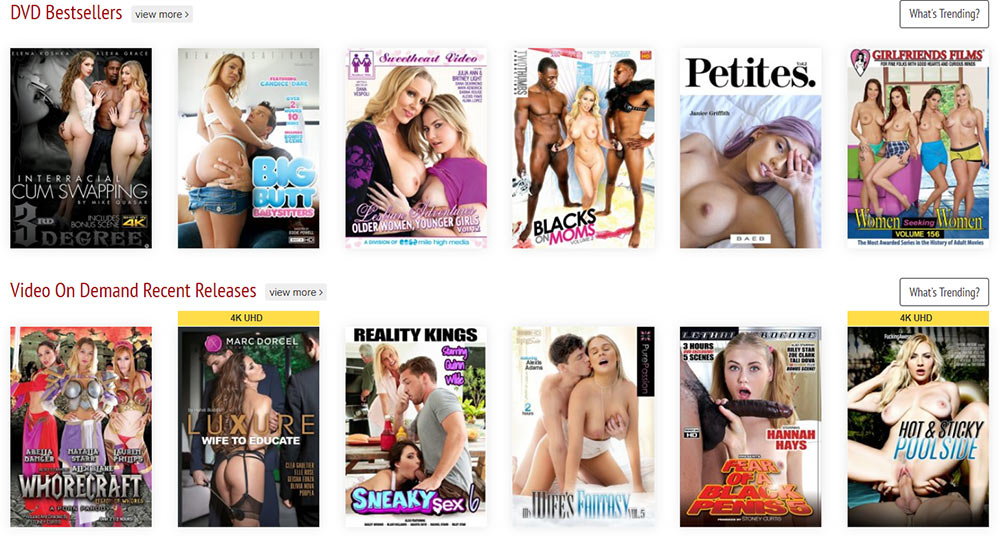 Adult DVD Empire Categories
Most every mainstream and legal category of studio porn is represented in the store, either in VOD or disc form. The catalog can be searched by name, studio, pornstar, category, and through a keyword list, which currently features over 200 categories/keywords.
DVDs and VODs may appear in more than one category/keyword on the list, however, even with that, the quantities are still quite impressive. A cross-section of some of the larger categories, and the quantity of DVD titles per category, include Gonzo (30k), Compilation (20k), Lesbian (12k), Interracial (10k), Fetish (10k), Feature (8k), Box Sets (7k), Big Cocks (6k), Blowjobs (6k), Cumshots (5k), Transsexual (5k), Asian (4k), and about 200 others.
Star Power
Pretty much any video by any star from the mainstream US porn industry can be found on videos for sale on Adult DVD Empire, as well as on the VOD content from sister site PornStarEmpire.com. At present their catalog lists over 7,500 models.
Network
Adult DVD Empire is part of the Empire network of sites. Some of the content from these online stores overlap, i.e. the VOD content that can be found through Adult DVD Empire is also the primary VOD content on PornStarEmpire.com. But the interfaces on each of these sites are different, and geared toward their primary content.
In general, the network sites include:
AdultEmpire – main/core site of the network, featuring most of their content (DVDs, VOD, and sex toys), though excluding Gay DVD content which has its own site
AdultDVDEmpire – routes to same pages as AdultEmpire
PornStarEmpire – VOD catalog sorted by pornstar
GayDVDEmpire – like AdultDVDEmpire, but featuring all solo male and gay male-oriented titles
DVDEmpire – non-pornographic DVD store with mainstream movies, TV shows, etc.
UsedDVD – site that allows users to input their used DVD titles, generate an invoice and shipping information, and get paid to send in their used DVDs to the company
AdultEmpireLive – a webcam site, though this is a pay site like most cam sites, credits are needed for private shows
Subscription
There's no subscription or membership here, since it's a store – though you obviously have to pay for your purchases, or you'll be starring in your own porno…in jail.
The Unlimited VOD plan, however, could be considered a subscription of sorts. We have included the premium plan prices for the Unlimited VOD service below for your convenience. The Unlimited plan also offers discounts on sex toys, DVDs, Blu-rays, and other purchases and perks throughout the Empire network of sites.
We do the math so you don't have to! Below you can find a comparison of the different subscription plans available and our recommendations.
*Trial membership has limitations on content and no discounts on purchases.
Porn Explosion Advice: There's no question here, you should just go for the 1 year membership straight away if you can afford the once-annual payment. It's the cheapest option, costing half of what the normal monthly, pay-as-you-go rate is. It's also worth noting it gives you access to content with an estimated retail value of over $2.5 million.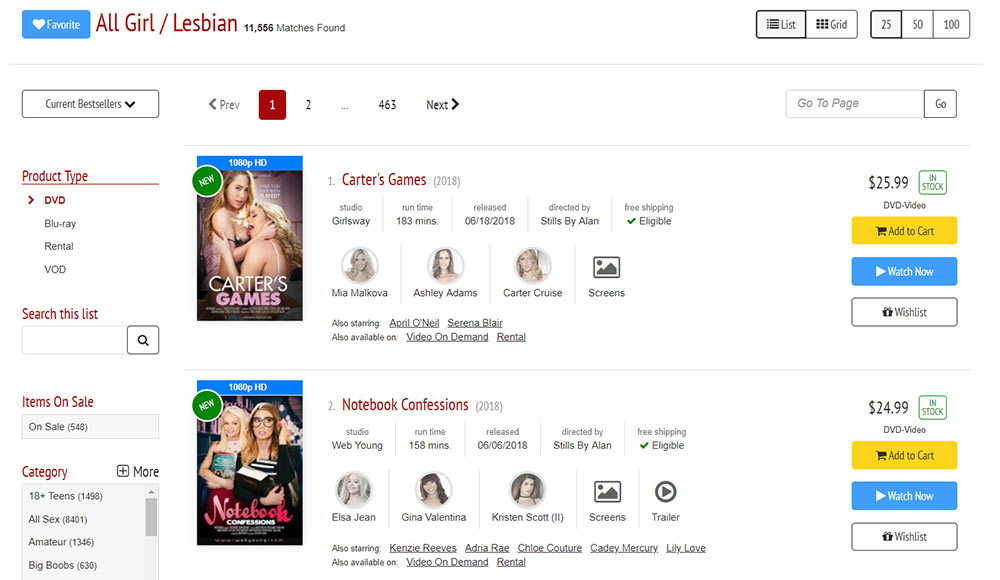 The Money Shot
We're really reaching for negatives here, because there just aren't many. Adult DVD Empire and the network of related sites are great – with great customer service and large catalogs. They're reliable and prices are fair. The Unlimited VOD service is well worth the price, if not double – for about $0.30/day, you can have unlimited access to their entire catalog of 61,000 movies and 260,000 scenes for unlimited streaming. If you're going to buy porn, either in VOD or disc format – or even rental format – look no further than Adult DVD Empire.
Insider Tip (or is it put the tip inside her?): Many of the used DVDs sold back to the company from their UsedDVD.com service can be purchased on Adult DVD Empire at heavily reduced prices, so you can score some pretty sweet deals on quality titties…er, titles! Titles!
PS – Why are you still reading this? Get over there and signup for the Unlimited VOD service already!