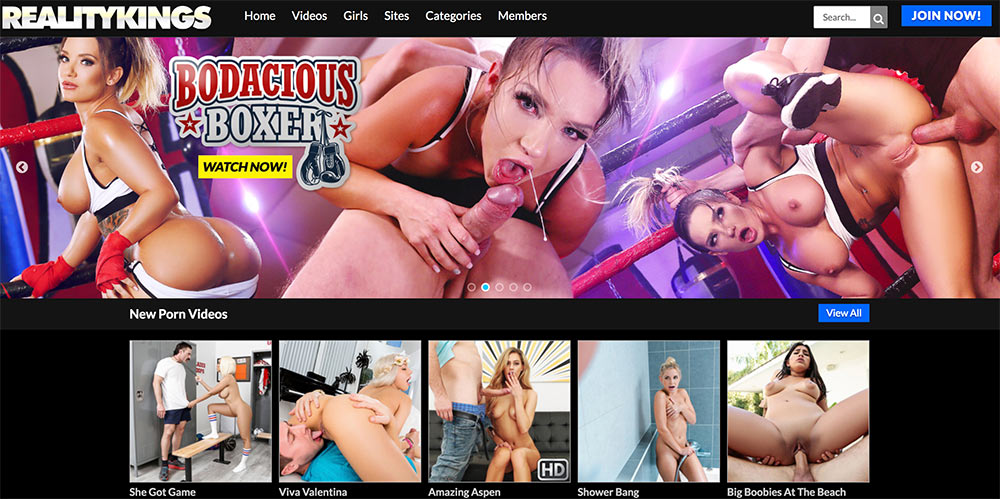 User Rating:
RealityKings is a network of over 40 websites that focus on amateur and reality-themed content. Founded in 2000 in Miami, Florida, all video content is exclusive and original. This includes the popular Money Talks site, which often has half hour versions of some of its content featured on Playboy TV. Each of the sites has its own theme, and like many networks, all videos can be accessed through the main RealityKings website itself.
While not quite as large or popular as some networks around today, RealityKings does boast a respectable 1 million+ organic web search clickthroughs per month according to analytics firm SEMRush. On their own site, they claim over 400,000 active subscribers.
RealityKings is currently owned by MindGeek, formerly known as Manwin, the single largest conglomerate of adult sites and production studios in the world. While this gives them access to some of the top pornstar talent around, with many big names featured on some of their sites, much of the content and the featured girls across their network are lesser-known amateurs, especially on the more reality-oriented sites.
Reality Kings Content
The RealityKings network is made up of all video sites, featuring mixed HD and standard definition videos. At present, new videos appear to be about a 75/25 mix of HD and lesser definition content, while videos from the early days of the network are majority lower definition. Over 11,000 videos currently exist across the network, dating back through 18 years of productions. On average, the more recent videos appear to be around 25 to 45 minutes in length, though we've been assured girth matters more than length.
There are daily updates to several of the sites, with the network as a whole getting between 10 and 12 new videos added per week. Some sites offer some small additional features, many of which are freely available, such as the funny porn memes available on the base RealityKings website.
Videos can be sorted by originating site, accessed via a search box, browsed by one of over 200 different content categories, and sorted by qualities like top rated, recently added, or most viewed.
The content is primarily hetero male oriented, featuring hetero pairings, threesomes, solo girl, lesbian, and some transsexual content. There is no solo male or gay content on this network.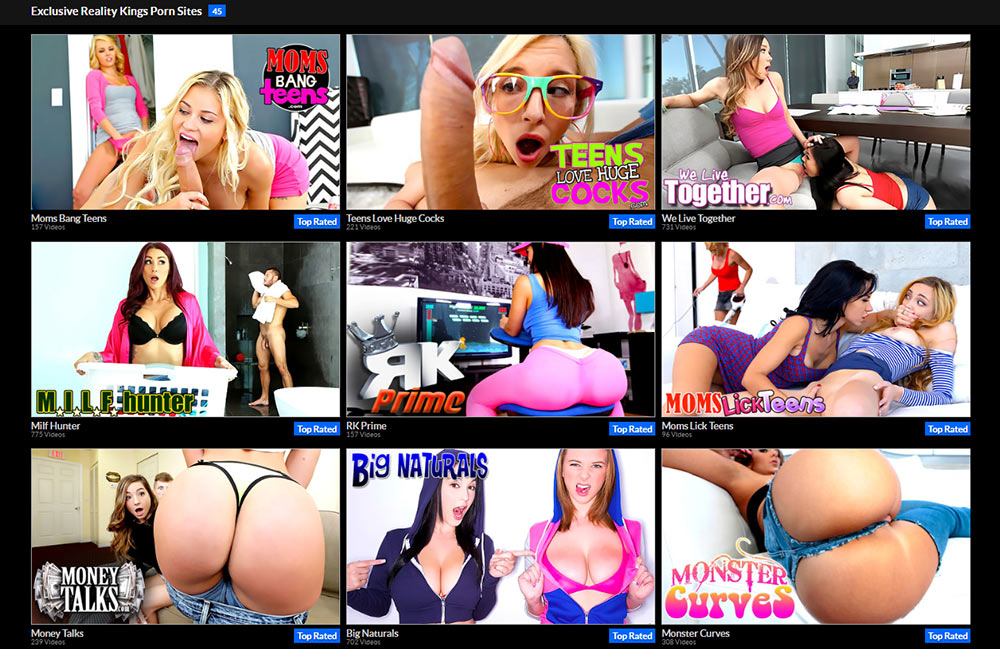 Reality Kings Categories
The categories are many and varied, covering a wide range of mainstream hetero male-oriented content. Some of the most popular sites include long-time web staples like Money Talks and We Live Together, along with others like Moms Bang Teens, Big Naturals, 8th Street Latinas, In the VIP, and Tranny Surprise, to name just a few.
The top genre categories for videos include Amateur, Big Ass, Big Boobs, Deepthroat, Latina, Lesbian, Mature, and Teen, among many others.
Star Power
With over 7,600 female models featured on the RealityKings network sites, it is safe to say there are plenty of attractive women for every taste. Many of the models are amateurs or lesser-known starlets, but there are certainly some big-name pornstars who have filmed for RealityKings as well. A lot of the balance between pornstar and amateurs depends on which of the 40+ network site the content originates from, as some are very heavily skewed amateur and others are much more heavily skewed towards professionals.
The top rated talent currently featured on the network (as rated by RealityKings members), includes Valentina Nappi, Brandy Talore, Sarah Vandella, Audrey Bitoni, Nikki, Megan Jones, Mackenzee Pierce, Ashlynn Brooke, Brianna Love, and Rachel Roxx, followed by 7,600 more.
Network
RealityKings is the top-level site in the network of 40+ video sites, and all content can be accessed through there, as well as through the individual member sites. In some cases those member sites redirect to the RealityKings interface, and in others, they retain their own style and layout – though again, all video content from the entire network is accessible in one place through RealityKings (rk.com or realitykings.com) itself.
RealityKings is owned by MindGeek, based in Montreal, Quebec, Canada, with satellite offices in the US in Los Angeles, Houston, and Miami. Though this international parent company owns many sites and networks, they are independently managed and content remains exclusive, as do subscriptions.
Subscription
RealityKings is a pay network, with subscriptions that allow access to all 40+ network sites. Video previews and some limited additional features are available for free with no account, but for any of the quality content available, a subscription is a must.
Like many MindGeek sites, in addition to paying by credit card or paper check, you are able to pay for your subscription by trading in unused merchant gift cards from about 50 major brands, which is a nice feature, especially for those who are concerned about credit card fraud, or have significant others with access to the credit card statement.
We do the math so you don't have to! Below you can find a comparison of the different subscription plans available and our recommendations.
*The 2 day trial membership has "limited access", but the exact restrictions cannot be found in the Support section of the website or in the Terms and Conditions of Membership.
Porn Exlposion Advice: For the amount of varied content here, we'd suggest skipping the trial membership and going straight for the annual membership. It will end up costing you only a little over a quarter a day in the long run, which is very affordable for the quality and quantity of videos available through RealityKings.
We always recommend signing up for trials with a Visa, Amex, or MasterCard gift card, with a small balance, in case you have trouble cancelling or forget to cancel before the auto-renewal.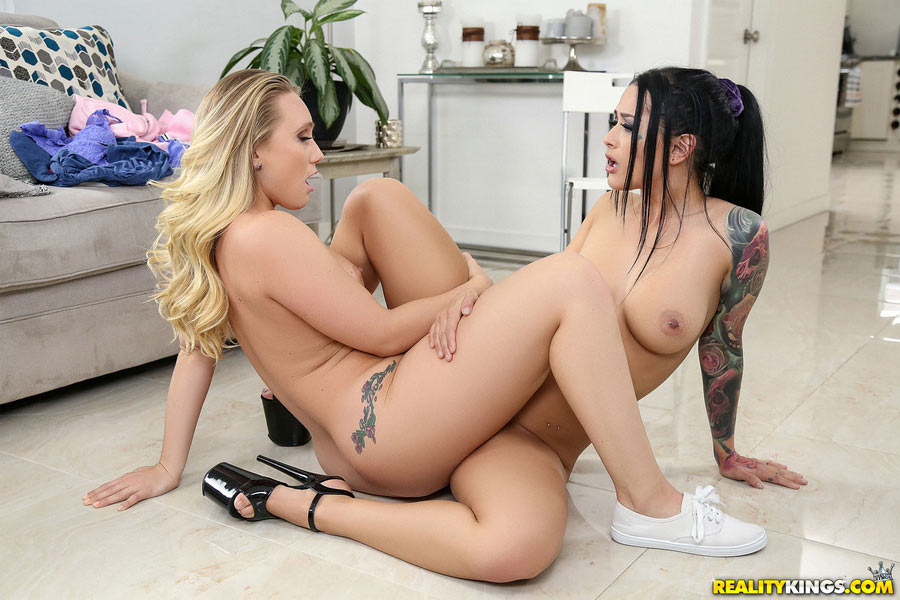 The Money Shot
RealityKings is a respected name in porn for a reason. With a nearly 2-decade-long pedigree, a large catalog of professional and amateur models, and a huge library of video from their 40+ network sites, they have a lot to offer. Their multiple themed sites and countless searchable category tags for videos mean there's plenty of material for most every taste. While fetish content is limited (as is typical for mainstream major porn sites), pretty much every other category of hetero porn is represented. The focus on quality amateur and reality content can't be beat…but your meat can…so check out RealityKings today!