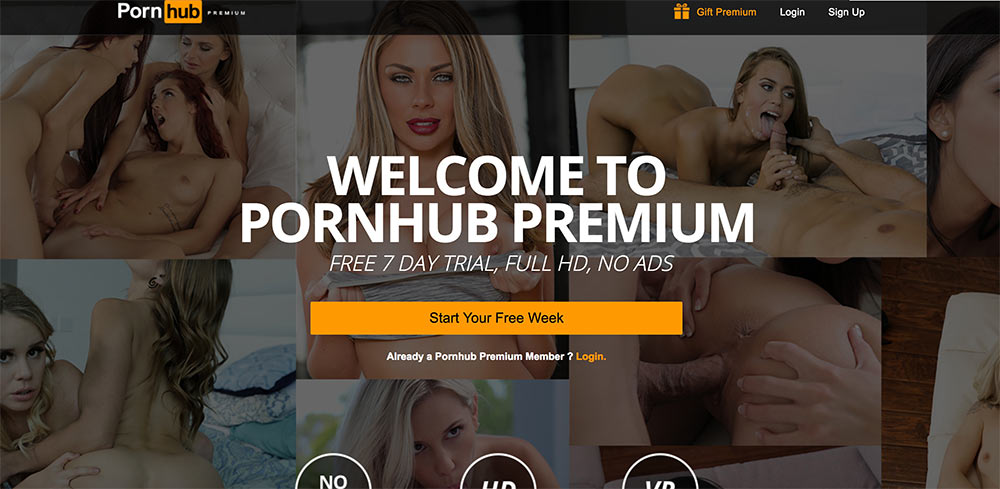 User Rating:
PornHub is well known as one of the leading tube-style video sites available today. With content from many studio partners, including a majority of other MindGeek owned sites, as well as user uploaded, amateur video content, it has a diverse catalog of high-quality videos. The premium service provides access to much content that isn't available in the free version of the site, including many full-length scenes and entire DVDs.
At present, PornHub Premium is ranked around 2,000th most trafficked site across all categories globally. It claims over 80 million visitors a day (though does not distinguish between the free site and Premium), and around 20 million registered user accounts. One particularly impressive stat is their estimates 100 billion video views per year, with an average bandwidth use of 120 GB/sec, which would fill a typical 2 TB commercial hard drive every 16 seconds!
PornHub is currently owned by MindGeek, formerly known as Manwin, the single largest conglomerate of adult sites and production studios in the world. However, the studio partners who provide content for PornHub Premium are not limited to MindGeek-owned networks or sites, and most of the top networks and sites on the internet today have representation on PornHub Premium.
PornHub Premium Content
PornHub Premium offers a wide variety of content. First and foremost, it is a video site, featuring videos of all lengths and almost any category of video imaginable. These include verified amateurs and couples who upload their own content, professional studio content, including teaser clips, as well as full-length scenes, full-length DVDs, and much more. At present, there are over 5.6 million videos available on the premium service. 1080p HD, 1440p, and 4K HD are all available, as well as a large selection of VR videos.
In addition to videos, there are photos and animated GIFs, and an integrated function to make your own animated GIFs from sections of videos on the site. There is an active friend, follower, and other social aspects of the site, and a great deal of customization for users to their accounts. For example, you can follow particular sites/studios, porn stars, make your own playlists, and much more.
Further, there are multiple sites that are part of the network that offer additional content (see the Network section below), mostly free tube-style sites. Other premium sites owned by MindGeek also can be subscribed to via PornHub, at reduced prices in many cases. There is also a VOD service available (at a cost) to purchase current/new titles from their originating studios.
The Blog and Insights Blog, as well as social media presence of PornHub Premium, also provide some interesting reading and entertainment, especially for data junkies, and ways to engage with the company. Find out what category of porn people were viewing on a holiday! Learn what fetishes are the most popular in various countries around the world! There's a lot of data here, and a lot of interesting information that's porn-related for when your naughty bits need a bit of a break.
Lastly, there are live cams available, integrated from the PornHub Live service, that are comparable to most other cam sites (credits for purchase, private shows for pay, tips for different content, interactive toys, etc.).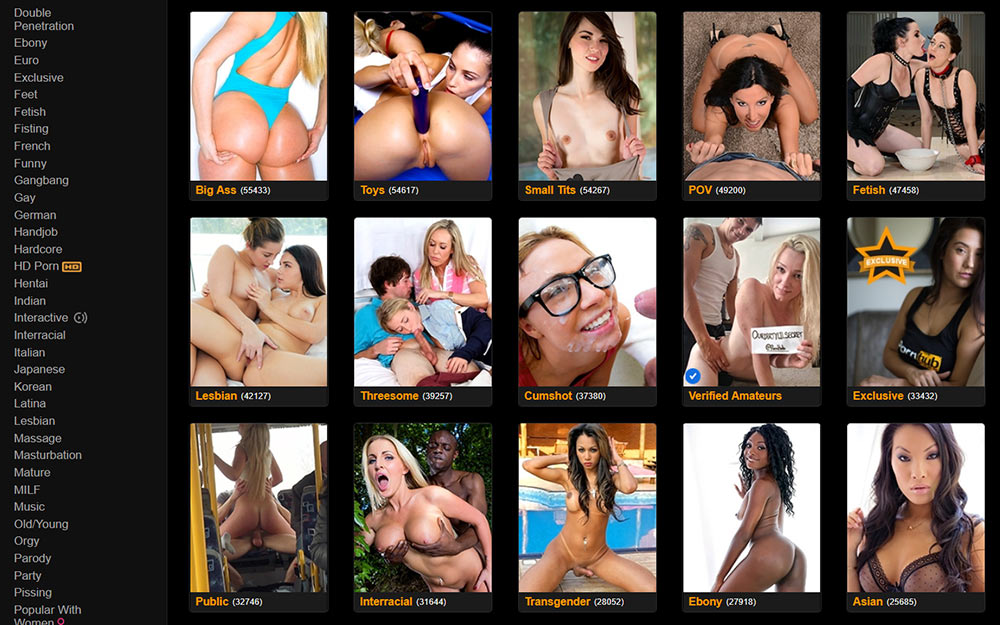 PornHub Premium Categories
PornHub Premium has pretty much every category of porn imaginable, with a few limited exceptions due to decency and legality (i.e. no incest, bestiality, underage, unconscious/incapacitated, blood/multilation, rape/brutality, or necrophilia content). Every other fetish is represented to some degree in the large catalog of videos on the site.
While videos may fall into multiple categories, meaning the numbers can be a bit misleading by category, the quantities are still ridiculously impressive. The categories with the most videos include HD Porn (283k), Pornstar (219k), Amateur (149k), Teen (128k), Big Tits (122k), Hardcore (119k), Brunette (116k), Blonde (88k), Babe (80k), and Anal (68k), with many more.
Videos can be searched via a number of different methods – viewed by studio channel, by porn star, searched by name or topic, viewed from the category list, viewed based on trending, recent, popularity/views, ratings, or pretty much any metric you can imagine. Additional filters for things like length, HD, Premium Only, etc. make searching for specific videos an easy task. Over time, the site also learns your preferences based on the videos you have watched, and provides recommendations to other videos it thinks you might enjoy – finally putting AI to good use!
Star Power
Pretty much every major studio and major star has content, to varying degrees, on PornHub Premium. They include a full listing of over 15,000 adult stars (female, male, and trans), ranked by popularity with users, and conveniently searchable by popularity, trending, number of videos, alphabetically, and other options, to find and subscribe to your favorite stars, see the videos they star in, or just keep tabs on who is popular this week, month, or year.
There is also a great quantity of verified PornHub amateur content, where hot solos and couples upload videos on their own schedules, some daily, some weekly, and much more.
Network
PornHub is also affiliated with a number of other tube sites, all with MindGeek ownership in common. These include RedTube, Tube8, PornMD, YouPorn, XTube, and Thumbzilla, as well as the aforementioned PornHub Live cam site/content. Other content (the deals to other sites, VOD, etc.) are available through MindGeek's PornPortal feature, integrated to the very top of the PornHub Premium site.
PornHub Premium is owned by MindGeek, based in Montreal, Quebec, Canada, with satellite offices in the US in Los Angeles, Houston, and Miami. Though this international parent company owns many sites and networks, they are independently managed and content remains exclusive, as do subscriptions. PornHub Premium includes content, including full scenes, from many sites and networks owned by MindGeek, along with plenty of other studios and networks as well.
Subscription
PornHub is free by default, with limited – though still tons – of content. The pay service, PornHub Premium, offers much, much more. The wealth of full length DVDs, full scenes, and premium videos (denoted with a star on the website) offer a great value for the money. While some studios only offer teaser clips (5-7 minutes in length typically), many also offer select videos in full form for premium members, and/or membership discounts to the studio's own site.
The sheer quantity of porn available is staggering. For example, Premium offers over 1,300 full-length DVDs just among those starting with the letter A – tens of thousands overall across the full alphabet. And that's just full-length DVDs – not including all the scenes, clips, amateur content, studio content, or anything else! Over 100,000 videos are Premium Only, full-length scenes.
Additionally, there are no ads on Premium, either in or before videos, or in banner or popup form throughout the site. Premium membership starts with a 100% free week once signed up with a credit card, after which time the credit card is charged based on your chosen subscription (see table below). Users can pay with Credit Card or Verge.
We do the math so you don't have to! Below you can find a comparison of the different subscription plans available and our recommendations.
Porn Explosion Advice: If you can afford it, go for the 1 year lump sum payment – it saves you $2 a month, $24 the whole year. The recurring monthly fee is also affordable, just a bit more expensive than the annual payment option.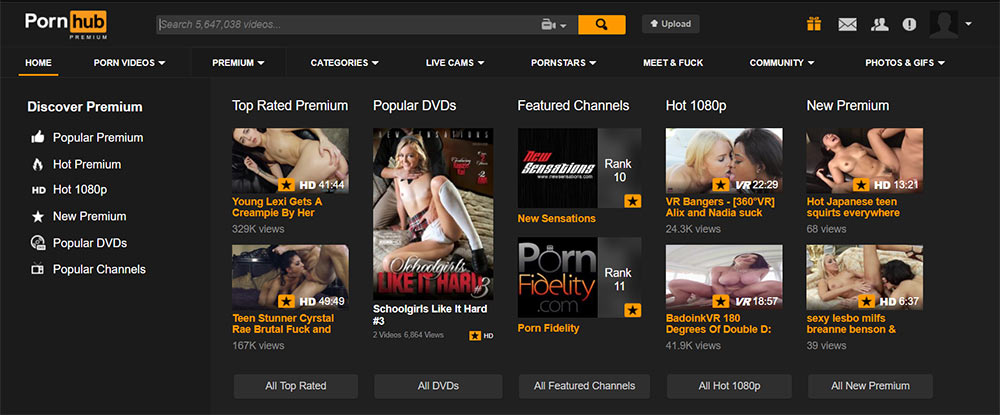 The Money Shot
There's really nothing negative to say about PornHub Premium, aside from that it is a subscription, premium service. The additional content, full length DVDs, full length videos/scenes, and more make the cost well worth it. It is more affordable than many studio sites or networks, while featuring much, much more content. Even the most expensive membership option (monthly) amounts to only one or two coffees from a major chain per month in terms of cost. Only a bit more than a quarter per day, and you get so much. Many people often ask if PornHub Premium is worth it over the free version of PornHub. Our answer is yes, yes, yes, moan, yes, moan, fuck yes...