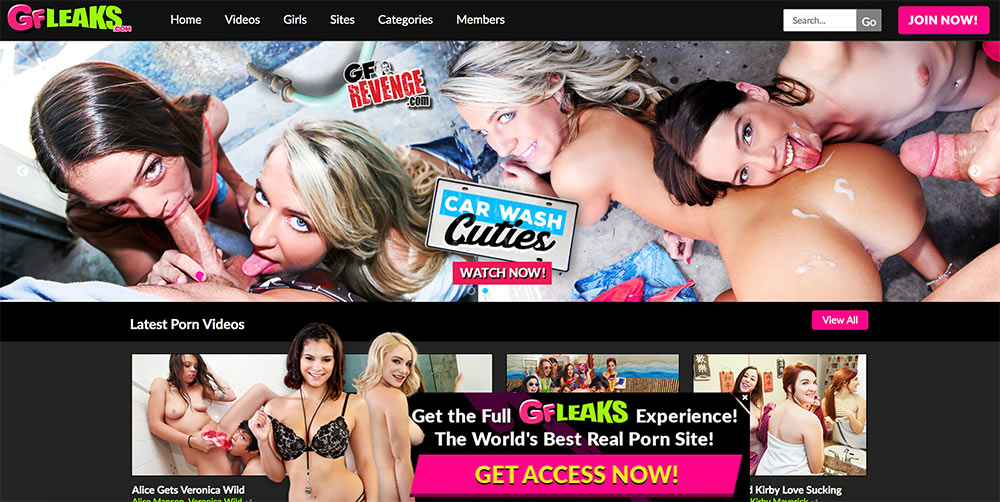 User Rating:
GFLeaks is a subscription porn site that specializes in videos of college girls. The site was registered in Luxembourg in 2014, and is owned by Ireland-based MG Content RK, which in turn is owned by MindGeek, owners of the PornHub and RealityKings networks.
As of February, 2019, GFLeaks.com is the 61,457th most-visited website in the world, the 3,885th most-visited adult site, and the 34,827th most-visited website in the US. Its Alexa ranking is 73,601st worldwide, and 49,739th in the US.
GFLeaks Content
GFLeaks currently hosts 1,129 full-length premium porn videos. Many of their episodes are fake "amateur" films, but they're all high-definition, professionally produced and have good sound. Because this is a paid site, all of their content requires a membership.
The main page displays thumbnail previews of the newest videos at the top of the page, followed by featured videos and the highest-rated videos. The first time you visit the site, all of this will be covered by a big ad asking you to sign up. Obviously, you won't want to do that without watching some previews first. Just close the ad and you'll be able to view the free version of the site.
Clicking on a thumbnail will load the video page. Free users will only have access to short preview clips, less than a minute long. Paid users will be able to view full length videos. Most of the content on GFLeaks is about half an hour long, and is available for download.
This is strictly a video site. There are no live cams, images, games, erotic stories or VR porn. Advertising is also straightforward. Until you join, you're bombarded with ads for membership. Once you've joined, the site is ad-free. The mobile version of GFLeaks collapses the thumbnails into a single column, which makes for a clean, easy-to-use mobile interface.
An important thing to note: this site may be dead. Videos used to get uploaded about once a week, but there's been no new content since September 5th, 2018. There are plenty of videos there already, but if you're looking for regular updates you'll probably want to steer clear.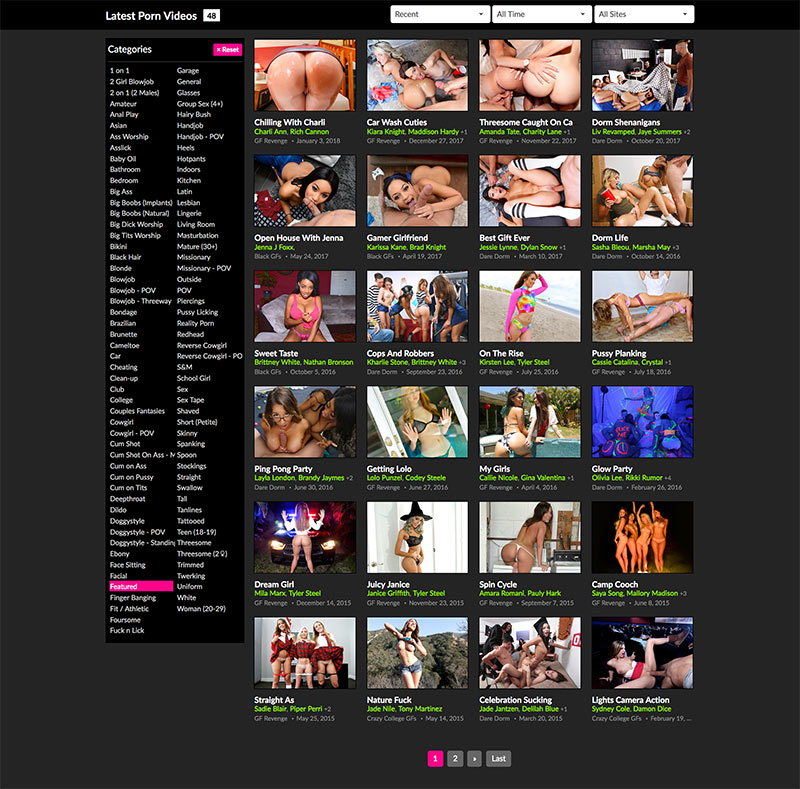 GFLeaks Categories
There are 32 different categories of porn on GFLeaks. These are a bit of a mixed bag. While some familiar categories like Lesbian, Blonde and Teen are available, other standard categories like Anal and Masturbation are missing. These have been replaced by more specific categories like Deepthroat and Dildo which seem to leave out a lot of content. You'll also find a couple of more unusual categories like Asslick and Boat. As is appropriate for a site that focuses on college girls, performers aged 30 or older go in the Mature category.
If you're looking for something more specific, there's a basic search bar on the top of the page as well. Keep in mind, though, that these are full, 30 minute scenes. Many of them will include some of the same common sex acts, so a broad search term can return a lot of results. For example, a search for Blowjob returns 604 videos, or almost half of the entire library. Some of these are blowjob focused, but more are focused on something else. These show up as Blowjob videos because at some point in the course of 30 minutes the guy put his dick in the girl's mouth for a few seconds.
GFLeaks has a frat-house feel, with a lot of humorous videos and young people having fun while they fuck. It's definitely marketed to young, straight men, although straight women and lesbians might also enjoy some of the videos. There's no gay or transsexual content of any kind, so those users will want to try a different site.
Star Power
Because this is a smaller site, you won't find as many big names here as you'll see on major platforms like Brazzers or PornHub Premium. That said, there are a few well-known porn stars with videos on GFLeaks. These include popular PornHub Network stars Dillion Harper, Dani Daniels, Kelsi Monroe and Shae Summers.
Network
GFLeaks.com is the flagship site of the GFLeaks Network. Other sites include BlackGFs.com, HornyBirds.com, CrazyCollegeGFs.com, DareDorm.com, CrazyAsianGFs.com and GFRevenge.com. All of these sites are part of the RealityKings Network, which is owned by Mindgeek, who also own the PornHub Network.
Subscription
If you actually want to jerk off to GFLeaks, you'll need to buy a membership. These can be very expensive or very reasonably priced, depending on what option you choose. The cheapest choice is a 2-day trial membership that costs $2.00. Above that, there's a 30-day membership for $29.99, a 3-month membership for $59.99 ($19.99 per month), and a yearly membership for $119.99 ($9.99 per month).
Autobill warning: Your membership will automatically renew at its current rate. If you buy a monthly membership, expect to pay $29.99 per month until you cancel. The $2.00 trial membership will also auto renew at $29.99 per month. Conversely, a yearly membership will renew at $119.99 per year, so you'll continue to save money down the road.
Also beware of their premium membership option. This is offered as a $2.00, 2-day trial when you sign up for GFLeaks, but will renew at a whopping $34.97 per month in addition to whatever rate you're paying for your base membership.
The Money Shot
GFLeaks is a good premium site if you like their dorm-room vibe. The videos are full length and professionally shot, and the girls are hot. On the other hand, there hasn't been any new content in awhile, and there are other premium sites that charge similar rates for a lot more content. We recommend GFLeaks as a niche site for people who enjoy the site's personality. Users who want a broader selection or more content should consider going somewhere else for their porn.