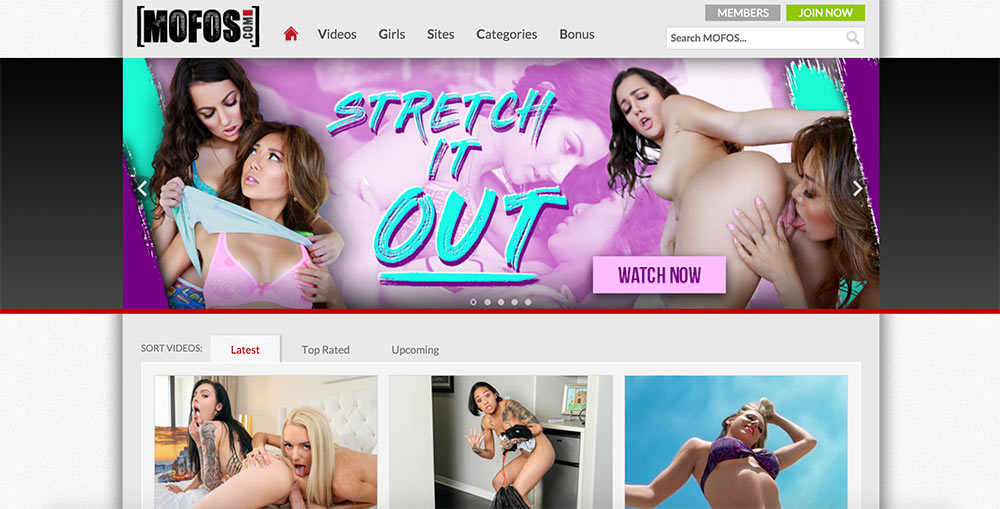 User Rating:
Mofos is one of the top-tier porn video networks on the web today. Originally created by Brazzers in 2008, the intent was to feature simpler storylines and lesser-known amateurs than its other offerings. These would intentionally fit within the themes of the various sites or sub-sites within its network, which are more reality-oriented overall. While not as heavily trafficked as some sites, it still sits comfortably in the top 10,000 sites by traffic across all categories globally.
Mofos is currently owned by MindGeek, formerly known as Manwin, the single largest conglomerate of adult sites and production studios in the world. This gives them access to some of the best talent in the adult industry today. However, many of the sites in the Mofos network intentionally feature more amateur girls content rather than big-name stars. See more under the Star Power section below.
Mofos Content
The Mofos network is a collection of video sites. Currently, 15 original sites and 5 original video series' are active, along with access to 6 of their older sites that are no longer receiving new content. Additionally, a subscription provides access to 24 other video sites as a "bonus". The newer videos seem to be all HD, though older videos dating back to 2009 may not be. The site does not include helpful HD tags or filtering, so it's very difficult to tell. Videos vary in length, though most seem to be 25 to 45 minutes. At least 1 site in the network gets a new video every day.
As of this writing, there are approximately 3500 videos on the site, not including content available from the bonus sites, since they are not strictly-speaking part of the Mofos network. They also list Live Shows on their site navigation, though those seem to have been monthly events in the past and are much rarer at present.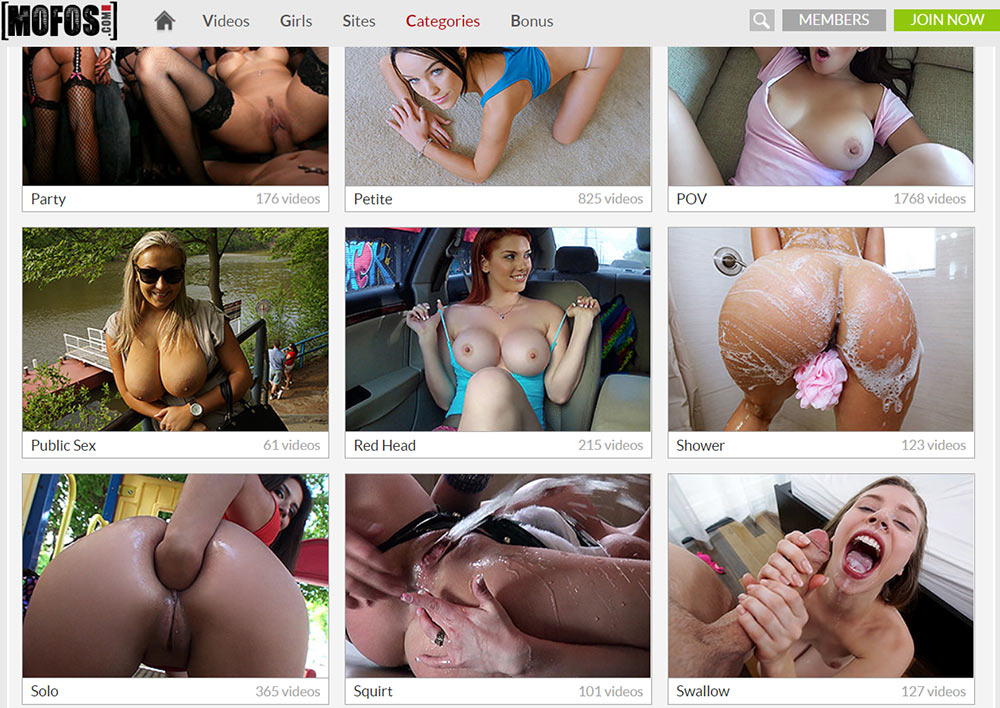 Mofos Categories
The sites and series in the Mofos network are all loosely reality-based rather than highly-scripted. They include themed content from each site, such as Girls Gone Pink (Lesbian), Share My BF (FMF Threesomes), I Know That Girl (Reality), which we reviewed separately here , Public Pickups (Public), and She's a Freak (Solo Anal, Fisting, Squirting, and more). In total, 21 sites active and archived, and 5 original series are available.
The content overall encompasses most of the mainstream porn categories of typical video sites, including Anal, Asian, Big Ass, Bit Tits, various hair colors, Lesbian, MILF, Petite, POV, Public, Solo, Shower, Teen, Threesome, and more.
Videos can be sorted by originating site, accessed via a search box, browsed by categories, and sorted by qualities like top rated, recently added, or most viewed.
The content is primarily hetero male oriented, featuring hetero pairings, threesomes, solo girl, and lesbian content. There is no transsexual, solo male, or gay content on this network.
Star Power
Mofos contains a mix of amateur and professional porn stars. It largely gravitates toward amateur or mostly unknowns, but there are a number of big-name stars that have done videos here as well. Currently, there are over 2,100 girls listed as models for the site, across a broad range of body types and ethnic diversities. The majority of their top 20 stars (as determined by user ratings) are all amateur or lesser-known starlets, with only a handful of big names in that batch, including Alina Lopez, Abella Danger, Gina Gerson, Megan Rain, and Mia Malkova.
That said, most of the amateur and lesser-known talent on the site is quite sexy, ranging from drop-dead gorgeous models to girl-next-door types, depending on which site the video is from and the theme of that site.
Network
The Mofos network contains 21 sites – 15 active and 6 archive, in addition to 5 original series. A subscription also provides access to 24 bonus sites outside the scope of original Mofos content. As with many networks, the Mofos.com domain is the top level site, and contains access to all the videos from the network sites. Many of the network sites themselves aren't directly accessible, or exist in name only to categorize the videos, so Mofos is the place to be for all the content.
Mofos is owned by MindGeek, based in Montreal, Quebec, Canada, with satellite offices in the US in Los Angeles, Houston, and Miami. Though this international parent company owns many sites and networks, they are independently managed and content remains exclusive, as do subscriptions.
Subscription
Mofos is a pay network, with subscriptions that allow access to all 21 network sites, original series, and bonus sites. Video previews are available for free with no account, but that's hardly worth wasting time on – the real good stuff is available by subscription.
Like many MindGeek sites, in addition to paying by credit card or paper check, you are able to pay for your subscription by trading in unused merchant gift cards from about 50 major brands, which is a nice feature, especially for those who are concerned about credit card fraud, or have significant others with access to the credit card statement.
We do the math so you don't have to! Below you can find a comparison of the different subscription plans available and our recommendations.
*The 2 day trial membership has "limited access", but the exact restrictions cannot be found in the Support section of the website or in the Terms and Conditions of Membership.
Porn Explosion Advice: The annual membership is where it's at for savings. It's worth pointing out that it's about $30/year cheaper than most other annual subscriptions to MindGeek-owned sites, so it's a damn good deal for the thousands of hours of content available.
We always recommend signing up for trials with a Visa, Amex, or MasterCard gift card, with a small balance, in case you have trouble cancelling or forget to cancel before the auto-renewal.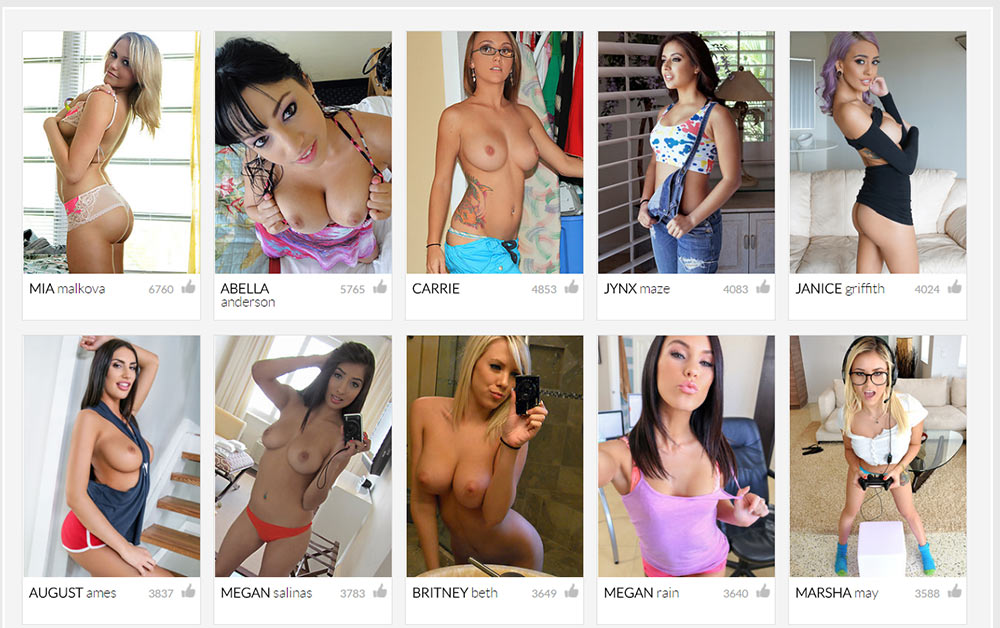 The Money Shot
Mofos is a great quality site for reality-themed porn. If you're looking for solo male, gay, transsexual, or extreme fetish porn, then this is not the site for you. But for mainstream porn across a wide range of categories, Mofos has a little bit of everything. The mix of amateur or lesser-known stars with a good helping of top-tier pornstars, too, provides a nice change from a lot of other site networks. And the value here is very good – a cheaper annual membership than most other similar size and quality sites, including most other MindGeek-owned sites. We highly recommend grabbing a membership to Mofos, then grabbing yourself!