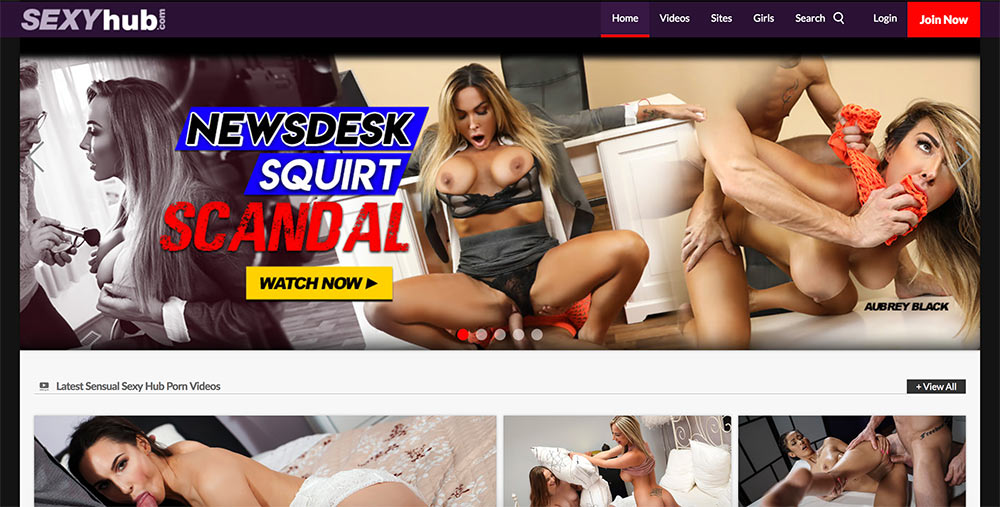 User Rating:
SexyHub is a relatively new porn site, registered in Luxembourg in 2014. It's the flagship site of the SexyHub Network, which includes Massagerooms.com, MomXXX.com, danejones.com, lesbea.com, and girlfriends.xxx.
As of January, 2019, SexyHub.com is the 34,043rd most-visited website in the world, the 2,437th most-visited adult site, and the 23,484th most-visited website in the US. Its Alexa ranking is 48,949th worldwide, and 55,418th in the US.
SexyHub Content
SexyHub is a freemium video site that serves as an aggregator for the SexyHub network of sites. At the time of this writing, there are 2,323 free videos available. All of them are available in HD, although you can also stream in 360p or 480p on a smaller screen.
The main page displays thumbnails of the most recent videos, with featured content receiving a bigger thumbnail. Clicking a thumbnail will take you directly to the video player, and clicking the Videos button on the top of the page will take you to a page with all the videos. There's also a search field in the top right, so you can search for "Teen", "Anal", "Lesbian", or whatever else you're in the mood for.
Videos on SexyHub.com are all samples from SexyHub Network sites, meant to encourage you to buy a membership. They're high quality, but they're short, around 2 minutes each. Purchasing a membership will unlock full-length versions of all the videos, which can range from ten minutes up to an hour or more. Not only that, but paid members can download unlimited videos in full 1080p in multiple formats, including MPG and QuickTime.
SexyHub is strictly a video site. There are no live cams, image galleries, erotic stories, games or VR porn. Advertising depends on whether or not you have a membership; the paid version of the site is ad free, but the free version has several banner ads asking you to sign up. Freemium videos also include short pre-roll and post-roll ads for the full version. .
On the mobile version of the site, thumbnails are collapsed into a single column, which is one of the best scaling choices we've seen. Both the mobile site and the desktop site load quickly.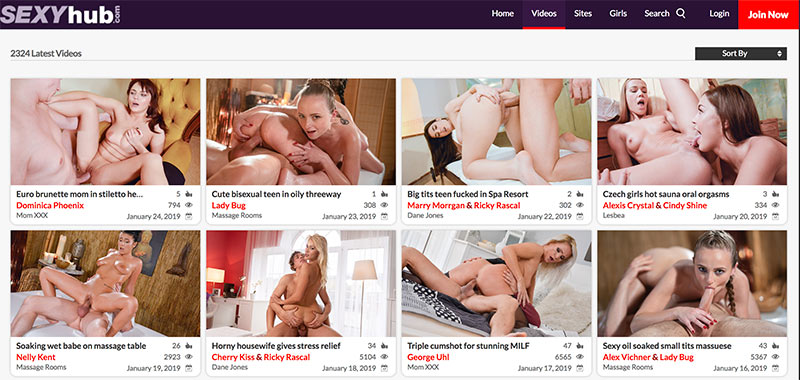 SexyHub Categories
There is no category search option on SexyHub.com. The reason for this is that all of the sites in the network — which you get access to with a membership — are categories in and of themselves. You can sort videos this way by clicking the Sites tab on the top navigation bar. From this page, you can view the latest videos from each member site, or click a button to show all videos from that site.
To begin with, girlfriends.xxx and lesbea.com are both lesbian sites. They have everything from amateur content to established stars, and they put an emphasis on sensual, toy-free action. There's also Massagerooms.com, which has both straight and lesbian scenes with lots of oil and candles.
Danejones.com is a couple-friendly site that's all about passionate guy-on-girl sex. The girls here seem to really be into it, with no fake moaning or giant plastic titties. This is also true for the models on MomXXX.com, which is SexyHub's MILF site.
Straight men, straight women and lesbians will all find something here to turn them on. Gay men will prefer other sites, though, since there's no gay porn on SexyHub.
Star Power
This is a newer site, so you won't see the very biggest names here just yet. That said, SexyHub does feature several up-and-cummers who are starting to make a name for themselves around the web. Tracy Lindsay, Gina Devine, Lucy Li, Lola Myluv, Connie Carter and Eufrat Mai are all worth checking out.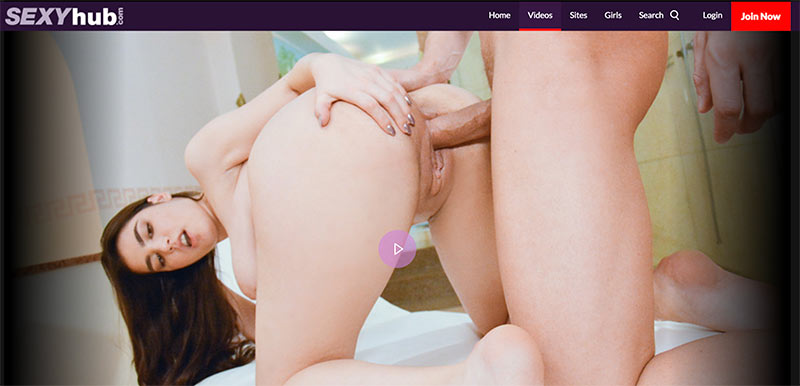 Network
SexyHub.com is the flagship site of the SexyHub network, and serves as an aggregator to provide all member site content in one place. The SexyHub network includes Massagerooms.com, MomXXX.com, danejones.com, lesbea.com, and girlfriends.xxx.
Subscription
Freemium videos don't require any kind of membership. That said, if you want to watch anything longer than a 2-minute clip, you'll need to buy a membership. A 2-day sample membership to SexyHub will cost you $2, and will give instant access to all SexyHub Network sites.
They have three options for longer-term membership: a single month for $29.99, three months for $20.00 a month ($60.00 total), or a full year for $9.17 a month ($110.04 total). You can make payments via credit card, check or gift card.
Autobill warning: Whatever membership you purchase, SexyHub will autobill you when it runs out. This will be at a rate of $39.99 per month, until you cancel. They'll also offer you a 3-day trial membership to another porn site, fakehub.com, for only $1.00. If you accept this, you'll automatically be billed $39.99 a month for that membership as well, unless you cancel
The Money Shot
If you like the kind of porn they're producing, SexyHub offers a good selection of high-quality video. The models are hot, and their scenes are shot in HD, with good sound. Long-term memberships are relatively inexpensive, although you'll want to avoid paying the monthly rate. There are several premium sites out there with more content, but it's definitely worth checking out SexyHub's freemium videos to see if you like their stuff. If you enjoy it, 2,300 videos should be more than enough for anyone.