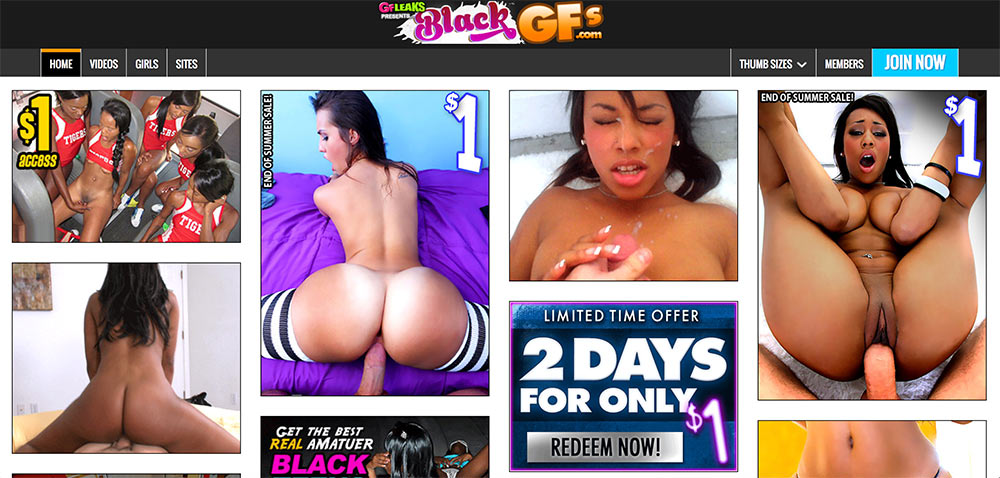 User Rating:
Blackgfs.com is a premium movie/video site that seeks to fill one particular niche: beautiful ebony ladies engaging in all manner of nefarious sex acts. They include but are not limited to, girl-on-girl, good ole fashioned girl getting railed by cock, group sex, and "amateur," as the site describes. So how does blackgfs.com succeeding in fulfilling that ebony void in our hearts? Let's take a look.
Content
The content of the site appears to be exclusively black actors catering to a decidedly straight, male or lesbian audience. From what we could tell, there weren't any more niche fetishes being represented beyond "black girls fucking black girls and other black dick." Videos on the site are offered in true HD, as well.
The site claims that there are "amateurs" in the videos, but that label is certainly used liberally. The shooting of the videos is shot in a "this is a professional video attempting to appear amateur but there isn't an amateur on the planet that shoots or acts this way in an actual amateur video." It appears to be either "amateur" performers, in the sense of unknown performers in very clearly professional productions, or very clearly professional performers attempting to mimic amateur situations (for example, cheerleaders on a bus). If you're looking for the hope and feel of real amateur videos, I'm sad to say you'll be sadly disappointed.
However, if you're hoping to find anything more specific about what the site has to offer in terms of content, you're going to find a significant problem: a gigantic, impenetrable paywall. The vast majority of the site is behind a paywall. Literally any link you click beyond the homepage will redirect you to a page attempting to entice you into a subscription, with the exception of a member's login page. It doesn't show you how many movies, what performers, or even video titles without putting in your credit card information.
So, if you really want to know, you have to do the most fucking annoying thing possible: find a sitemap and view text of what's available. If you google "blackgfs.com sitemap," you'll find access to a back-end diagram of the site, which in turn gives you the information that they so badly want to keep secret. You'll see a list of movies and performers that may influence your decision as to whether or not partake in the subscription service.
Categories
We can safely assume that "black girl fucks black girl," "black girl fucks black guy," and "black girl fucks a mixture of black girls and black guys" are likely themes that you can expect. However, after investigating the sitemap, it appears that blackgfs.com does not categorize their videos by theme, kink, or any kind of hashtag. You will find a list of movies offered, but if you're curious about what happens in them, get ready to break out the credit card and pay up.
Star Power
As we've mentioned, though blackgfs.com claims that many of their videos are amateurs, but rest assured that this is not at all an accurate representation of their performers. To view a list of performers, again, you'll have to go an out of the way route of the sitemap.
Once you find it, you'll see that performers are categorized alphabetically as well as by gender. As you can imagine, the vast majority of performers are females. The nice thing about having a list is you can search their names elsewhere and potentially see free videos of them on tube sites like Pornhub.
There doesn't appear to be any other categorization offered, such as filtering by physical traits or country of origin.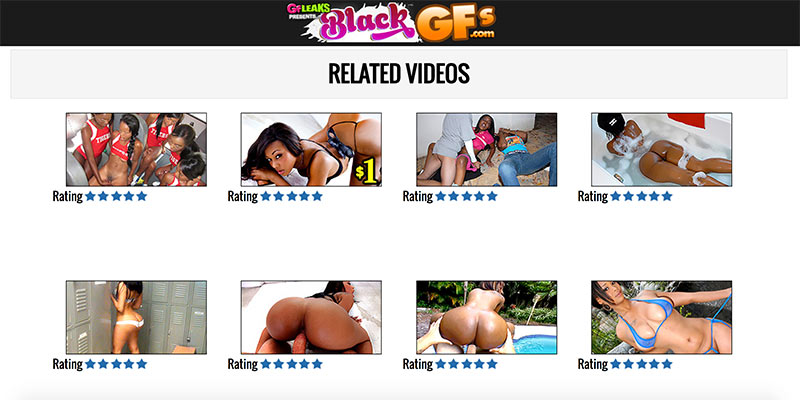 Network
Blackgfs.com is associated with gfleaks.com, which itself is owned by the massive porn company Reality Kings. As the name implies, they offer premium "amateur" content, in the same sense that Tom Brady playing football in a backyard is an "amateur" game of football: sure, you're not in a stadium and production is not as detailed, but you're still fucking Tom Brady you're not fooling anyone.
Reality Kings owns all kinds of porn brands catering to any number of niches, including incest fantasy, big dicks, all manner of races, and more. If you start at blackgfs.com and dig deeper, you'll find yourself in a never-ending world that is Reality King porn.
Subscription
Blackgfs.com does offer several different options for subscription, should your wallet be itching to relieve itself of cash. Just in case you forgot how your mouse interacts with your computer, we have the subscription options listed below:
1-year access for a one-time payment of $119.99 (payment is recurring)
3-month access for one-time payment of $59.99 (payment is recurring)
1-month access for one-time payment of $29.99 (payment is recurring)
2 day trial with limited access for $2 (after the 2-day trial, this automatically converts into a full-access membership billed at $39.99 a month until canceled)
Why you're punished for having the audacity to have a trial period is beyond us.
The Money Shot
A giant library of HD content catering to a niche of black performers is always welcome, but this site just isn't the way to get it. The entirety of the site is paywalled, and unless you have the patience to search the internet for some means by which to discover what is even offered, they purposely conceal what specific content they even offer. We suspect this is to goad you into trying a trial membership and then fucking you with the $39.99 a month and hoping you forget.
This, of course, is an extremely shitty practice which we don't condone. Especially when you can find blackgfs.com channels on free-tube sites like PornHub.com and watch a large collection of their videos for free. There are plenty of places to find beautiful black people fucking, and blackgfs.com simply isn't it.