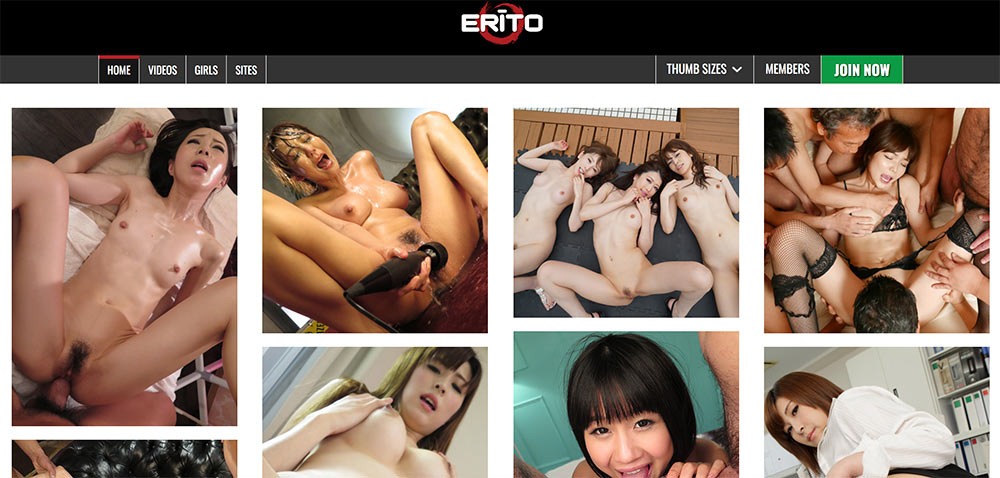 User Rating:
Erito is a Japanese porn site that was first registered in October, 2012. They're owned and operated by MindGeek, owners of the PornHub and RealityKings networks and their affiliated gay and fetish sites.
As of March, 2019, Erito.com is the 56,801st most-visited website in the world, the 3,617th most-visited adult site, and the 32,529th most-visited website in the US. Its Alexa ranking is 108,665th worldwide, and 136,719th in the US.
Erito Content
Erito is a paid, premium site that strictly hosts Japanese porn. And we're not talking about American porn with ethnically Japanese models. We're talking about real, made-in-Japan pornos.
At the time of this writing, the site only hosts 132 videos. They're all in 1080p, and are highly polished with good production values. Erito posts updates every few days, but it looks like almost half the videos were added on June 13th, 2019, while the site itself has been around since 2012. So what gives?
We did some research, and it seems that Erito is currently rebranding. They used to have over 3,500 videos, but their videos were censored in the Japanese style, with pixelated penises. In an effort to appeal to American users, they've taken down their own library and are painstakingly de-pixelating old videos and re-uploading them. This is in addition to their new videos, which come out about once a week.
The site itself is well-designed, with thumbnail previews sorted by upload date by default. Mousing over a thumbnail will display a series of preview GIFs to show you what's in the video. Clicking the thumbnail will take you to the video player, which defaults to 1080p. Be prepared to see every bead of pussy juice.
Of course, if you want to see any pussy juice outside of the preview GIFs, you'll need to pay. There aren't even any 1-minute free samples here, so have your wallet ready.
Erito is strictly a video site. There are no live cams, image galleries, erotic stories, games or VR porn. Just HD Japanese porn.
One baffling design choice is that there are no user ratings on their videos. This wouldn't be hard to implement, and it's a feature on almost every other porn site we've seen.
Subscribers receive an ad-free experience. While non-subscribers won't see any ads per-se, they will receive a popup that tells them to sign up whenever they click on any subscriber features — such as the Play button. The mobile site is well-designed, and loads cleanly on both Android and iOS.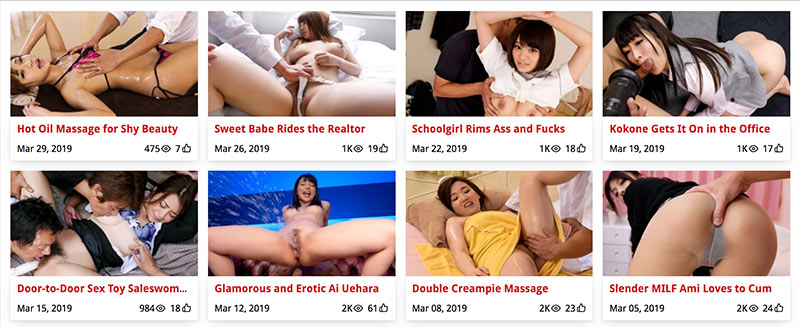 Erito Categories
Eritos videos can be sorted by 113 different categories, which seems excessive for a site with only 132 videos. We're assuming that this is a legacy feature that they left in, and that it will become more useful as they continue processing their back catalogue.
Categories range from standards like Big Tits, Blowjob and Masturbation, to more specific ones like Blowjob - Double, Blowjob - POV and Blowjob - Three Way. There are also some remarkably Japanese categories like Stand and Carry, Anal Winking and Bukkake. And for anyone who just wants the basics, there's the ever-so-helpful Sex category.
Erito is made for straight men, although straight women may also enjoy some of their videos. There's no gay, lesbian or transgender content of any kind.
Star Power
American porn fans will probably not be familiar with Erito's models. However, fans of Japanese porn will quickly recognize stars like Aie Uehara, Kokone Mizutani, Ayu Sakurai and Maiko Ohshiro.
One thing we should mention: all of these girls speak Japanese, and there are no English subtitles. If you're looking for an actual story, you won't find one. But if you're looking for a quick wank, never fear; moaning and writhing is the same in all languages.
Network
Erito.com used to be its own standalone site. In 2019, it was purchased by MindGeek, owners and operators of the PornHub network. Since then, the site has been getting overhauled, with old videos taken down and replaced with updated versions.
Subscription
To watch any videos on Erito, you'll need a subscription. There are a few packages available, and as is normal with porn sites you'll pay less per month for a longer membership. The best deal is the 12-month package, which costs $119.99, or $9.99 per month. Three month packages cost $59.99, or $19.99 per month. A month-to-month membership costs $29.99, and a 2-day trial membership costs only $2.00.
There's also an option to upgrade to a premium membership. We're not sure what this does, and the site doesn't tell us. We even tried contacting technical support, but they're just for billing support/fraud prevention, and don't know anything about what Erito is actually selling.
Autobill warning: If you don't cancel your subscription before it ends, it will automatically renew at your current rate. This can be painful if you signed up for a month to try things out and then forgot about it.
Whatever you do, if you take the 2-day trial membership, cancel before it ends, even if you like the site. Why? Because it will renew at the insane rate of $39.99 per month. The best thing to do is resubscribe at the normal rate.
Also look out for the little dropdown box for opting into a premium membership. By default, it signs you up for this mysterious service at $1 for 2 days, but it will renew at $34.97 per month until canceled. Ouch! That hurts as much as a rug burn on your balls.
The Money Shot
Erito's videos are right up there with the most polished porn on the net. The girls are drop dead gorgeous, and the site itself has a clean design and is easy to navigate. Their current overhaul is unfortunate, since they just don't have a lot of videos currently. That said, they're adding new ones every few days as they process their back catalogue, so there's no shortage of material coming your way.