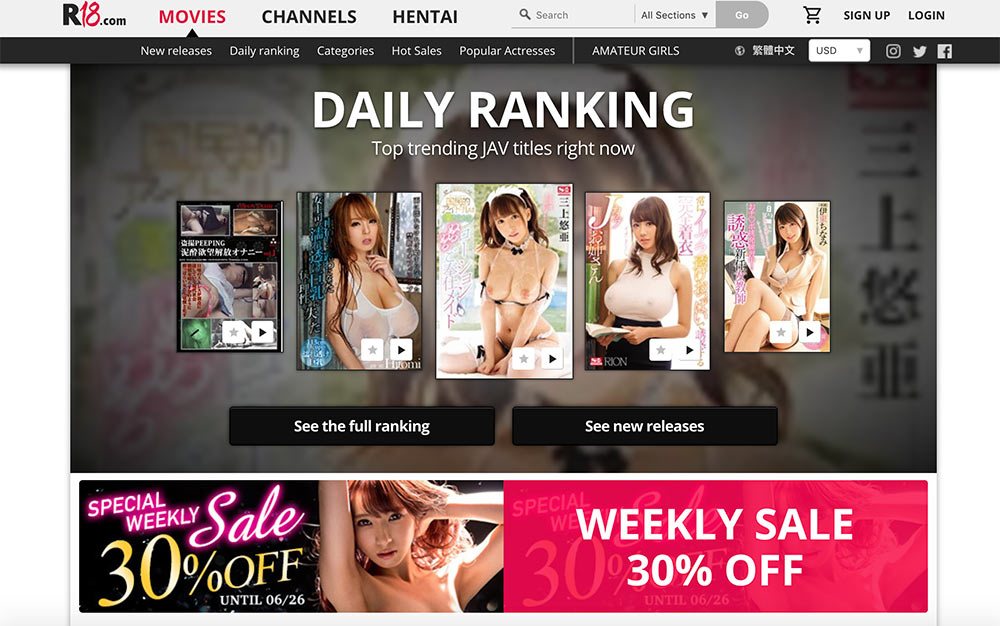 User Rating:
R18.com is a porn site that specializes in Japanese porn and hentai. It's the English-language website for DMM.co.jp, which is Japan's most popular adult site. It first came online in 2015.
As of February, 2019, R18.com is the 1,499th most-visited website in the world, the 130th most-visited adult site, and the 162nd most-visited website in Taiwain, the country where it's most popular. Its Alexa ranking is 1,956th worldwide, and 164th in Taiwan.
R18 Content
R18 hosts over 289,000 full-length Japanese porn movies. Most of these are professional productions, but there are a handful of amateur videos as well (around 22,000). In addition, they host a 455 hentai anime videos. This is more hentai than you'll see anywhere other than an actual hentai site. Finally, you'll find a healthy selection of VR porn movies, over 4,800 as of February, 2019.
The main page displays featured videos at the top, which are either new releases or videos that are currently on sale. Next, the most popular categories are displayed, with thumbnail images of the most popular videos. Finally, the top models are shown, along with their highest-rated videos.
Clicking on any of these thumbnails will take you to the movie's page. Here, you'll find a short series of screenshots from the video, as well as a brief sample clip. To see more, you'll need to pay. Prices vary by video, but we'll talk about that later.
Most videos on R18 are in HD, although some of the older ones aren't. This information is displayed in the movie's description, so you won't have to guess before you pay. Even the older videos are well shot, and sound is good throughout the site, although you'll find some exceptions in the Amateurs category.
R18 does not feature any live cams, image galleries, games, or erotic stories. Because this is a paid site, there's no advertising, other than ads for R18 sales. The mobile site scales well, and loads quickly on Android and iOS alike.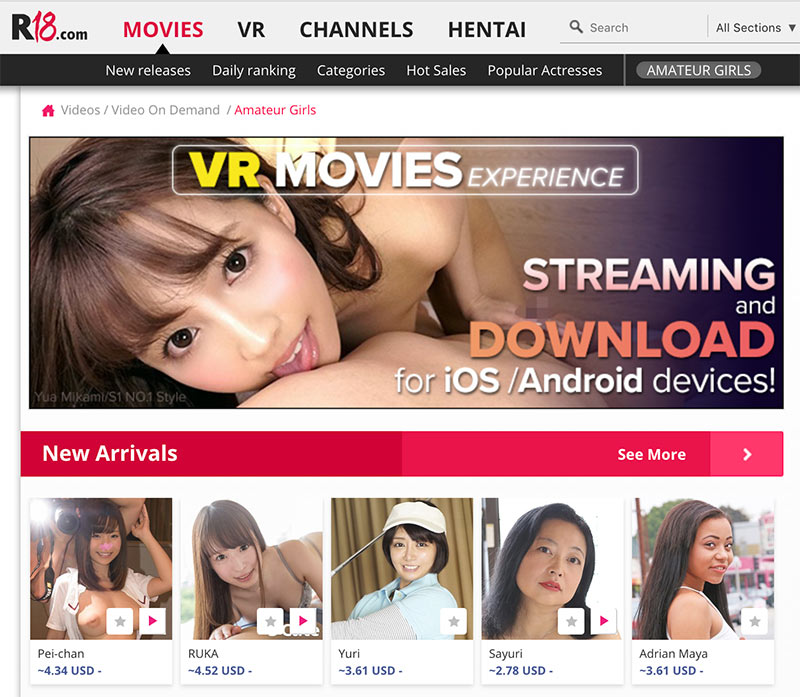 R18 Categories
When you're searching through a library this big, sometimes the easiest way to find what you want is to sort by category. With 197 different categories to choose from, R18 makes this easy.
Categories are sorted by situation (Housewife, Schoolgirl, Maid), by type (Asian Actress, Caucasian Actress, Huge Tits), by costume (Gym Clothes, Miniskirt, Lingerie), by genre (Action, Fantasy, Lesbian) and by play (Bondage, Masturbation, Blowjob). There are also categories for award-winning videos and staff picks, but most of these will be towards the top anyway if you're sorting by popularity.
There's no advanced search feature, so you can't combine categories. If, for example, you're looking for Lesbian videos with Huge Tits, the easiest way is to use the basic search box at the top of the site.
Straight guys and all women will find plenty of sexy movies to get off to. On the other hand, there's no gay content, so gay men will prefer different sites.
Star Power
Since this is a Japanese site, it should come as no surprise that the top models are all Japanese. Some of the most popular include Yui Hatano, Asahi Mizuno, Mio Kimijima, Ai Sena and Yua Mikami.
Network
R18.com is the English language portal of Japan's most popular porn site, DMM.co.jp. Both are affiliated with DMM.com, which is an online marketplace that sells everything from Forex securities to video games to mainstream movies. Affiliated porn sites include Moodyz, CineMagic and Euro Star, among dozens of others. Only in Japan will you find a mainstream shopping site that openly owns dozens of porn sites.
Subscription
A subscription to R18.com costs $81.13 per month, and can be purchased through their Channels page. This is extremely expensive, but is really unnecessary unless you wake up every morning with blue balls.
Every video is available for download or rental. While prices vary, and range from $2 up to $30, you're typically looking at around $3-$10 for shorter videos, and $10-$10 for full-length films. This is still fairly pricey, but at least you get to keep the videos.
If you'd rather spend less, video are also available for rental. Some of them are as cheap as $0.90 for a seven-day rental, although you'll find prices as high as $6 or $7 for longer movies.
Autobill warning: If you purchase a subscription, your card will automatically be billed every 30 days until you cancel. If you sign up for a month just to download a bunch of videos, remember to cancel, or you'll end up paying more than you bargained for.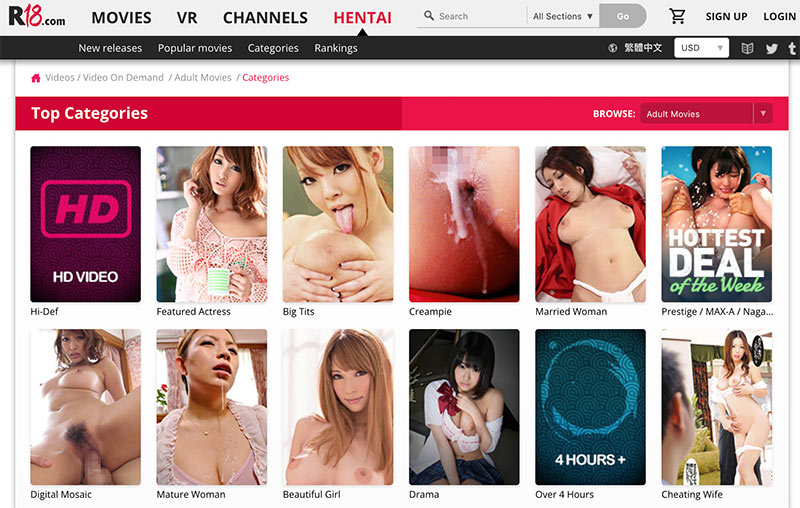 The Money Shot
If you're looking for Japanese porn from professional studios, R18.com has enough to satisfy even the horniest viewers. They also have a sizeable VR library, which makes them one of the better VR sites we've seen. On the other hand, they're expensive — more so than most porn sites. You can find plenty of Japanese porn for cheaper, even quality studio productions like these. Of course, you can buy videos outright, which means if there are 2 or 3 you like, you can watch them endlessly without paying a monthly fee. All in all, this is a nice site with some good features. Just don't buy a subscription unless you watch a lot of porn.