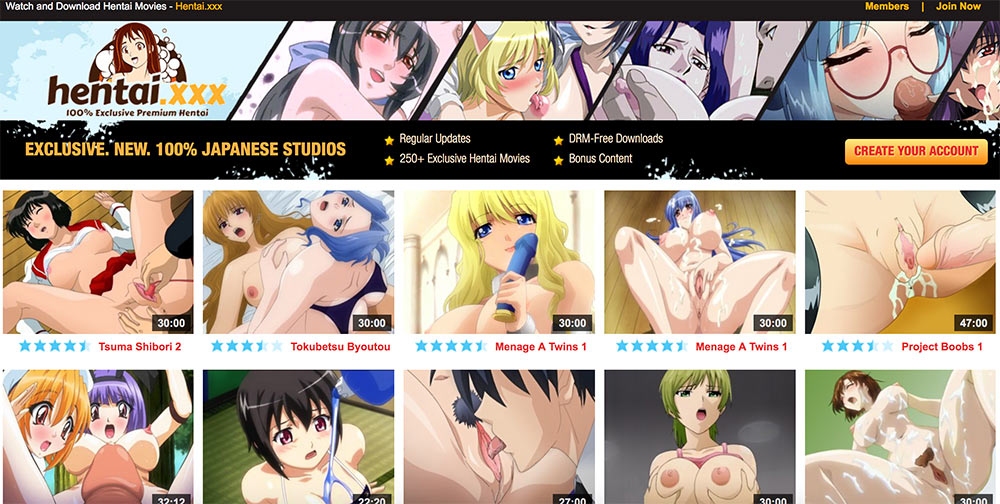 User Rating:
Hentai.xxx is a paid, premium Hentai site that was registered in Luxembourg in 2012. The site is independently run, and is not part of any porn network. What makes them unique is that all their videos are exclusive to their site, so you won't find these videos anywhere else.
As of January, 2019, Hentai.xxx is the 166,963rd most-visited website in the world, the 8,986th most-visited adult site, and the 133,708th most-visited website in the US. Its Alexa ranking is 309,697th worldwide, and 292,764th in the US.
Hentai.xxx Content
Hentai.xxx is strictly a premium video site, and hosts full hentai episodes with video lengths averaging about 30 minutes. There is no free content here whatsoever - you'll need to sign up with your credit card before watching any videos.
Once you've joined, you'll find over 250 exclusive videos, with new episodes added every week. Most of the newer videos are available for streaming and download in 720p, though the older ones are in 480p. Quality is generally good, and there's a mix of subtitled and dubbed content. All videos are uncensored, which is a plus.
Navigating Hentai.xxx is easy. The main page displays thumbnail previews of videos, with newer episodes at the top. Clicking a thumbnail will load the video, just as it would on your favorite tube site. There's no simple search feature, and honestly there doesn't need to be with a library of 250 videos. That said, you can quickly filter by category from the Niche page.
This is a premium hentai anime site, so there are no image galleries, live cams, games or VR porn. It loads well on mobile, both on Android and iPhones. Because this is a paid site, there's no advertising of any kind.

Hentai.xxx Categories
For a hentai site, Hentai.xxx's videos are relatively mundane. By this, we mean they don't have any monsters, tentacles, or exotic fantasy stories. Most of their content is set in the real world, although the girls still have huge anime eyes and big bouncing titties. There are a handful of Yuri (lesbian) videos, but most of the content here is guy on girl sex with a handful of BDSM videos thrown in. This site is definitely made for straight men and women.
Star Power
All of Hentai.xxx's videos are exclusive, with some of them being adaptations of popular hentai manga like Honoo no Haramase, Megachu! and Inyoutyu Etsu. Most of their videos are less well known, but still have high video quality and good production values.
Network
Hentai.xxx is based in Luxembourg, and is a standalone, independent site.
Subscription
This is a members-only site. Free users will be able to see preview thumbnails, but will be greeted with a signup form if they try to play a video. When you first sign up, you pay for a trial period at a steep discount. The one-day trial period only costs $1, while the 1-month trial is $34.95. You can also sign up for a 90-day trial period for $69.90. After your trial period, the regular monthly membership costs $39.95.
Autobill warning: At the end of your trial period, your card will automatically be billed $39.95 every 30 days until you cancel your membership. You'll also want to be extra careful on the signup page. At the bottom, there's a check box that opts you into a 1-day free trial for xxxmovienetwork.com. If you don't uncheck the box to opt out of that separate trial membership, or cancel it immediately you'll get charged $39.95 per month by xxxmovienetwork starting the next day. That's in addition to the $39.95 per month for Hentai.xxx. Ouch!
The Money Shot
This is what we would consider a boutique site. There's relatively little content, but it's high quality and all falls into a similar, real-world hentai genre that some people enjoy. If you're one of those people, particularly if your a fan of one of the hentai manga they've adapted into anime, it's probably worth getting a trial membership. If you're not into hentai, or if you're into more exotic hentai, the price is a bit steep for what you're getting.