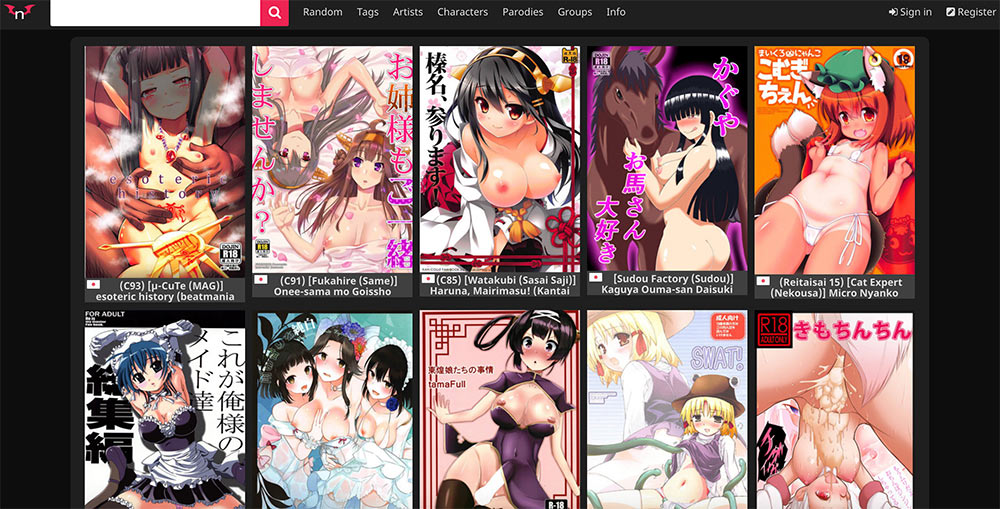 User Rating:
Nhentai.net was registered in 2014, and has since become the most popular hentai site online. It's independently run, and isn't part of any established network. Since it's not part of a network, and the registration is anonymous, there's no information available on the owner's identity. That said, he's very active on Twitter, which has boosted the site's popularity.
As of January, 2019, Nhentai isn't just the world's number one hentai site; it's the 120th most-visited website overall, the 10th most-visited adult site, and the 79th most-visited website in the US. Its Alexa ranking is 583rd worldwide, and 416th in the US.
Nhentai Content
Nhentai is a hentai site that compiles complete, unedited hentai manga for online viewing. Overall, there are over 250,000 titles available, with new ones added daily. The majority of the content is in Japanese, but there are over 75,000 English manga, as well as tens of thousands of Chinese editions.
There's no anime here, just full, high resolution scans of all your favorite hentai manga. Because of the nature of the site, there are also no games, VR, or live cams.
Nhentai's home page shows a series of thumbnail images of hentai manga covers. Clicking on a thumbnail will bring up a page with a short summary, tags, and a series of preview images. From there, you can start reading by clicking on any preview image, and page back and forth using the left and right slideshow arrows.
The mobile site works well. It's basically a scaled down version of the desktop site, and loads quickly. The manga is actually easier to read on mobile, because the vertical screen is better shaped to handle vertical manga pages.
Hentai appears chronologically on the main page, with newer titles at the top. You can use the buttons on the top bar to run a search, look up content by tag, artist, character or collection, or even jump to a random manga and start fapping. The only ad on this site is a single banner ad at the top of the page, usually advertising another hentai site.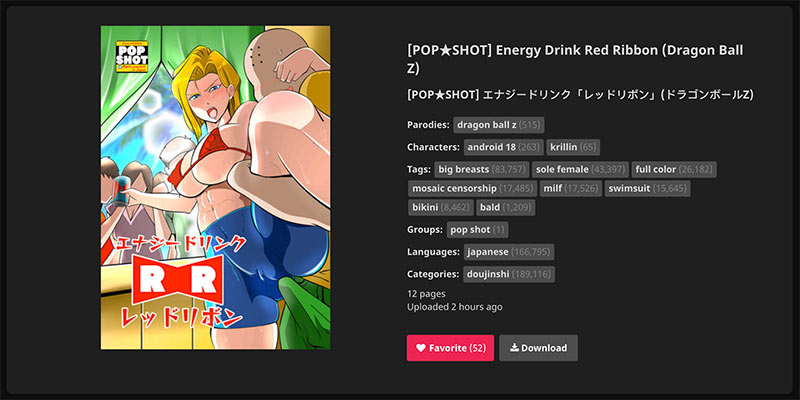 Nhentai Categories
Whatever kind of hentai you prefer, you'll find it on Nhentai.net. They have tentacles, yuri (lesbian), yaoi (gay), mecha porn, femdom, BDSM, and some ecchi (softcore). Animal girls, demon girls, angel girls, and lolis are also well represented here. Because of this huge variety, anyone who likes hentai will find something they enjoy.
Since uploaders tag their own content, there are over 2,300 tags to search by in the "tags" search section. This is convenient if you're looking for, say, "lactation" or "monster girl", but too broad or narrow for most things, like "mosaic censorship" (17,485 results) or the roughly 1,500 tags that only have one result.
The regular text search is far more useful, and delivers consistent results. It also lets you use boolean operators, so a search for big boobs (no quotes) will deliver all hentai with "big" and "boobs", while a search for "big boobs" (with quotes) will only return results for "big boobs".
Star Power
"Star" may not be the right word here, but several of the biggest creators in hentai manga have their content featured on Nhentai. The list of artists with over 400 titles on the site includes Crimson, Itaba Hiroshi, Inochi Wazuka, Saigado, Nekogen, Takasugi Kou, Nakajima Yuka, Cuvie and Sanbun Kyoden.
Network
Nhentai.net is a stand-alone site, and does not appear to be part of any network.
Subscription
Nhentai's content is 100 percent free, and does not require any payments or membership. There is, however, an optional free membership that allows you to save your favorite hentai to a favorites list. Signup only takes a few seconds, so this is a nice feature for frequent flyers.
The Money Shot
If you like hentai, you'll love Nhentai. If you're looking for quantity, they've got it; over 250,000 manga and counting. Quality? They've also got it. All their images look great, as if you're holding the actual page. Variety? They don't discriminate. If it's hentai, it's here. And of course, you can't argue with 100 percent free. All of that being said, this is all they do. There's no video or live porn. They do one thing only: hentai, and they're the best on the web at it.