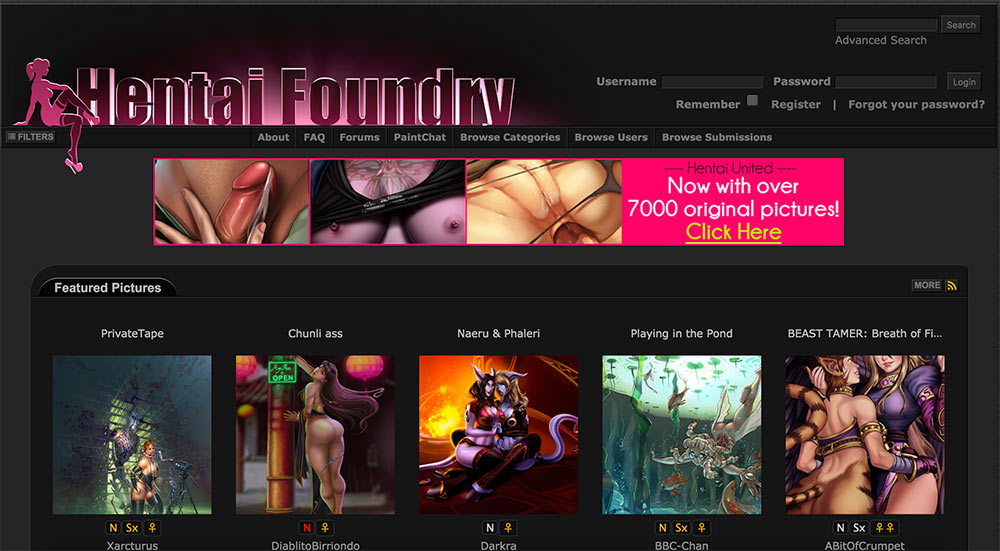 User Rating:
Hentai Foundry is a combination of a hentai/fanart image board and an erotic story community. It was registered in France in 2006 by an unknown owner, and is independently run.
As of January, 2019, Hentai-Foundry.com is the 1,811th most-visited website in the world, the 155th most-visited adult site, and the 781st most-visited website in the US. Its Alexa ranking is 4,118th worldwide, and 1,578th in the US.
Hentai Foundry Content
Hentai Foundry is a community site that primarily features fanart and user-created hentai images. It's highly curated, and the moderators have a humorous rant in the FAQ about how much better the quality is than DeviantArt. We're not getting into that debate, but suffice it to say that most of the images are very good.
There are over 88,000 images on this site, all of which can be downloaded as JPEGs. The latest entries are displayed as thumbnails on the main page. You can find others using the search feature. If you enter the name of your favorite anime, video game or movie character, chances are there are dozens of pictures of he/she/it doing the nasty.
There's also an erotic story section on Hentai Foundry. While many of these, like the images, are fan fiction, there's a lot of original content as well. The stories load directly on the page, so there's no easy way to download them.
Because of the nature of this site, there are no videos, live cams, games or VR porn. Advertising is minimal, just a single banner ad at the top of the page that promotes other hentai sites.
The community here is extremely active. The most popular story currently is called Find Your Way, and allows anyone who donates to the author's Patreon account to vote on what the main character does at the end of the day's entry. Many visual artists also accept commissions, and some of the highest-rated pictures are commissioned pieces.
Hentai Foundry's images and stories scale well on mobile, but the forums and user comments don't have enough room to load properly on a narrow screen, leaving a long column of single words on the right side of the screen. If you're here for the community, consider this a desktop site only.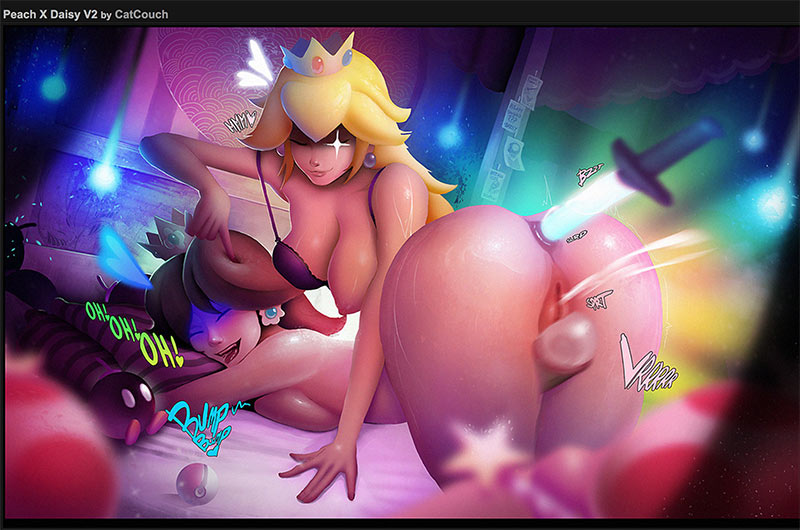 Hentai Foundry Categories
You can access Hentai Foundry's categories page from the main search bar. This allows you to look for fanart based on anime, cartoons, video games or other media, as well as searching for original artwork. Within most of these categories are subcategories for particularly popular source material.
For example, you can click the Expand Section button on the Games category to view fanart for specific games like Tomb Raider, Mass Effect, Dragon Age or Zelda, among dozens of others. We generally like to think that there's nothing on the internet that can shock us. We were wrong. The fact that not just one person, but several people, are drawing hentai of Earthworm Jim is proof that Rule 34 is as true as the law of gravity.
Hentai-Foundry.com has one of the more interesting search features we've seen. Because some of their stuff can get a little weird, there's a content filter available at the top of the page. By default, this site will not show you gore, scat, furry porn, racist content, transgender porn, incest or rape. Users can also filter out Yaoi (gay) or Yuri (lesbian) content, as well as specifically limiting male or female nudity, although these are enabled by default. Users can also filter out any content that's flagged with a spoiler warning.
With Hentai Foundry's huge variety and amazing customizable search options, there's something here for everybody who loves hentai. Just don't change the default content filters unless you want to see two anthropomorphic dog-men in Christmas sweaters 69ing.
Star Power
No pornstars here, but if you ever wanted to see your favorite characters getting it on, this is a great place to come. Princess Leia and Rey scissoring? They've got it. A pregnant Liara Tsoni getting gangbanged by a pack of varren? Nailed it. Lois Griffin and Bonnie Swanson having a threesome with Brian? They've got that, too. You'll also find Princess Peach getting fucked by a transsexul Bowsette, Mikasa from Attack on Titan surrounded by dicks, and Hermione getting double-stuffed by house elves.
Network
Hentai-Foundry.com is registered in France. It's independently run, and does not appear to be part of any network.
Subscription
There is no subscription required for this site. There is a free membership option, and it takes mere seconds to sign up. Members can save images or stories to their own private gallery for easy access, but there's no members-only content.
While everything on Hentai Foundry is free, many creators post links to their Patreon accounts. If you appreciate a particular artist's or writer's work, it's usually easy to support them this way.
The Money Shot
Hentai Foundry is one of the best fanart sites online, featuring some of the raunchiest hentai you'll find anywhere. The community is extremely engaged, and many of the stories and images are commissioned work. Some of the fetish content is on the extreme side, but you'll only see it if you change your content filter settings. The mobile site looks good in general, but the comments sections are practically unreadable, which is a shame for a site that puts so much emphasis on community. That said, if hentai or fanfiction fantasies get you off, Hentai Foundry will quickly earn a spot in your spank bank.