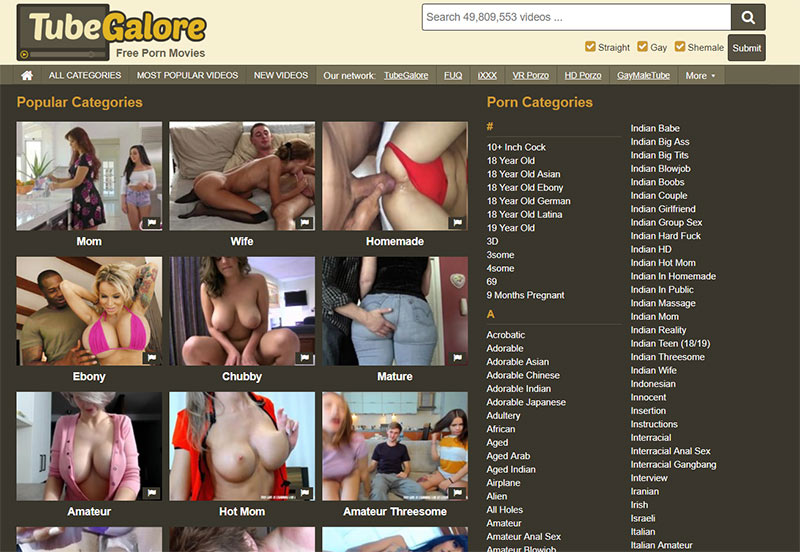 User Rating:
TubeGalore is a popular porn tube video site indexer or aggregator. While the actual video content is hosted elsewhere, the site can be used to search and find specific categories of content available, and then click through to view the chosen videos. Some porn tube index sites use a primarily search-engine type interface. TubeGalore certainly has search features, but it's more focused on a thumbnail browsing interface overall. These kinds of sites continue to grow and become more valuable, as the quantity of videos on tube sites continues to increase. The interface is fairly simple, with a list of categories to choose from, a direct search feature, and 3 primary inclusion criteria – Straight, Gay, and Shemale.
The site is part of the AdultWebmasterNet network, which features about a dozen sites that work in a manner similar to TubeGalore – they index free porn tube site content, to make it easier to search and find the content you want to wank to, across all the different tube sites on the Internet. TubeGalore's Alexa ranking places it among the top 3,000 most-visited sites globally across all categories, and in the top 2,000 in the US.
TubeGalore Content
At present, TubeGalore indexes just shy of 50 million free videos across dozens of different tube sites. This allows users to search across many different sites and their content at once. TubeGalore has developed an incredibly detailed list of categories to complement direct searches with browsing by category. Thumbnails, the video title, the source tube site, when it was indexed or added to TubeGalore, the user rating, and the length of the video are all included in each video snapshot entry when browsing. This makes it really easy to find content – especially specific types of content, fetishes, and so on – without having to visit dozens or hundreds of different tube sites to just find the same few clips.
Since TubeGalore indexes free tube sites, this means there's both amateur and professional studio content, and everything in between. When you find something you like, just click the video thumbnail and info, and you're taken to the tube site where the content lives to view it. Simple, easy-to-use, and reliable, it's a great tool for looking for specific porn, certain categories, models, styles, and so forth. Results can be sorted by date indexed, popularity, or duration, and filtered by those same criteria, as well as the source tube site.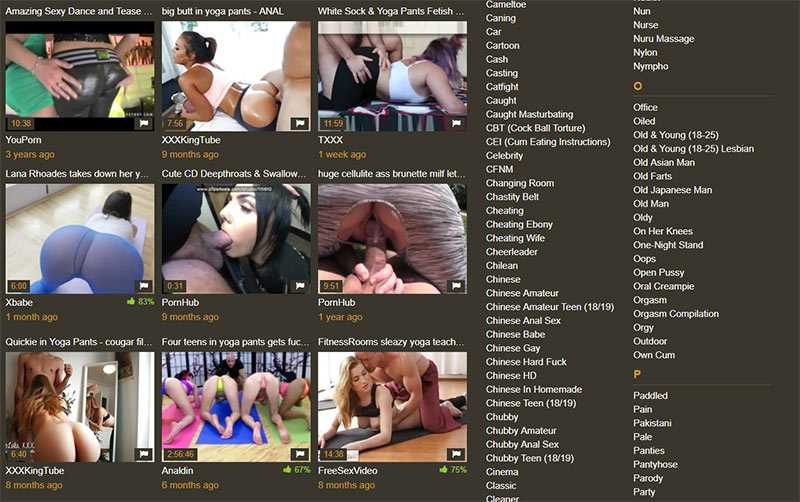 TubeGalore Categories
Pretty much every imaginable category of porn is indexed here (as long as it's legal). The list of keyword/category filters features over 1600 categories, ranging from vanilla to very kinky. Rather than try to characterize the categories, we've compiled a truly random sampling of 20 entries, using a random number generator to pick category examples. This reveals the variety of the catalog of videos indexed on TubeGalore:
Asian & BBC
Clit
Fantasy
Asian Footjob
Italian Amateur
Truth or Dare
Teen
Czech Amateur MILF
Buttfucking
Japanese Cum
Denial
Melons
Classy
Tricked
Model
Filipina/Filipino
PAWG
Swimsuit
Downblouse
First Time
Star Power
The free videos that can be found through TubeGalore include amateur and professional content from many tube sites around the Internet. As a result, the full range of adult stars of yesterday and today can typically be found in videos indexed here.
Network
TubeGalore is part of a network of tube sites and indexes for adult content. This network is called AdultWebmasterNet. Other sites they run include Fuq.com, iXXX.com, VRPorzo.com, HDPorzo.com, GayMaletube.com, SheManTube.com, ForHerTube.com, MatureTube.com, TubePornstars.com, TubeMales.com, and TubeShemales.com
Subscription
TubeGalore is a totally free site, and indexes free tube site content.
The Money Shot
If you're looking for free porn videos, and don't know what tube site to check out, don't settle – visit TubeGalore. With almost 50 million indexed videos across dozens of tube sites, and an exhaustive list of video categories, there's almost nothing you can't find on TubeGalore. It's easy to find what you're looking for, and explore new content, studios, categories, and more. It's also really helpful for finding videos you've seen before, and thought were lost to the mists of time. We can personally attest to that! So check it out – it's free, functional, and faptastic!