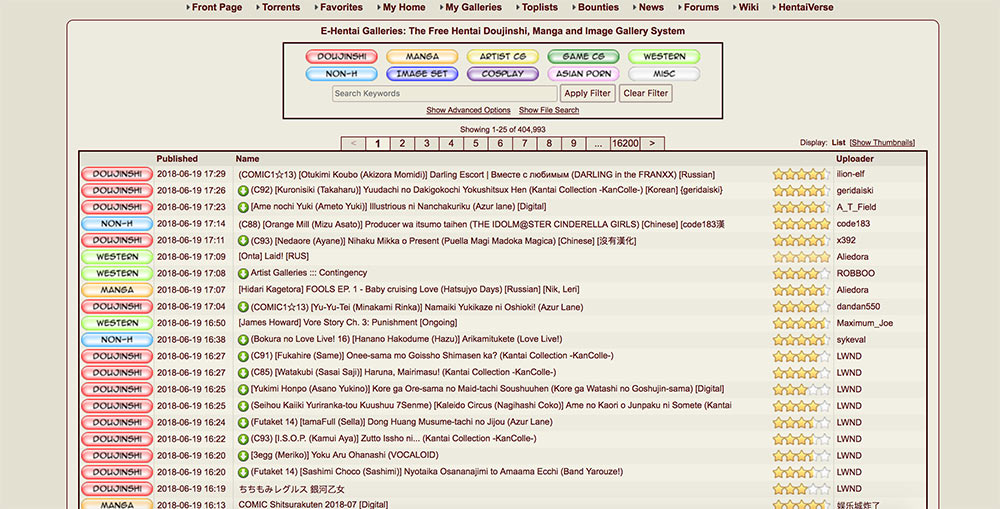 User Rating:
E-Hentai is a hentai image site that was registered in Arizona in April, 2005. It's an independent site, and is not affiliated with any network. As of February, 2019, E-Hentai.org is the 165th most-visited website in the world, the 13th most-visited adult site, and the 63rd most-visited website in Japan, the country where it's most popular. Its Alexa ranking is 599th worldwide, and 198th in Japan.
E-Hentai Content
E-Hentai is an image board for hentai fans to share, view and download hentai images. They currently host over 442,000 galleries. Most of these galleries are complete manga and have dozens of pages, but some of them are smaller fanart galleries.
The main page displays galleries as a list, with the most recently added galleries appearing at the top. By default, the list is a series of text links, although you can preview the first image in the gallery by mousing over the link. There's an option at the top of the list to display all thumbnails. Choosing this option will make the page take longer to load, but you'll see all the previews without having to mouse over them.
Clicking on a gallery will load a preview page with a brief description of the work, any associated tags like Monster or Femdom, and a series of thumbnail previews of all images. Clicking any thumbnail will load a slideshow, which you can navigate using the direction keys on your keyboard.
Most of the pictures on this site are extremely high quality. For full manga, the standard resolution is 1280 x 1780. Members get the added perk of being able to download full-resolution versions at an insane 2646 x 3679. There are no porn videos, live cams, or erotic stories on E-Hentai. They do have an associated game site called Hentaiverse, which you get a free membership to when you join E-Hentai. It's a text-based game and really has nothing at all to do with porn, but it's fun if you're into that kind of thing. We ended up getting sidetracked and spent an hour playing the game instead of looking at porn.
Advertising on this site is minimal. There's a banner ad at the top and bottom of each page, including the slideshows, but the ads are small and unobtrusive. E-Hentai does not have a mobile site, so your phone will load the desktop version. While the site loads just fine on mobile and the images look great, text links are extremely small. Worse, the banner ads at the top and bottom of the slideshow are right next to the tiny forward and back arrows, which makes it easy to fat finger a button and end up on a third-party paid site.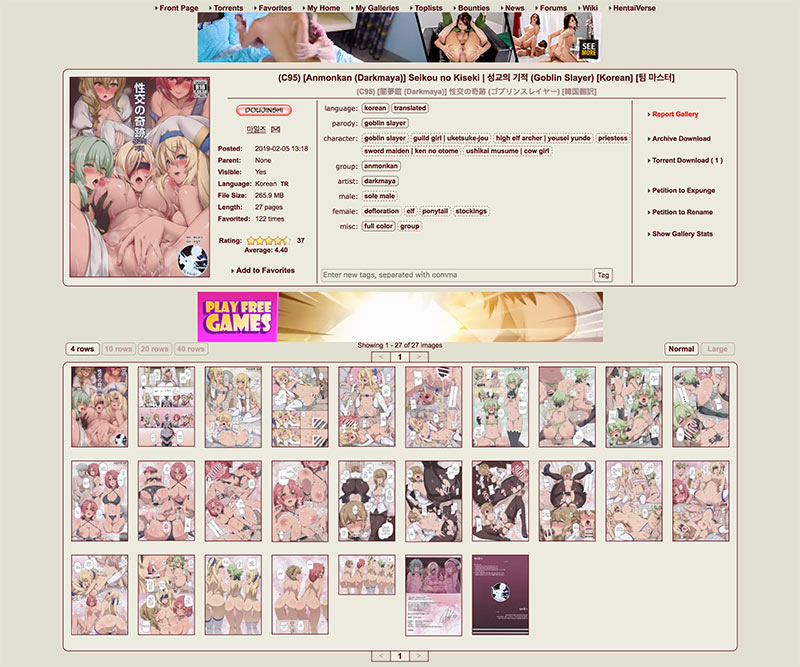 E-Hentai Categories
There are a few ways to filter content on E-Hentai.org. The first is a basic keyword search. The second is to click one or more of the category buttons over the search bar. You can mix and match any combination of Doujinshi (hand drawn amateur art), Manga, Artist CG (computer generated amateur art), Game CG (frame-by-frame captures of hentai games), Western, Non-H (work-safe images), Cosplay and Asian porn images. American viewers will probably want to set their filter to Western and leave it there, since the vast majority of galleries in other categories are in Japanese or Chinese.
If that's not enough searchability, you can click the little link under the search bar that says Advanced Options. From there, you can choose to search individual file names, search descriptions as well as keywords, and view downvoted galleries that are hidden by default.
Because of the sheer volume of content at E-Hentai, there's something for people of all genders, kinks and sexual orientations. Whether you're into girls, guys or telepathic squid demons, you'll find it here.
Star Power
There's a nutload of fanart on E-Hentai, so you can find many of your favorite cartoon and video game characters doing the nasty. Some of the most popular tags are for Mass Effect, Tomb Raider and Bayonetta. You'll also find lots of scans of popular hentai manga, although the majority of these are in Japanese or Chinese.
Network
E-Hentai.org is independently owned. They aren't part of any network, although their Hentaiverse.org game site is a step in that direction.
Subscription
No membership is required to view content on E-Hentai. However, you'll need a membership to save galleries as favorites, leave comments, upvote or downvote galleries, or to download high resolution versions of images.
To limit server use, E-Hentai charges users digital credits for image downloads. Users earn three credits per minute naturally, and can accumulate up to 5,000 of them at a time. Since a single image download costs 10 credits, this is an extremely generous download limit. That said, if 18 downloads an hour isn't enough, you can always purchase credits.
Users can also gain perks by running E-Hentai's Hentai@Home app on their desktop PCs. This app basically turns your PC into an E-Hentai server when you're not using it. In exchange for helping them host their site, E-Hentai pays a special currency, called hath, to these users. You can spend hath to turn off ads, get additional search options, and exchange it for credits to use for downloads.
The Money Shot
E-Hentai is one of the most popular hentai sites out there, and hosts an absurd 442,000+ galleries. Even though most of the content is in Japanese or Chinese, there's enough English-language hentai to keep you cumming for years. This site loads quickly and works great on desktop, though the mobile site could use some cleaning up. If hentai is what gets you off, this site is among the best of the best.