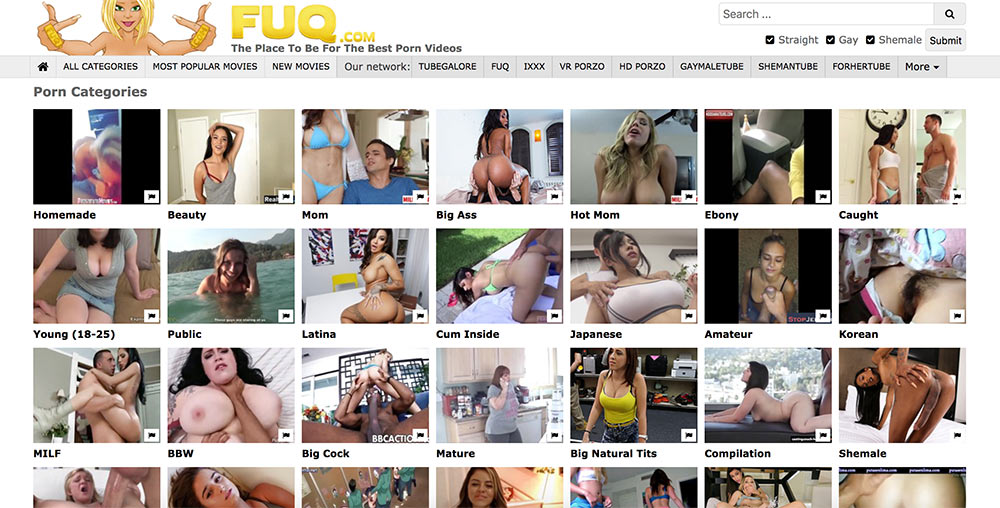 User Rating:
The name of this site says it all.
A hilarious play on the word fuck, Fuq.com pokes some fun at you while you're streaming videos of male stars poking back with their schlongs. With over 50 million videos to choose from, it's no wonder that Fuq.com is cumming up on top as one of the adult industry's top providers for FREE streaming porn content. You may ask yourself, "why should I fap to Fuq?"
Unlike websites such as Pornhub.com or even Brazzers.com, what makes this site perkier than all the others is that, instead of uploading home-grown content, Fuq.com instead pulls videos from all over the internet. No longer are the days when you have to sift through a myriad of websites just to find the right video of a MILF sucking the hell out of her stepson with tits larger than Pamela Anderson's career. Now, you get to sit back on your favorite chair, go to Fuq.com, and have plenty of options. Instead of just having your throbbing cock at your fingertips, why not also all of the world's most popular porn videos?
Think Google, but with search results specialized in videos like "Naughty Step-daughter," "Cumming to America," or "Anal Antarctica." Okay, I made these three titles up. I think . . . but you get the idea. Fuq.com is a tremendous search engine for pornographic content. Unlike a lot of other streaming sites that generate their own income by being independent sites, Fuq.com is funded by a company called AdultWebmasterNet, which has been a major player in the adult industry since 2002.
Fuq Content
Did I mention that there's over 50 MILLION videos to watch? If only I had a dollar for each blowjob scene or every time I saw a girl taking jizz to the face on this website. . .
As with the other popularly-watched adult websites, Fuq.com offers a wide tier of categories to suit your secret fetishes. From Busty Teens, to MILFS, to Grandma's First Anal Experience, to Transgender schlongs bigger than the national debt, this site's got it all. I mean, when it comes to the imagination of Fuq.com, the sky's the limit. And with HUNDREDS of categories to choose from, any video is just a mouse-click away. Just make sure you bring plenty of Kleenex tissues and hand lotion.
A really convenient feature of this website is that, as soon as you cum onto the home page, you see a lot of different videos popping out at you like a set of voluptuous breasts just waiting to be sucked on. From here, all you got to do is click on the category that fits your fancy. Or simply use the search bar and type in your favorite anal escapade.
If you get bored from the random streaming of videos, you can always click on the "More" section at the top-right of the home page and view subcategories like MatureTube and TubeMales, although you will be directed to affiliate sites from here.
Another really cool feature is Fuq.com's friendly Mobile Device experience. You heard that right, folks. Instead of waiting all day to get to the nearest PC, you can rub one out on your mobile device. I, personally, have an IPhone 6 and can promise you no issues on that platform. In this day and age, when it comes to having sexual content available on your phone, this is something huge and impressive.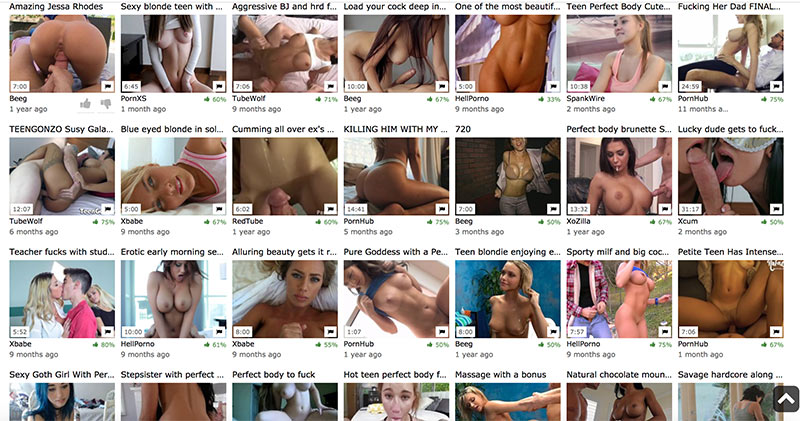 Fuq Categories
When it comes to housing so many unbelievable videos on sex, you have to crack the whip and keep things in line by using features that allow you to filter the types of videos you want. And Fuq.com has their shit together. I'm talking about rankings by: Most Popular, Date, Quality, Duration, and Source. That way, if you're the Average Joe that isn't quite sure what kind of Hentai Porn to watch, you can always check out the Most Popular videos to help!
Another really cool and interactive feature is, similar to sites such as PORNHUB or REDTUBE, users get the chance to up-vote videos they deem worthy of ejaculation-attention. This helps the site to keep tabs on the Most Popular videos, etc. That way, Average Joe Wanker can see what all the "cummotion" is about.
Mentioned previously, Fuq.com has a myriad of categories. And it gets even better, because they're all alphabetized! There's even categories such as: 9 Months Pregnant, Bizarre, Diaper, Medieval, Squirt, and Thai Amateur. Whatever your dirty desire, Fuq.com has got it covered. So relax, lay back, and let them do most of the work for you (but they can't jerk you off for you).
Star Power
Because Fuq.com pulls its content from all over the internet, grabbing and yanking the best videos from all the best porn sites, it sort of goes without saying that you can find all of your favorite porn stars on here. That's right, you can still view Sunny Lane and Dakota Sky or Connie Carter and Stormy Daniels.
But don't just take my word for it. Use the search bar at the top of their page to find out for yourself. There's even tabs near the top that allow you to view some of your stars doing VR. Just make sure you have enough coins saved up.
Network
Fuq.com seems to elude social media for some reason. Not entirely sure why, either. You'd think it'd be advantageous to get the word out about all the cumming attractions by them. Only thing to note about fuq.com, again, is that it's owned by a proprietor known as AdultWebMasterNet.
On some independent website that ranks world sites, Fuq.com is listed as 68th in Adult Streaming. Not bad when you consider how competitive the adult industry is, especially for streaming content on the internet.
Subscription
Unless I've gone blind from all the porn (but it's in the name of research, right?), I don't see a way to pay for a subscription. But, really, where's the need to if the site is FREE. YES, FREEDOM FOR PORN! So, no need to grab your credit card and risk your spouse finding out when the bank statement comes in. Just whip out the Old General and put him to work.
The Money Shot
Here's where things DO get a little slippery for this titan search engine. One important point to make out to viewers: although most adult sites are now relatively safe these days, Fuq got a lot of flak earlier this year (2018) for a supposed virus going around for certain users. I'm not talking Trojan or one of those malicious viruses that threatens to shut down your PC unless you send the hijackers a large sum of money. TecOReviews.com did an article on this site back in February. The gist of it was that the virus isn't anything "too dangerous," just makes it annoying to use browsers sometimes, and you may have to fight off unwanted porn pop-up ads.
However, on that note, it's nearly been a year since this minor hiccup, and it appears the "virus" has essentially faded away. Just make sure you have updated Anti-Virus on your computer and that you use protection. Another annoying component of this website is that you have to open a new browser tab each time you click on something on this site. So, by the time you've located your favorite video of a Latina MILF getting double-teamed, you've unleashed an army of browser tabs across your screen. For some people, this can get irritating fast. That being said, let's not forget the many WONDERFUL features of Fuq.com. Remember, it's FREE, BABY. Oh, and you don't have to worry about pesky advertisements spread across the website. That's something I saved for mentioning here. How many times have you accidently clicked on an ad promising fast results for your dick when all you wanted to do was watch some innocent teenager take two cocks to the mouth? Don't have that problem with Fuq.com. So, all in all, I highly recommend you check out this growing leader in the adult streaming industry. Fuq.com deserves a cum shot. Why not give it a chance and rub one out?