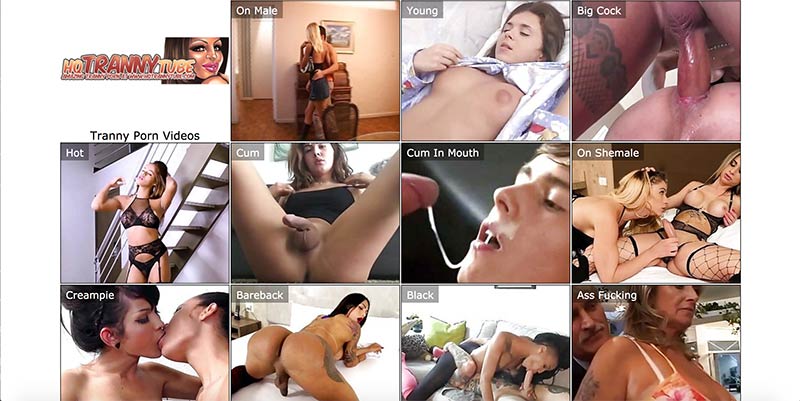 User Rating:
HQTrannyTube.com is a relatively new shemale porn aggregator site that was registered in September, 2018. They appear to be independently run. As of June, 2019, HQTrannyTube.com is the 36,291st most-visited website in the world, the 3,720th most-visited adult site, and the 19,284th most-visited website in the US. Its Alexa ranking is 62,738th worldwide, 15,595th in Germany, the country where it's most popular.
HQTrannyTube Content
HQTrannyTube.com currently links to 21,800 videos, with new additions (and subtractions) daily. You'll notice we said "links to" instead of "hosts". That's because this is an aggregator site, which collects the hottest shemale videos on the web and puts them all in one central location.
The main page displays a series of tiles for different categories, and clicking on a tile takes you to the page for that category. Inside each category, you'll find preview tiles for 200 videos. Why 200? We couldn't tell you. But it's the same for every category. Clicking on a preview tile will open a new tab for that video, on whatever site it's hosted on. Most of the links are to established tube sites like XVideos, PornHub, or RedTube, or to dedicated shemale sites. As a result, the quality is generally good, although you'll also find some grainy or sub-par videos. The only thing these clips seem to have in common is that they're popular.
So far, so good. But there's no search function. There also aren't any user ratings, or even any video descriptions. Not even so much as a preview GIF. So basically, you're clicking on a single still image and hoping the whole video is worth your while. And if you do find something that's up your alley, you'll have a hard time finding it again.
There are no image galleries, VR porn, erotic stories, interactive porn, or games on HQTrannyTube. There's no dedicated mobile site, but there doesn't need to be. The standard desktop site loads just fine on mobile. There's no advertising on this site. However, every click of the mouse opens a new tab in your browser. This is irritating enough on a desktop PC, but it's downright infuriating on mobile.
HQTrannyTube Categories
HQTrannyTube's main page shows 109 categories of porn. These range from the vanilla — Amateur, Black, Small Tits, Handjob, Blowjob — to the kinky — Anal Gape, Hairy, Pissing, BBW, Gloryhole. They even have a Vintage category with some classic shemale vids, and a Pussy category in case you wound up on a site called HQTrannyTube without looking for shemales.
Here's the thing. Not all of these videos are trans porn. Most of them are, but many are just regular straight porn videos that fall into the same category. And because there's no description and no preview GIF, you sometimes won't know what you're getting until you open the video. For example, we clicked on the first video in the Young category, and were treated to a video of a sexy brunette teen dildoing herself. But it was just a standard masturbation video; nothing trans about it.
There's enough content and variety here to satisfy people of any gender and orientation. But what you think you're seeing isn't always what you get.
Star Power
It's hard to gauge this site's star power, since there's no way to search for stars. That said, they link to a lot of mainstream and shemale sites, and the most popular results are most likely to feature the biggest stars. As for specifics, we spotted Bailey Jay in one of the preview thumbnails. Take that for what it's worth.
Network
HQTrannyTube.com is independently owned and operated. They seem to have affiliate agreements with a number of other sites, but they're not part of any established network.
Subscription
There's no membership available for this site. Anyone can visit and view any of their videos free of charge.
The Money Shot
HQTrannyTube.com is a barebones aggregator site that loads quickly and takes you right to the action with just a couple of mouse clicks. The library of almost 22,000 videos is larger than you'll find on most porn sites, and it's 100 percent free. But the lack of a search function, user ratings, or useful previews is like throwing a pair of leg shackles on Usain Bolt and expecting him to win the 100 yard dash. It's just not happening. We'll pass on this site.