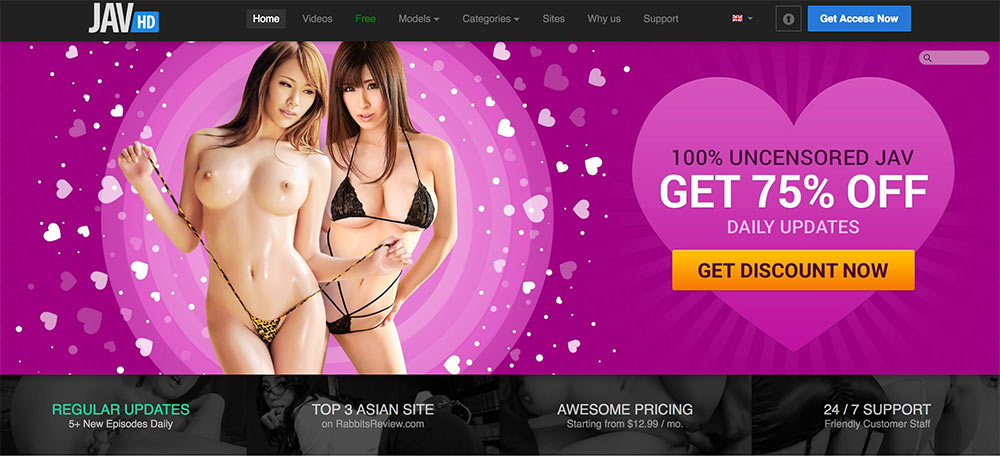 User Rating:
JavHD.com is a premium porn site that was registered in 2010 in Belfast, Northern Ireland. It's the flagship site of the JavHD network, which includes 17 affiliate sites.
As of February, 2019, JavHD.com is the 2,324th most-visited website in the world, the 204th most-visited adult site, and the 753rd most-visited website in Japan, the country where it's most popular. Its Alexa ranking is 2,166th worldwide, and 411th in Japan.
JavHD Content
Jav stands for Japanese Audio-Video, so it shouldn't surprise you that this site features only Japanese models. We don't mean Asian girls from San Francisco, either: this is actual Japanese porn, made in Japan. As the "HD" in JavHD implies, all 2,304 of their videos are in full 1080p.
The main page displays thumbnail image previews of their videos, with the most popular ones being listed towards the top. Clicking one of these thumbnails will take you the video player page. From there, paid subscribers can view full-length video. Members can also download videos in MP4 format, either in 480p or full HD.
Free users will be limited to short preview clips, usually around 60-90 seconds in length. The exception to this is the Free Zone. You can find this section by clicking the green Free link on the top search bar. Here, there are a handful of featured, full-length scenes that anyone can watch.
The video quality is generally good. Not only is everything in HD, but the scenes are well lit and well recorded. These are professionally shot videos, on par with what you'd expect from major US and European porn studios. One thing American users should keep in mind: this is a Japanese-language site. While the video descriptions and links will appear in English, the girls in their videos all speak Japanese.
JavHD does not feature any live cams, image galleries, games, VR porn, or erotic stories. Free users will see frequent ads urging them to sign up, while paid subscribers to JavHD will have an ad-free experience.
The mobile site is one of the better ones we've seen. Video thumbnails are collapsed into tiles, but they are displayed in a mosaic instead of as a column. This is easy on the eyes, while still allowing you to navigate the site with your thumb.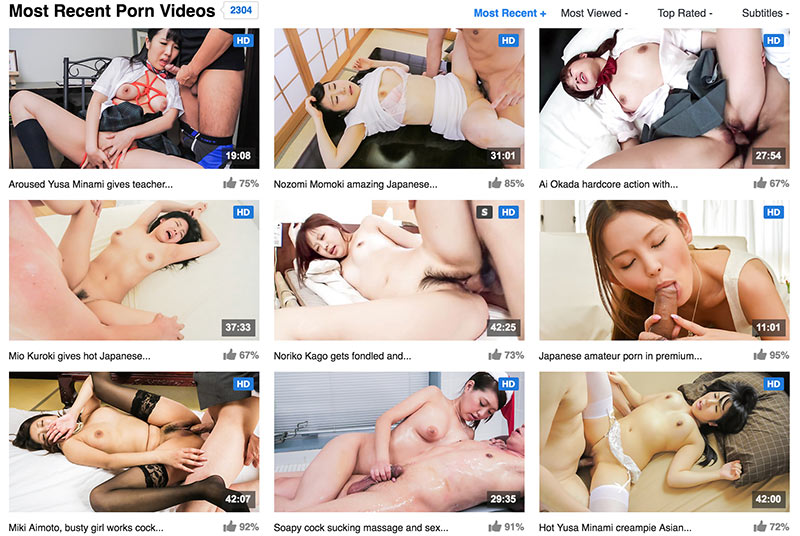 JavHD Categories
JavHD divides their porn into 38 categories. These are easy to find by clicking the Categories link on the top search bar. A dropdown will appear, showing the most popular categories, with a link to show all 38 categories if you want to go deeper.
Categories include staples like Anal, Blowjob, Lesbian, Teen, Masturbation and MILF, as well as more distinctive Japanese categories like Schoolgirl, Office Lady, Cosplay and Bukkake. There's no advanced search available; you can only select one category at a time.
Tagging on these videos is inconsistent, and most videos are only in one category. For example, there are currently 78 videos in the Hairy Pussy category, and 173 videos under Shaved Pussy, for a total of 251 videos out of the site's total of 2,304. This leaves 2,053 videos in neither the Hairy nor the Shaved category, which is surprising, since we're guessing that most of those videos have some kind of pussy in them.
This sort of lazy tagging is common on porn sites, and it wouldn't be a big deal if there were a conventional search bar. Except there isn't. The only way to search is by category or by pornstar, so the lack of good categorization gets frustrating quickly.
JavHD is a great porn site for anyone who wants to jerk off to Japanese girls. Women and straight men will find plenty of content, but gay men will prefer other sites.
Star Power
This is a Japanese porn site, not an American one. As such, you won't find any big name Western stars. You will find some of the biggest Japanese stars, though. Top performers include Yui Hatano, Maria Ozawa, Miku Ohashi, and Miho Ichiki.
Network
JavHD.com is the flagship site of the JavHD network. They have 17 affiliates, with a total of 7,000 videos between them. These range from Ookuny.com and AV69.tv, which have thousands of videos each, to heyoutdoor.com and avanal.com, which only have 67 scenes apiece. A lot of these videos are copies of the same content, but even with duplicates you're looking at almost 4,000 scenes.
Subscription
To watch anything other than the handful of videos in the Free Zone, JavHD requires you to purchase a subscription. This includes access to their network sites, so you'll get access to 4,000 or more total videos, not just the 2,304 on JavHD.
The basic subscription costs $39.99 per month. You can get a better deal with a 3-month subscription, which costs $89.97, or $29.99 per month. 12-month subscription offers the best value, at $155.88, or $12.99 per month. You can also buy a 3-day trial for only $1.00.
Autobill warning: When your subscription runs out, it will automatically renew. This will be at your current rate, so if you're planning on keeping your subscription for more than a month you should definitely buy a longer term subscription. The 3-day trial rebills at the $39.99 rate as well, so be extra careful about that option.
In addition to charging you for JavHD, the signup page also offers you a 4-day trial to alljapanesepass.com for $0.95, and a 4-day trial to 1001DVDs.com for an additional $0.95. If you leave these boxes checked, not only will you be purchasing the trials, but alljapanesepass will bill you $49.95 per month and 1001DVDs will bill you $44.95 per month. Unless you want to start paying over $100 a month for porn, you'll want to uncheck these boxes.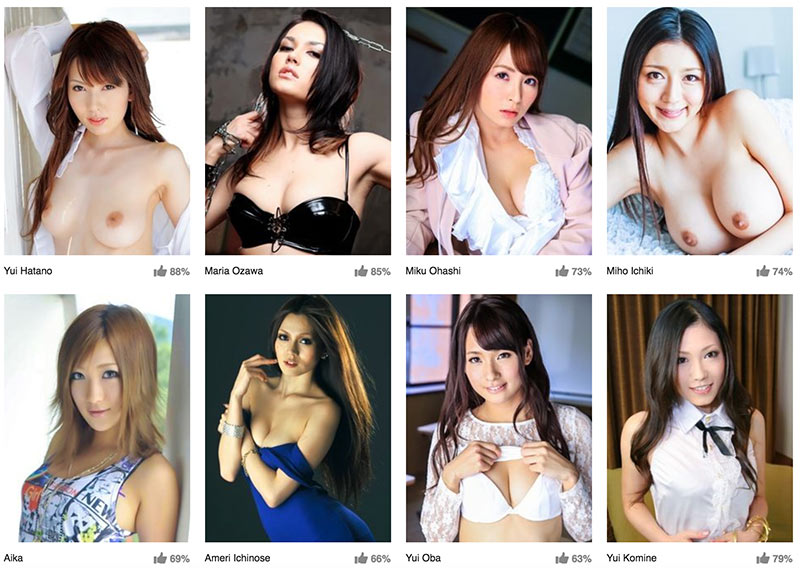 The Money Shot
JavHD hosts some of the highest-quality Japanese porn on the net. Everything is professionally shot in HD, and the stars are from Japan, not the US. This is probably why the site is so popular in Japan. The only real drawback is the poor video tagging and the lack of a search function. At the end of the day, how much you like JavHD will depend on whether or not you like Japanese porn. If you do, this is one of the best premium sites out there. If not, or even if you're just indifferent, there are better options.