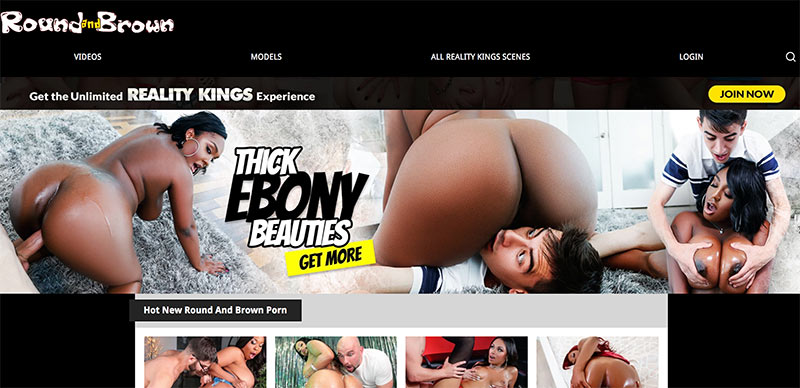 User Rating:
Round and Brown! A premium porn site featuring ebony beauties. Reality Kings, which Round and Brown is a subsidiary of, is the 324th most popular Adult site, ranked 3800th in internet traffic, but doing a bit better in the US as the 1986th most visited website at 12.44 million with an M and with an average visit duration of 00:03:12 which I don't normally give a shit about, but is usually in the 8-12 minutes range. People seem to get bored of this site quick. Let's see what it's got.
Content
OK, I'm starting on the home page for the tour. A full page popup of a video appears with prices under it starting at $119.99 a year. I think that's a lot, and it's a really big upfront time investment. I played the video and it crashed after 2 and a half seconds. So all I've seen is a stringy, dare I say scrawny, (lanky? Yeah, like Shaggy from Scooby Doo) white dude in gym shorts. The next option is 3 months at $59.99 and that still seems like way too much of an investment on both fronts again. 1 Month at $29.99? Ummm.... The cheapest option is a $1 two day trial which is billed as $1.00 a day so it's actually $2.00. Sneaky fucks. Take my $2.00.
The sign up link takes you to a billing page that straight up tells you at the top "Membership to realitykings.com for 365 days for a charge of $119.99*" This is a tall fuckin bill. Under that there's a drop down where you can pick "Yes, add Premium for $1 for 2 days.***" I officially hate this fucking place already.
A thought crosses my mind – wait a minute! So I opened a fresh tab, googled Reality Kings – which had a much nicer layout and presentation, and clicked the 2 Days for $1 link and it takes me to a very similar looking billing page, but with a bill for "Membership to realitykings.com for 2 days for a charge of $1.00/day*" and a dropdown to "Yes, add premium for $1 for 3 days.**" or "No thanks, I'm not interested in this special offer." Well, no thanks, I'm not interested in adding anything else to this exchange. I don't need to turn this into 2 bills. Bottom of the page - *After 2 days, realitykings.com membership renews at $39.99 every 30 days until cancelled (and, yes, it's misspelled). Yikes. Let's get this over with.
I immediately got a text alert from the fraud service at my bank asking if I authorized this purchase. Score one for BB&T customer service. Moving on. The first media banner is for Pounded on St Pattys from the channel Teens Love Huge Cocks, and it takes you to media page with the exact same presentation and layout of every streaming site in the infinite universe, complete with like/dislike ratios, tags, etc. The video is studio production quality, which is usually top notch. Pages also include the Trailer and a stills gallery. I think I'm starting to see the appeal of these pay pages.
Oh shit, she just called him Stepbrother and that's usually where I peace out with these types, but this is for work. Ok, here's where a nice perk shows up. Below the videos are the types of acts performed with each scene highlighted and fast-forwarded to. 3 for Sex, 2 for Blowjob, 2 for Pussy Licking and 2 for Doggystyle. That's a pretty nifty feature. Let's get down to brass tacks.
The actual Round-and-Brown page offers 773 videos, the most recent of which is from 03/15/2019, then 03/08/2019, 02/22/2019, 02/08/19 and continuing like that, with around 2 uploads a month. Video previews are fully animated on mouseover, which is the streaming site gold standard.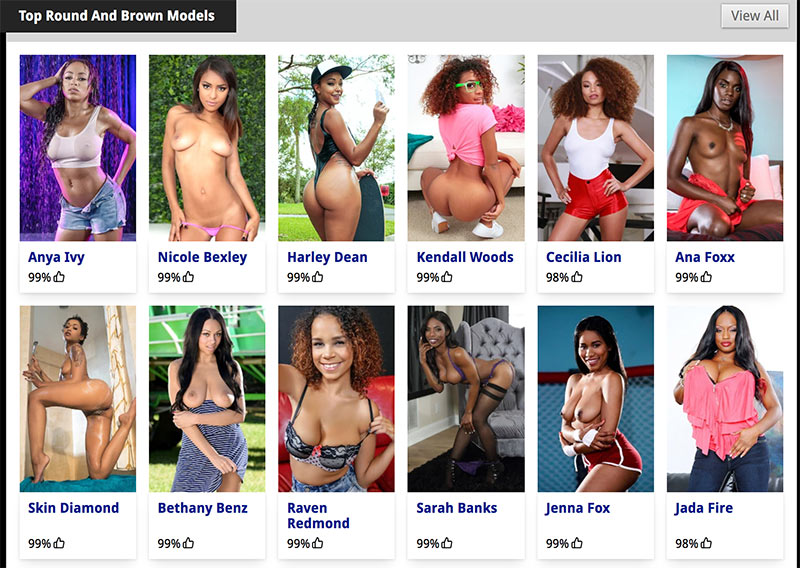 Categories
There is no specific categories listing for Round-and-Brown, the link takes you to the general Reality Kings categories portal, which displays a handful of chosen popular categories like Big Ass, Bikini, and Cumshot Clean-Up (huh?), each with a full count of the tagged videos, ranging from around 2,000 and over 10,000. There's an All Categories button, but it only gives you a drop down menu of tags, rather than a separate page displaying all of them, which is kind of lazy. They're mostly your typical vanilla mass appeal options, but with a few more specified ones than I usually see, like Hair Pulling, Office and Indoors.
Star Power
Reality Kings hosts some of the most recognizable big name performers in the industry, featuring the likes of superstars like Mia Malkova, Dillion Harper, Madison Ivy, and Adriana Chechik. Each performer has their own biography page with trivia like date of birth, birthplace, height and measurements, etc, and since this is a pay site, all the videos are studio quality and full length.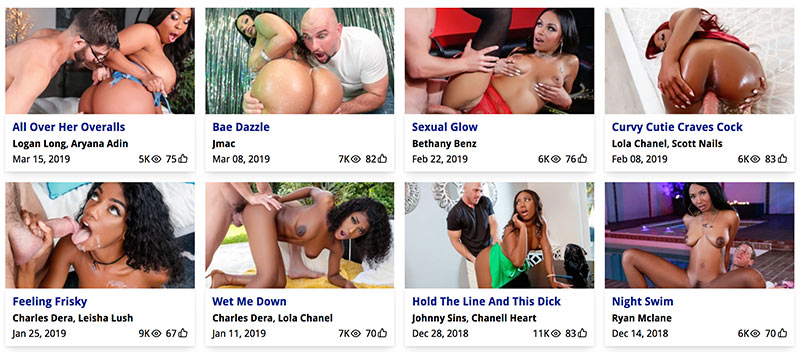 Network
Round-and-Brown is part of the Reality Kings network, which offers 45 other sites, with notable names like MILF Hunter, Big Naturals, and Extreme Asses. It's the entire library for each site, too, which means some of these go back to the early days, with videos dating back to January first 2000, the early days of studio internet porn. That's made for a pretty fun trip down memory lane recently.
Subscription
You get the picture by now that this is a paysite. All content is top quality studio productions, and it's all the full length stuff that most other sites just have previews for. But you've gotta pay $120 a year for it.
The Money Shot
So, all in all, I bitched a lot in the beginning about having pay for porn, but that's also made me take a hard look at that attitude. And you know what? It's a little entitled-sounding. Porn being free is an expectation in the modern internet age, but it kind of hurts the pay for performers and content creators while enriching Click-Farming autocreated sites that we all know suck. Pay content is usually markedly better than what you find on freebie tube-sites, and, come on, it's just another internet subscription, you've probably already got one for Audible.com or World of Warcraft sitting around that you've completely forgotten about, it's not unaffordable and it benefits the people who actually do the hard work. This site has A+ media and presentation.