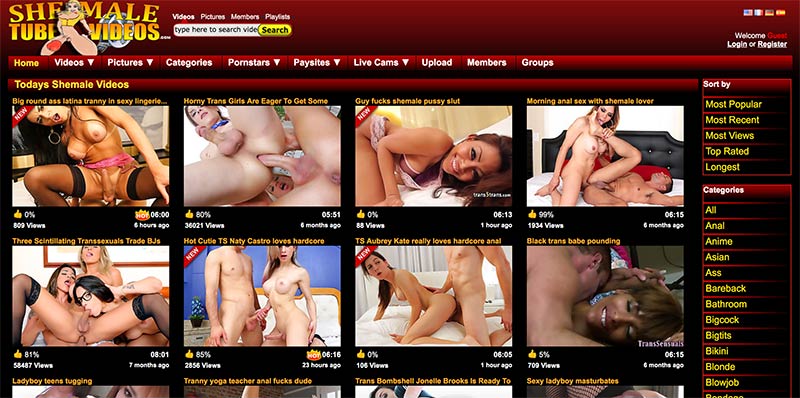 User Rating:
ShemaleTubeVideos.com is a free transsexual porn site that was founded relatively recently, in May, 2018. The site is registered anonymously, but an analysis of site traffic shows that they're independently run. As of the time of this review, ShemaleTubeVideos.com is the 18,439th most-visited website in the world, the 1,955th most-visited adult site, and the 11,475th most-visited website in the US. Its Alexa ranking is 40,669th worldwide, and 12,067th in Germany, the country where it's most popular.
ShemaleTubeVideos Content
ShemaleTubeVideos hosts over 25,000 red-hot shemale clips, and new content is being added on a daily basis. The majority of their videos are shot in 720p, although there's a significant number of 480p clips as well. Whether they're in HD or not, all of their videos are from professional studios or cam sites. We're talking real, quality porn here, not 30-second cell phone clips of some T-girl beating her meat.
The main page will be familiar to anyone who's ever used a tube site. It displays thumbnails for the most recent videos by default, but you can sort by popularity, length, and user rating by selecting the appropriate option from the Videos link at the top of the page. Alternatively, you can simply use the search box to find exactly what you're looking for.
Each thumbnail features a video description, and shows you the user rating and length of the clip. Mousing over a thumbnail will display a quick preview, so you'll know what you're getting. Clicking a thumbnail will open the video player, where you can either watch the video or download it to your hard drive for offline viewing.
In addition to videos, you'll also find more than 300 image galleries. These galleries contain anywhere from three pictures to dozens of them. There are no erotic stories, live cams, interactive porn, or games on ShemaleTubeVideos. The mobile site has the same layout as the desktop site, with a few of the menu options collapsed into a dropdown menu to make the site load faster. While there's no advertising on the desktop version of the site, the mobile version has frequent popup ads for Chaturbate.
One disappointing thing about this site is that the menu for browsing pornstars is broken. You can still search for your favorite shemale stars by typing their name directly into the search bar, but why have a special menu for pornstars if it's not going to function properly? There are also broken links for live cams, which literally take you to a blank page. Once again, we're baffled that they even bothered to build that part of the menu if there wasn't any content.
Another problem we ran into was searchability. Every time you select a new category, the videos automatically re-sort by date, which can be a headache if you're primarily concerned about user rating or popularity.
ShemaleTubeVideos Categories
Videos on ShemaleTubeVideos are sorted into 47 different categories. You'll find a lot of the standard categories like Blowjob, Solo, Anal, Masturbation, Asian, Ebony, Latin, Blonde, and Redhead. Of course, this is a shemale site, so they also have some more specific categories like Shemale&Shemale, Futanari, Post-Op, and Gaping. They even have a small selection of VR porn.
In addition to the categories provided by the site, there's also a Groups link at the top of the page. This will take you to a list of porn collections that are curated by users. Here, you'll find collections of videos by specific pornstars, as well as categories that aren't in the site's standard list, such as Shemales Riding. Any registered user can join a group and add videos, and you can even create your own.
There's enough variety on this site to please men and women, gay or straight. As long as you're into trans girls, you'll find something you like.
Star Power
Just because there's no functioning pornstars page doesn't mean you can't find the trans stars you know and love. With a quick text search, we were able to find videos starring Sarina Valentina, Bailey Jay, Domino Presley, Natalie Mars, Mia Isabella, Nina Lawless, Vanity, Venus Lux, Chanel Santini, and Milena Vendramine.
Network
ShemaleTubeVideos is an independent site, and is not part of any network. They do have a link on their menu for Adult Friend Finder, but that's their only apparent connection to any other site.
Subscription
There's no subscription required for ShemaleTubeVideos. Anyone can view — and even download — all of their videos for free. That said, becoming a member has a few benefits.
As a member, you can add images and videos to your personal favorites list, leave comments, subscribe to channels you like, join and edit video groups, create your own custom playlists, and send private messages to other users. If you're concerned about privacy, you can also block other users from viewing your profile. Signup takes only a few minutes, but it does require you to have a valid email address.
The Money Shot
ShemaleTubeVideos has enough shemale porn for you to ruin every sock in your house. And since they're adding new content every day, you'll never run out. The video quality is generally good, and we especially appreciated the ability to download videos for free. Sadly, there are some broken links, and the search and sorting functions aren't as versatile as they could be. Don't get us wrong. This is a good site. It's just not a great site.