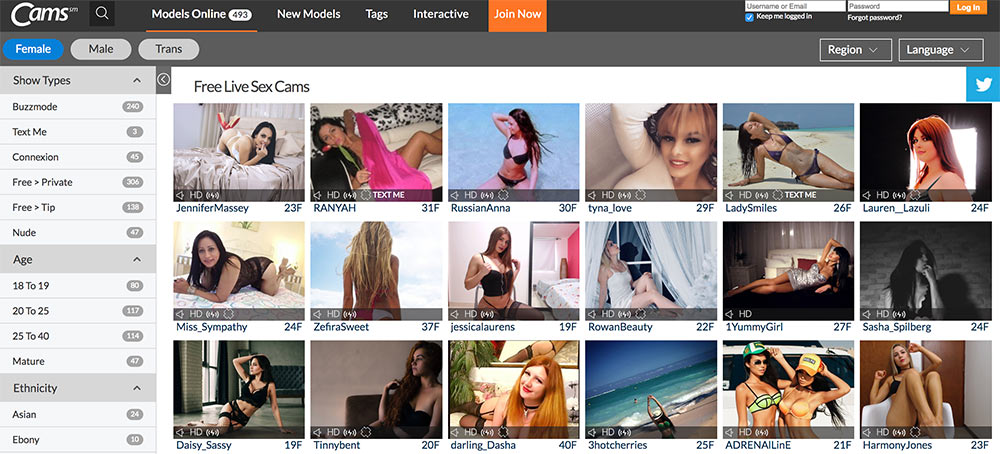 User Rating:
Cams.com is an adult webcam site that was created by Lars Mapstead in 1999. In 2005, they merged with Friend Finder Networks, where they remain to this day. Affiliated sites include FriendFinder.com, AdultFriendFinder.com, dozens of related dating sites like JewishFriendFinder.com and IndianFriendFinder.com, as well as several adult cam sites including gay and fetish cams.
As of January, 2019, Cams.com is the 3,915th most-visited website in the world, the 344th most-visited adult site, and the 1,039th most-visited website in the US. Its Alexa ranking is 5,061st worldwide, and 738th in the US.
Cams.com Content
Cams.com is an adult cam site with a mixture of free and paid content. No membership is required to view public shows, but you'll need to create an account and buy tokens to access group or private chats.
The main page displays thumbnail previews of active models' profile pictures. If the model is performing a paid show, there will be a banner across the thumbnail warning you of this. Clicking on a thumbnail will load the model's chat room. If it's a paid show, you'll get another warning here: a popup will appear letting you know the per-minute price, and requiring you to opt in before you're actually charged any tokens.
Because the models earn their money from paid shows and tips, you won't see a lot of hardcore action in free chats. Models who perform with LoveSense and Ohmibod interactive toys are an exception to this. You'll need tokens if you want to play along, but if you just want to see somebody cum live on camera you can quickly find what you want.
Regardless of what kind of show you're watching, video and audio quality is generally high. The models all have good internet connections, with minimal lag and latency, and more than half of the streams are in HD. Sound quality is also generally good, although some of the girls seem to have their mic sensitivity set too high.
To select specific categories of models or specific show types, you can use the navigation menu on the left side of the site. We'll look at these in a minute, but there's one that bears mentioning. That's the Happy Hour category, or what we call the "I want to get my rocks off now" button. This category shows models who are actively masturbating or doing other sexual things. There's a per-minute rate set by the models, which is usually around 10-30 tokens per minute, or $1 to $3 based on Cams.com's current token prices.
You can also view premium videos and pre-recorded shows at prices that are set by the models. Honestly, the selection is a bit underwhelming, and the pay-per-view design means that even if you do find something you'll like, you'll have to pay again each time you watch it.
The mobile version of Cams.com is a minimalist, tile-based layout. The large side navigation menu collapses into the top of the page, and provides a clean, easy to navigate experience. Video quality is still high on mobile, but the chat rooms take a bit longer to load.
Cams.com has no games, VR porn, erotic stories or image galleries. Although it's partially free to use, it has no advertising of any kind.
Cams.com Categories
There are more than 300,000 models currently registered on Cams.com. The main page shows female models by default, but you can view male models and transsexuals by hitting the Male or Trans buttons on the top left of the page.
From the left menu, you can select models by age, ethnicity, body type, hair color, kinks, or what kind of show they're in. The simple text search lets you look for individual models, and the advanced search lets you mix and match categories to fine-tune your results. Members can also save models to their favorites list to easily find them later.
At the time of this review, there were more than 900 female models online, more than 30 couples, over 100 male models and 25 trans models. No matter what your orientation or kink, there's a model here for you.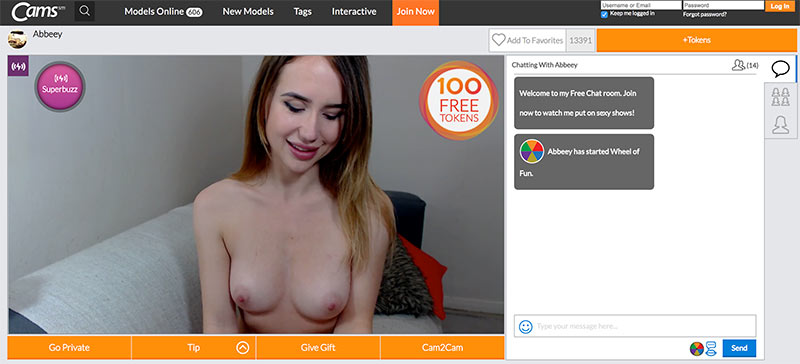 Star Power
While there are tons of hot models on Cams.com, you'll only find established porn stars on the very biggest cam sites. That said, who knows which one of these sizzling models will be the next Dillion Harper or Mia Khalifa?
Network
Cams.com is part of the FriendFinder Network of sites. This includes a grab bag of social and dating sites like FriendFinder.com and JewishFriendFinder.com, as well as more adult oriented sites like AdultFriendFinder.com and GayFriendFinder.com. There are also several straight-up porn sites in the network, including Bondage.com and Stripshow.com. Ironically, they also run BigChurch.com, a Christian dating website that has daily Bible passages on the homepage.
Subscription
Although there's no membership required to view public Cams.com shows, membership is free and allows you to save models to a favorites list and message other users. A membership also allows you to buy tokens, which you'll need if you want to access any paid content.
Users can also join an individual model's fan club. This comes with a variety of perks, including free access to that model's premium videos and a 70% discount on all of their live shows. Joining a fan club costs $14.99 per month, or $10.99 per month if you sign up for three months at a time.
Autobill Warning: Fan club memberships will automatically renew at your current rate. If you bought a single month membership and decide you want to keep it, consider ending your subscription, then re-subscribing at the three month rate to save a few bucks.
The Money Shot
Cams.com is a high-quality cam site with thousands of hot models. It may not have quite the variety of the biggest cam sites on the web, but 300,000 models is enough for several lifetimes of jerking off. The video here is mostly in HD, and the streams that aren't are at least in 480p. The models look and sound great, and seem to really enjoy what they're doing. Whether you're looking for a quick wank or a long chat, you'll find it on this site.