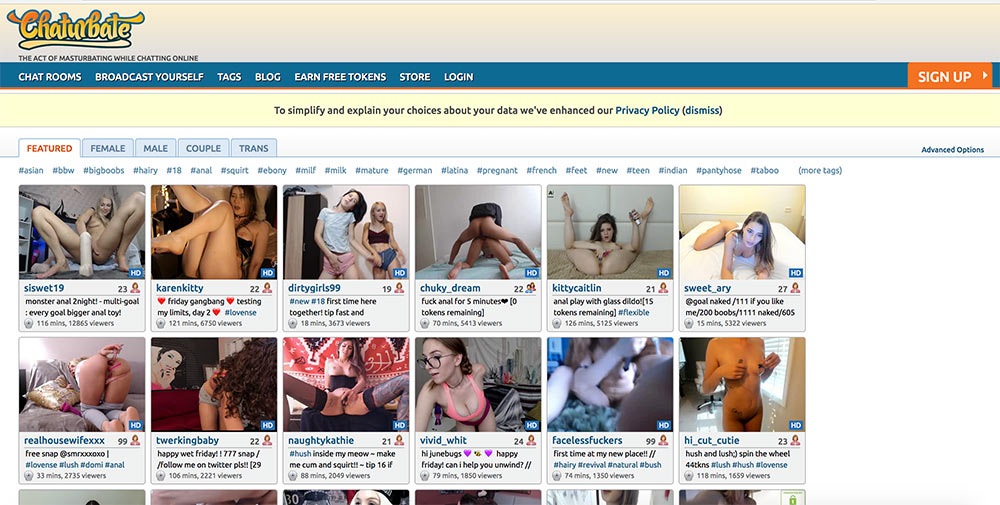 User Rating:
For those searching for an actual chat room to… well… chat in, this site might come as a shock if they ignored or didn't understand the "urbate" part of the site's name. They might click on a picture of a nice looking couple, hoping to swap some recipes or engage in some other innocent topic of conversation, only to connect and see the dude's 9-inch cock pounding his chick's asshole up close and personal. Just in time for her to swing around and stick it in her mouth. (True story. No condom. And she didn't wipe it off either.)
Chaturbate Content
Chaturbate.com is pretty awesome, and it can be as free or as expensive as you want it to be. It's free to view cams in general, and there's plenty of free action to get you off. The site is easily navigable with one hand, leaving you free to… well, you know. Make a sandwich, do some ironing, jack/rub yourself to explosive orgasm, etc. When you land on the home page, you're presented with thumbnails of cam sessions that are live. The thumbnail includes the cam performer's screenname and a description or some keys words about what they're doing. Click a thumbnail and you're viewing their cam. Users can comment in the chat section, but to do that you do need to take no more than a minute and register for an account. All you need is a valid e-mail address.
Now, the performers are obviously having some fun, but they are working for tips (in the form of tokens). Most performers have a tip menu that pops into the chat area periodically. X number of tokens to see tits, stick in a dildo, fuck, etc. If you have cash to blow and no one else is tipping the necessary amount for a couple to get it on, go for it. If you're on a budget, flip around through a few cams and you probably won't need to wait long to see some action.
Here's a sampling of some of the action seen just during the first 20 minutes or so of this review:
The first cam was a beauty that was topless within a couple of minutes after someone tipped the magic amount for her shirt and bra to come off.
Another cam featured a naked blonde struggling but taking her man's cock balls deep in her mouth like a champ, a slobber and pre-cum mixture hanging from her chin and dotting her tits.
A gorgeous brunette was working a huge plastic dong into her asshole.
A muscled guy with a large appendage hit his tip goal and unloaded a massive, spurting semen shot all over his six-pack and pecs.
One cam was tuned into just in time to see a hot blonde straddle her dude, stuff his cock inside her and start riding him reverse cowgirl. They switched to doggy style soon after and then stopped briefly to throw up a poll letting users pay tokens to vote for the landing spot for the impending cumshot. Her face won, and the dude pulled out and blasted an impressive shot all over her face and hair. It can't get much more real and spontaneous than that.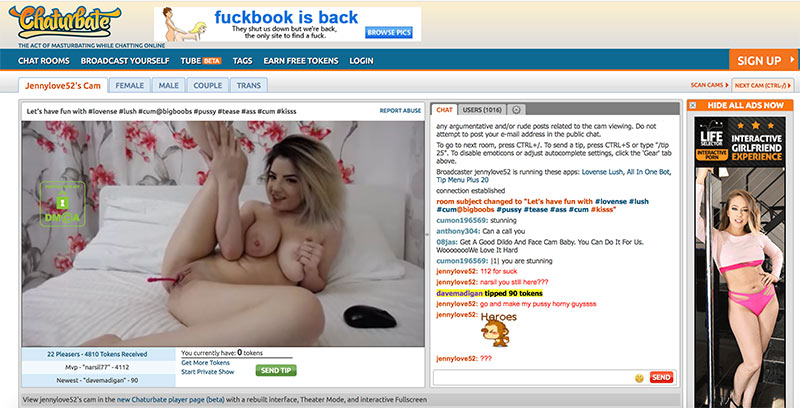 Every cam encountered was 100% real. The performers are constantly reading the chat log and answering questions on cam, calling out users by screenname. Even while fucking. One dude even answered a cell phone call and talked to his buddy for a minute while pounding into his girl's ass cheeks doggy style. Each cam has a dropdown menu that allows you to follow that cam (if you're logged in), see that user's bio and more. Some even have private photo albums that can be unlocked with… you guessed it, tokens. Some cams have all of the action out in the open, and some sell "tickets" to private shows. A couple may do some foreplay for everyone to see, but you have to pay for a ticket to keep their cam on when it's time to hide the salami.
Chaturbate Categories
You can sort the cams in the menu, selecting either Female, Male, Couple or Trans. You can also sort to only view the cams you're following. And of course, if you're feeling frisky, there's the option to broadcast yourself as well. If you need some extra coin and you're okay with the risk that somewhere on the other side of cyberspace the viewer might be your kid's teacher, your next door neighbor, your hair stylist, or maybe your mom, then maybe give it a whirl!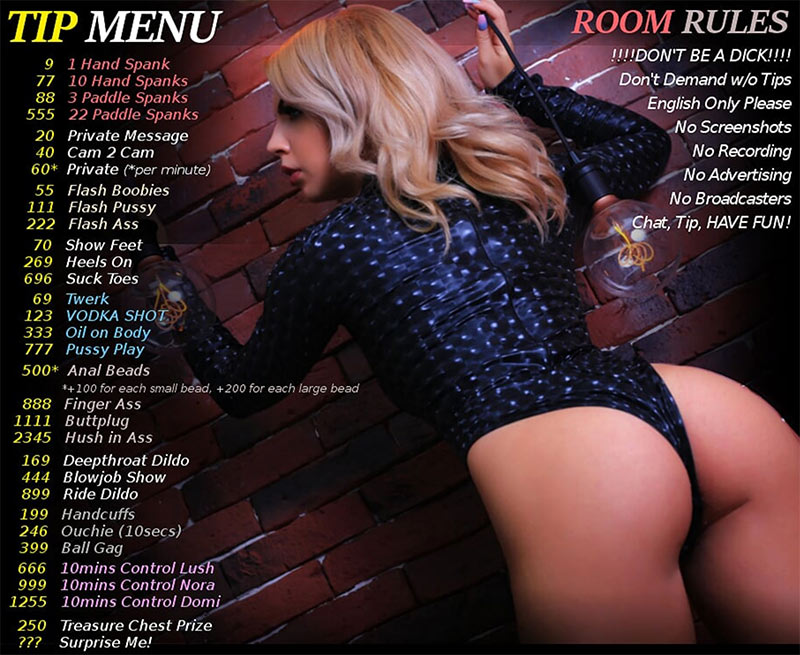 Subscription
The site is free to set up a basic account. At the time of this review, tokens ranged from 100 for $10.99 to 1,000 for $79.99. The tips asked for in the cams vary widely. Some have very specific menus, others just see a chat request to spank their ass and respond simply with "tip something".
Token Package
Cost
100 tokens
$10.99
200 tokens
$20.99
500 tokens
$44.99
750 tokens
$62.99
1000 tokens
$79.99
The Money Shot
On a protein shot scale, this site is a sticky one. One of those shots that starts out as an in-the-mouth shot until the first spurt hits her in the back of the throat and, surprised, she mistakenly pulls back only to get the rest of the load all over her face. All while still gagging on the first shot. There's something really hot about the completely live and amateur nature of the cams. There don't appear to be a lot of polished, professional looking cammers. It's really like getting a peek inside the house next door and seeing your neighbor couple get it on, or spying on their 18-year old daughter while she decides to get naked and stick a random object in her cooch.