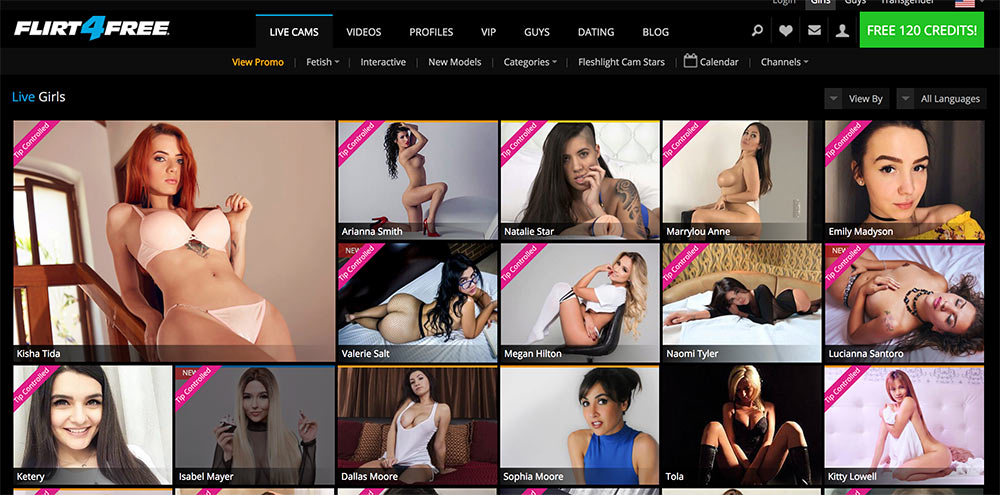 User Rating:
Flirt4Free is a cam site that was registered in 1996 in Las Vegas, Nevada. In 2008 and 2009, this site won the XBiz Award for Live Video Chat of the Year. It also took home the Cybersocket Award for Company of the Year in 2012 and 2014, recognizing the porn site that's most inclusive of trans models. Flirt4Free is the flagship site of the VS Media network, formerly known as the Video Secret Network.
As of January, 2019, Flirt4Free.com is the 759th most-visited website in the world, the 69th most-visited adult site, and the 423rd most-visited website in the US. Its Alexa ranking is 793rd worldwide, and 1,078th in the US.
Flirt4Free Content
Flirt4Free is a cam site with both free and paid options. Public chats are viewable by anyone. These shows include can include stripteases and playing with interactive toys. That said, many models prefer to only masturbate in private or group shows. Users can purchase tokens to tip models or buy access to paid features.
The main page has a clean, tile-based layout, with thumbnails of the most popular models displayed towards the top. Featured models get a bigger thumbnail. If you want to preview the model's current live stream, simply mouse over their thumbnail and wait a few seconds. A small version of the live stream will appear, so you can know what's going on before you enter.
Models who are currently in a group or private show will have banners across their image that say "Group" or "Private" respectively. They'll also show a "Tip Controlled" banner if they're playing with an interactive toy. If you're looking for a quick, free wank, these are the cams you'll want to click on.
The video is high quality, with a majority of cams in HD. All the models seem to have good internet connections, with minimal latency and no lag. The chat interface is properly synced to the video, and most of the models have good microphones.
Users can also view premium videos on Flirt4Free. A free, basic site membership gives you three free videos. After that, you can buy the videos for tokens. Models set their own individual prices, but we've seen 50-300 tokens, or about $5.00-$20.00 per video at current token costs.
There are no image galleries, erotic stories, games or VR porn on Flirt4Free. The level of advertising depends on what kind of membership you have. Non-members will see frequent pop-ups and banner ads urging them to join. Free members will see far less frequent advertising to buy a paid membership. Paid members receive an ad-free experience.
The mobile version of Flirt4Free loads quickly, and scales the thumbnails down to two columns, with the top search bar collapsed into a hamburger menu at the top of the page. It looks really nice, and is one of the better mobile sites we've seen.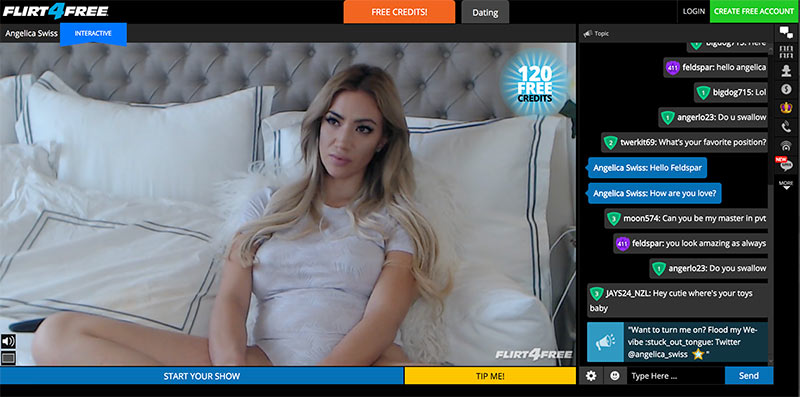 Flirt4Free Categories
By default, Flirt4Free sorts its 19,000 models by gender. You'll see female models by default. If you prefer male models or transgendered models, there's a quick toggle in the top right corner that has options for Girls, Guys and Transgender. Trans models will also show up by default under Girls and Guys, but can be filtered out by choosing the Hide Transgender option in the little menu that says "view by".
If you're looking for more specific categories, just mouse over the Categories link at the top of the page. It will bring up a dropdown menu that shows options like Big Butts, European Girls, Shy, Interactive, Fetish, Redhead and more. The guys version of the site has separate categories like Bears, Twinks, Bottoms and Daddies, which we're sure our gay readers will appreciate. There are also a handful of straight and lesbian couples cams. With this much variety, there's something for everyone on Flirt4Free.
One unfortunate thing about Flirt4Free is the way their site works in Google Chrome on a desktop. There seem to be issues with spacing that cause the top search bar to be twice as high as it needs to be. This creates a gap in the Categories dropdown that makes it impossible to actually select any categories. The site runs great in Microsoft Edge, but really, who wants to use Edge? This is even more infuriating since Flirt4Free works perfectly in Chrome on a Chromebook or Android phone. Hopefully they get this fixed.
Star Power
Although Flirt4Free is an established, popular cam site, it doesn't feature any current stars. That said, there are many hot up and comers here who have some clips on premium sites. Megan Hilton, Olive Ray and Eva Sin are all potential future stars.
Network
Flirt4Free.com is the flagship site of the VS Media Network. We weren't able to find information on other sites in the network, but VS Media claims to have "hundreds" of individual webmasters on their platform.
Subscription
There's no subscription necessary to watch Flirt4Free cams. That said, you'll only be able to join group shows and private shows if you buy some tokens, which requires a free membership. Signing up takes only seconds, and grants you some neat perks like three free premium videos. As a member, you'll also be able to buy videos for tokens, and save them to a personal gallery for later viewing.
Token prices can fluctuate over time, but right now they're just over 11 cents per token. When you buy your first package, you get 120 free tokens for signing up. There's also an option to buy a VIP membership for $39.95 per month. This comes with 150 free tokens, allows you to send private messages to models, and unlocks most of the site's premium videos.
Autobill warning: Tokens will automatically rebill at a rate of $20 for 180 credits as they run out. If you're not paying attention and you join a group or private chat, your card will continue to rebill every time you've used up 180 credits. The monthly VIP membership also bills automatically every 30 days.
The Money Shot
Flirt4Free is a high-quality cam site with thousands of total models. There's a large variety of free and premium content, and their video is high quality. While the broken category search in Google Chrome isn't a dealbreaker, it's annoying, and we hope they fix it. Also, the autobill can cause you to rack up some nasty bills if you're not careful. Otherwise, the site looks and works great, and we hope they win an award for their mobile site. If you want to jerk off to live models, this is a great place to do it.