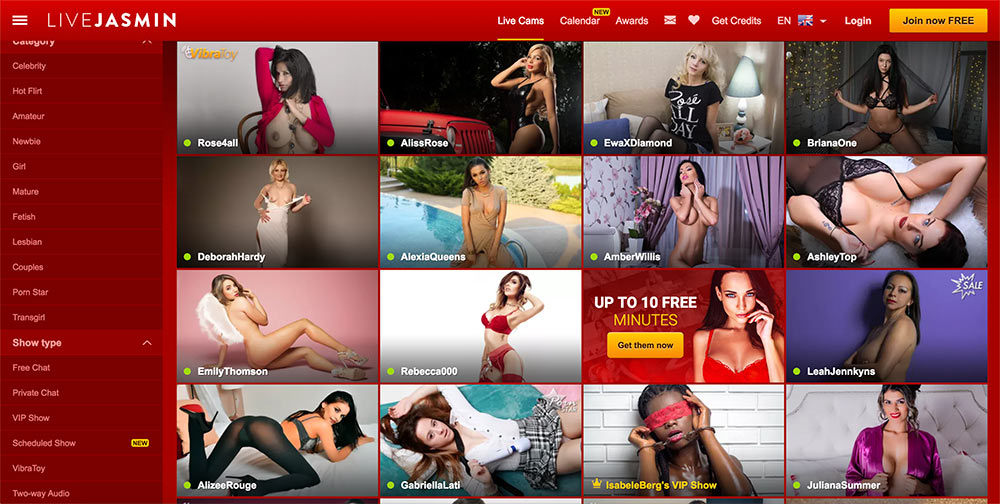 User Rating:
LiveJasmin is a sleek, award-winning, and well-known webcam site. If you've ever surfed adult sites without a pop-up or ad blocker, you've no doubt seen their advertisements pop up from time to time, as they are big on web-based marketing. With their iconic red branding and simple, clean interface, LiveJasmin has grown into a cam site powerhouse. Founded in 2008, it has grown to over 35 million registered users and over 20,000 cam models in under a decade. LiveJasmin currently sits as the 65th ranked site by traffic globally according to Amazon's Alexa, with over 2 million unique visits a day, as well as the 4th ranked site globally by traffic in the adult category.
Simply put, LiveJasmin lets users interact with amateur and professional models in private one-on-one cam sessions, in exchange for a fee paid in credits. The company takes a cut, and the models get the balance. The rates and services available for a particular show vary greatly from model to model. However, there are a large number of models available from many different countries and time zones, so there is almost always a dynamic catalog of choices to fulfill individual appearance and show content preferences.
It should be noted that LiveJasmin offers two primary categories of models. Girls/lesbians/couples/trans are the focus of this review, while their offerings in Boys/gay/male couples/trans can be found here.
Live Jasmin Content
Like most webcam sites, the primary content of LiveJasmin is one-on-one private chat sessions. While users can access free, fully-clothed "lobby" chats to get to know a model before a private session, browse through the wide catalog of different models available, or exchange messages with favorite models, the main draw is of course the private shows.
There are several different types of shows available, and different features that vary by model and user preference. These include:
Private one-on-one shows and chats
Two-way chats via audio or webcam (both the user and model using a microphone or webcam to really amp up the intimacy of the experience)
Scheduled shows, a relatively new category, that feature the top models on the site at a pre-scheduled time and often with a particular show theme
VIP shows, which can offer users extra intimate experiences (though at an increased price, of course) Vibra toys, which, like many cam sites, allow users to pay or tip extra to control the model's vibrator or sex toy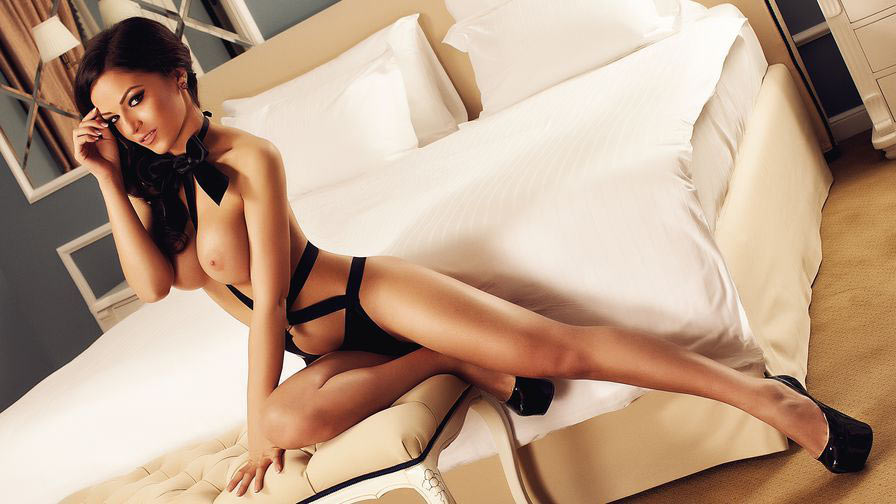 Live Jasmin Categories
Typical webcam site categories are all available and searchable/filterable very easily with the site's intuitive interface. These different organizations include category of model (Celebrity, Girl, Newbie, Lesbian, Porn Star, Trans, Fetish, Mature, etc.), type of show they are offering (see the Content section above for more), Ethnicity, Price/Rate, Age, Appearance, Hair, and what they're willing to do in a private chat.
Star Power
LiveJasmin doesn't feature big-name pornstars like some other cam sites occasionally do. However, there are a number of "B-level" pornstars and camgirls on the site that may be familiar to some users. Regardless, even the "regular" category girls are gorgeous and almost universally are far more attractive on LiveJasmin than those who are available on many purely amateur sites. This is no doubt due to the site's popularity and base of operations in eastern Europe, with access to some of the most beautiful cam models around.
Network
LiveJasmin is a stand-alone site, and not part of or affiliated with any studio or network.
Subscription
FREE CONTENT ALERT!
Setting up a LiveJasmin account is totally free, and only requires an email address, username, and password. Free accounts will let you access free, clothed chats with models to get to know them better prior to committing to spending credits. Free accounts also let you browse the selection of models, pick and bookmark your favorites, message the models, and are required in order to purchase credits to spend on shows. There are no subscription plans, and the only pay services are the purchase of credits to pay for private shows.
Credit costs are comparable to most other cam sites, running right around $1 to slightly more than a dollar per credit, depending on how large a purchase you make. There are often package deals and other features that slightly lower the overall cost of purchasing credits. Each model and show varies in terms of credit cost, with some being as inexpensive as around 1 credit per minute, and others being up to 10 credits per minute. There is also a feature called SmartPay, that will allow you to have uninterrupted sessions by automatically re-buying credits as your account runs down. While convenient, this can be very dangerous if you're not careful – it's very easy to spend hundreds of dollars in credits an hour.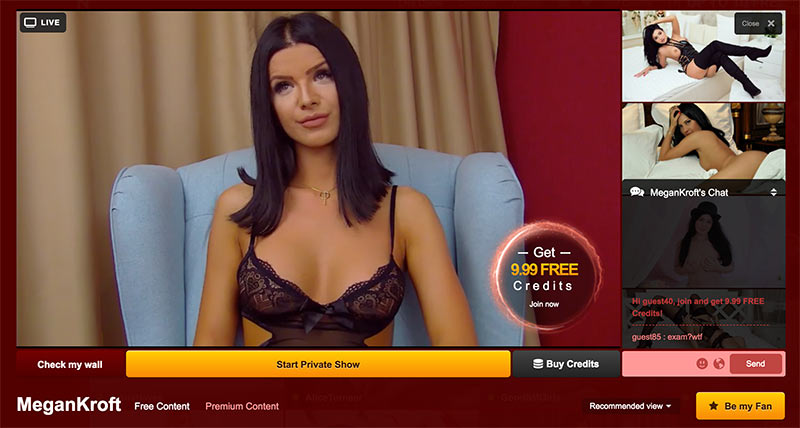 The Money Shot
LiveJasmin has quite a number of extremely attractive models, an easy-to-use interface, and great quality and technology when it comes to private shows. If you're into camgirls and love professional-looking models who almost all look they just stepped out of a magazine photo shoot, then LiveJasmin is a great site for you. While you pay a bit of a premium for the caliber of the models here, that extra cost is well worth it, and the interactive "girlfriend experience" that grows from patronizing a favorite model repeatedly is a form of intimacy that is hard to match with other, more passive X-rated content. But if you're just looking for porn videos or a cheap and easy wank, then a webcam site like LiveJasmin is probably not for you. The cost of a private show adds up very quickly, so know your financial limits and what you're getting into before you start getting down.