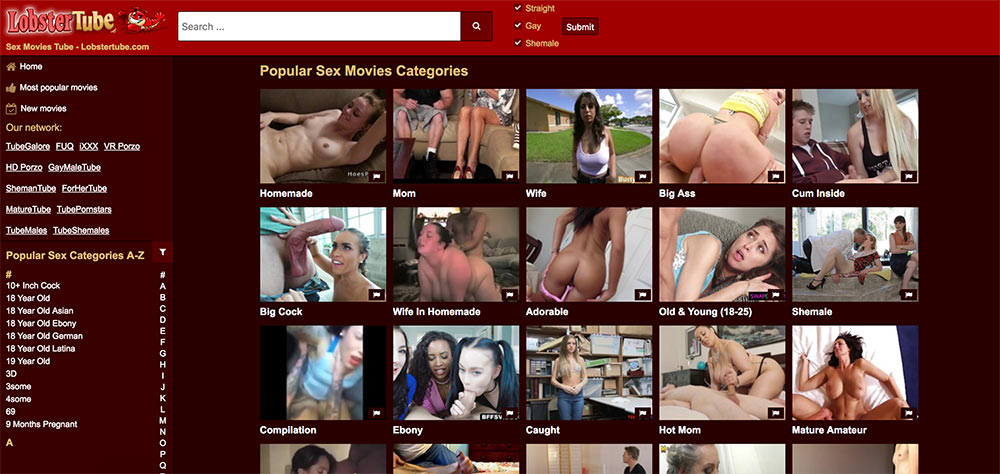 User Rating:
LobsterTube is a popular porn tube video site index/search engine. It's run by the same folks behind TubeGalore, and is effectively the same kind of site, just with a somewhat different interface, logo, design/layout, and so forth. While the actual video content is hosted elsewhere, the site can be used to search and find specific categories of content available, and then click through to view the chosen videos. The interface is fairly simple, with a list of category filters to choose from on the left, a search filter at the top, and 3 primary criteria – Straight, Gay, and Shemale. You can browse videos by category in the main area on the right, which is also where results to searches appear.
The site is part of the AdultWebmasterNet network, which features about a dozen sites that work in a manner similar to LobsterTube – they index free porn tube site content, to make it easier to search and find the content you desire, across the many different free tube sites that are out there. LobsterTube's Alexa ranking places it among the top 10,000 most-visited sites globally across all categories, and in the top 6,000 in the US.
LobsterTube Content
There are almost 50 million free videos indexed on LobsterTube, sourced from several dozen free tube sites. You can search by search term with a standard text search box at the top, browse directly from the thumbnails and categories in the main area of the page, or filter by one of the seemingly-endless categories listed at the left. All the results show up as thumbnails of the video, along with information about the source tube site, video length, title, and when it was indexed.
Since LobsterTube indexes free tube sites, there really is a great variety of content, including amateur and professional studio productions available. When you find something you like, you just click the thumbnail, and you're taken to the source tube site with that video (in a separate window or tab). All the results can be filtered by date, popularity, duration, and source site.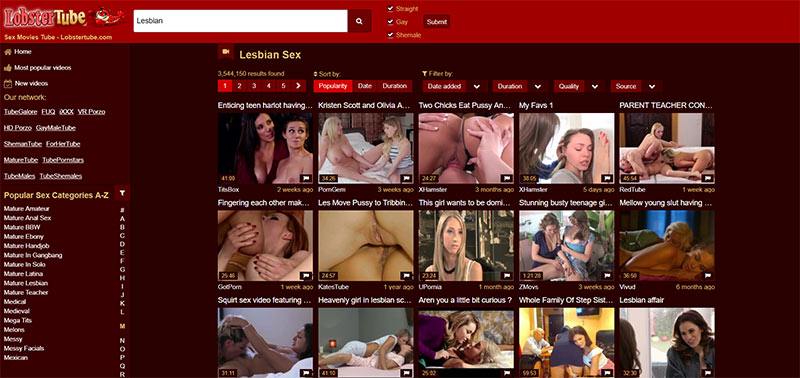 LobsterTube Categories
There are over 1,600 separate categories listed on LobsterTube, which covers everything from the mainstream to fringe fetishes, just as long as it's legal. Like lesbians? LobsterTube has that, of course, along with 23 sub-categories of lesbian porn. And that's just an example. Whether you're into double anal, pussy pumps, post-op trannies, young Brazilians, chubby anal sex, Italian amateurs, or anything else, there's a good bet it's a category on LobsterTube.
Star Power
The free videos that can be found through LobsterTube include amateur and professional content from many tube sites around the Internet. As a result, the full range of adult stars of yesterday and today can typically be found in videos indexed here.
Network
LobsterTube is part of a network of tube sites and indexes for adult content. This network is called AdultWebmasterNet. Other sites they run include TubeGalore, Fuq.com, iXXX.com, VRPorzo.com, HDPorzo.com, GayMaletube.com, SheManTube.com, ForHerTube.com, MatureTube.com, TubePornstars.com, TubeMales.com, and TubeShemales.com
Subscription
LobsterTube, like most index/search engine sites, is entirely free. The content is all indexed from free tube sites.
The Money Shot
This site is really similar to most other good index/aggregator/search engine sites for free porn video tube content. With nearly 50 million videos, there's a good chance you can find whatever it is you are looking for here. It runs well, and gets results fast, so there are no complaints there. A few areas could be improved, but overall, it's free, with more porn than you could watch in a dozen lifetimes, so check it out, and happy fapping!