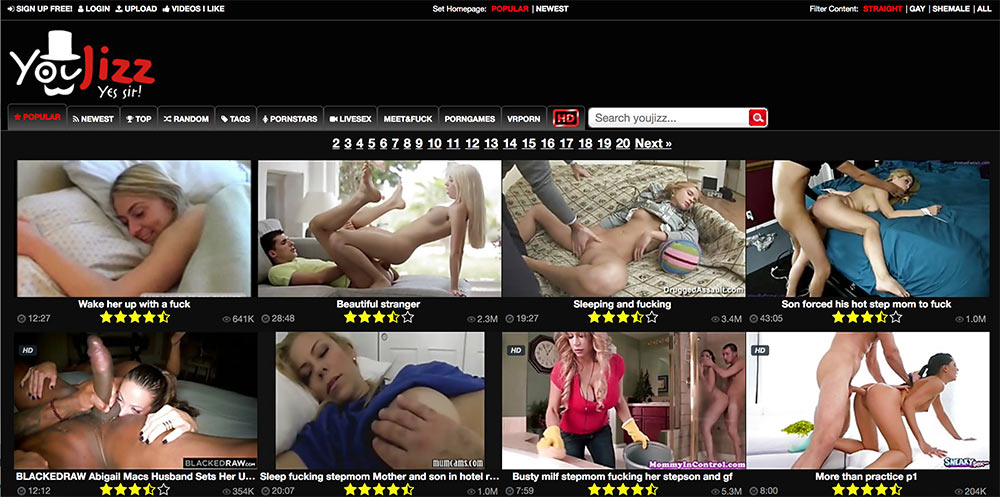 User Rating:
Youjizz.com is an enormous free tube site that is absolutely loaded with all kinds of dirty, dick-hardening content. From big boobs to teens, to everything in-betweens (heh), there is nary a nook or cranny that Youjizz doesn't cover.
Youjizz Content
You'll find essentially whatever your dick-heart desires in terms of content with the millions of videos offered. The homepage is plastered with popular videos, as well as popular tags along the top banner. Content can also be organized by clicking on "newest," "top," and "trending," tabs to bring up videos related videos. There's even a "random" tag if you can't quite decide how you should be pleasing yourself. Content can also be filtered by four options at the top of the webpage, namely straight, gay, shemale, or all if your penis happens to not discriminate. The site also appears to be largely professional content, though we did see the occasional amateur video.
Aside from the expected videos, there's a "pornstar" tab that lets you peruse your favorite performer (more on that later), as well as a Youjizz branded cam site if you happen to be looking for something more real than porn but less real than reality.
Perhaps, the biggest surprise of all is not only is there an HD tab available, but it is a free section of 720p content. Though not true HD, the fact that they have a tab for HD content prominently on the homepage AND don't try to trick you into buying it is absolutely lovely.
There are no paywalls or subscriptions available on this site (all content is 100% free). However, this definitely does not include 3rd party sites that are linked, as well as the Youjizz branded cam site. If you wanna see those cam titties, you're gonna have to pay real dollars.
Finally, Youjizz.com offers the ability to create an account. It's free and offers basic features including a history of what you've watched, any comments you've made, any videos you've favorited, and the ability to upload videos via their affiliate program (if you're trying to get paid). You can even set an avatar of your choosing, and have a brief biography about yourself, though this feature seems more geared towards uploaders. For a free site that doesn't attempt to actually sell you anything, the free account and free features are a welcome addition.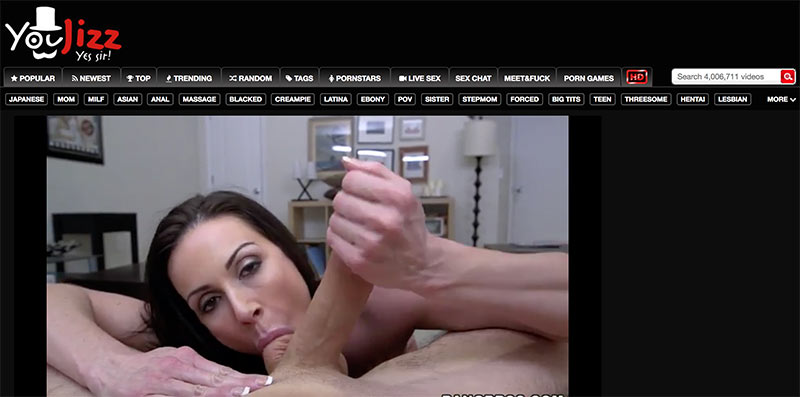 Youjizz Categories
The sea of categories on Youjizz.com stretches as far as the eye can see, but what a regular porn viewer might notice quickly is that there's not "categories" to browse. Aside from the newest, top, and trending tabs, the only other way to categorize content is by selecting tabs. Selecting tabs may not sound that bad until you actually click the tab options. You're met with what is essentially a text-only page with dozens and dozens of tags. These tags are often redundant (Like 12-inch and 12-inches and 12inches) so you get a giant messy page that's hard to organize.
Youjizz.com does allow you to sort site-wide content by straight, gay, trans, or all, which does help in narrowing down your search, but if you're looking to browse for new content, this site isn't for you. It's much more suited to bringing up search results from search terms you've decided to use.
However, a bright spot to their categories is the inclusion of an HD tab. Unlike most sites that offer a dedicated HD selection but then redirect you to a subscription service, Youjizz.com offers an actual selection of HD videos. Granted, these videos are 720p (no true HD on the site, for the most part), but it's still a welcome surprise if you're wanting videos of a higher quality than what is frequently found on other tube sites.
Star Power
Youjizz.com does have a dedicated tab for specifically browsing the names of performers, but this is going to be a similar story to the tag mess on the categories section. It's a giant text-only list of names, with no included pictures, biographies, or any other content that you regularly see on other free tube sites. It does allow you to sort names alphabetically, but aside from literally searching their name, there's no other way to browse or filter performers.
Youjizz.com's content appears to cater towards largely professional videos, so it's a shame that there isn't a better landing page for browsing performers.
Network
Youjizz.com appears to be an independent site, as our research didn't show any other affiliated brands or parent companies.
Subscription
There is no available subscription. In fact, their terms and conditions specifically state that there is no subscription of any kind available on the site (aside from 3rd party redirects). As far as we could tell, this held true!
However, do keep in mind that once you leave the video page, be it for 3rd party sites or the Youjizz.com branded cam site, you should expect some kind of cost.
The Money Shot
Youjizz.com is by no means a polished site, but you don't need polished to get your rocks off. With millions of videos catering to any and all perverse desires, you'd be hard-pressed to not find something that you're aroused by. Anywhere from teens, to milfs, trans, straight, gay, couples, etc, you'll almost certainly find something to your liking.
Sure, if you like to browse, this isn't the place for you. However, if you have an idea of what you're looking for, this is a fantastic place. The search function works well, the ad experience is extremely non-intrusive, and with a free dedicated tab for HD content, Youjizz.com is like an enormous hole-in-the-wall site for your penis to enjoy; it doesn't have the bells and whistles of a more polished site, but where it counts the most (free content), it absolutely delivers. Definitely, spend some time on Youjizz.com, and enjoy yourself while you're there.