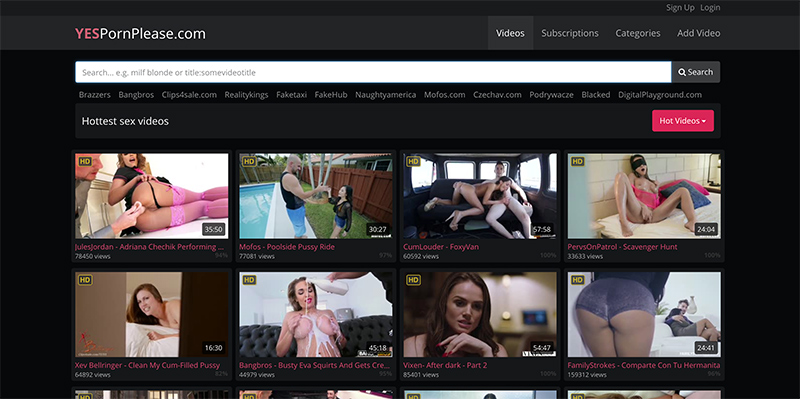 User Rating:
YesPornPlease is a porn tube site that features a wide range of pay site content, reposted by the site's users. It has a fairly simple interface and search, along with a free membership program that allows for subscribing to users, uploading videos, adding videos to your favorites, and messaging other users. Beyond that, it doesn't have a ton of features, but is a great place to get access to porn that's otherwise behind a pay wall, from some of the top studios and independent performers in the business today.
The ownership of the site remains a mystery. This is understandable, given that the majority of content, uploaded by users, is copyrighted and owned by other studios, including major industry players. Based on hosting history, it is possible the company that runs the site is based in Russia. Regardless of the enigmatic ownership, it's fairly popular, sitting around 900th most heavily trafficked site globally across all categories, and around 700th in the US.
YesPornPlease Content
YesPornPlease features around 14,000 videos, many of them full-length. Most are ripped from pay sites or custom model content from sites like Clips4Sale. The vast majority of the videos are in full HD quality, and are 30, 40, 50 minutes or more in length. Of course there are shorter clips available as well. But the majority of the videos seem to be on the longer side, averaging 35 minutes or so in length based on a cursory survey of the top/trending videos.
Some of the major studios or sites that have heavy representation in the uploaded content on YesPornPlease include Brazzers, BangBros, Reality Kings, FakeHub, Naughty America, Clips4Sale, Mofos, Girlsway, Sweetheart Video, and many others. You'll also find content from some well-known independent custom video/models across a number of categories as well. This includes some hard-to-find or often-taken-down models, whose names we won't mention lest we draw unwanted attention to their presence on the site.
You can view YesPornPlease as a guest just fine, or sign up for a free account. These accounts allow you to save favorites, subscribe to users' channels, send messages through the site, and upload videos yourself. From an individual video player page, you can subscribe to the uploader, share the video, get embed code for your own website, add the video to your favorites, or download it in various source qualities.
Videos can be searched through a text search box (that offers a list of suggestions based on your partial text query), or viewed by category. You can also browse videos based on hottest videos, newest videos, most viewed, top rated, or random videos. All search results also contain additional tags that you can add to the query to refine the results further.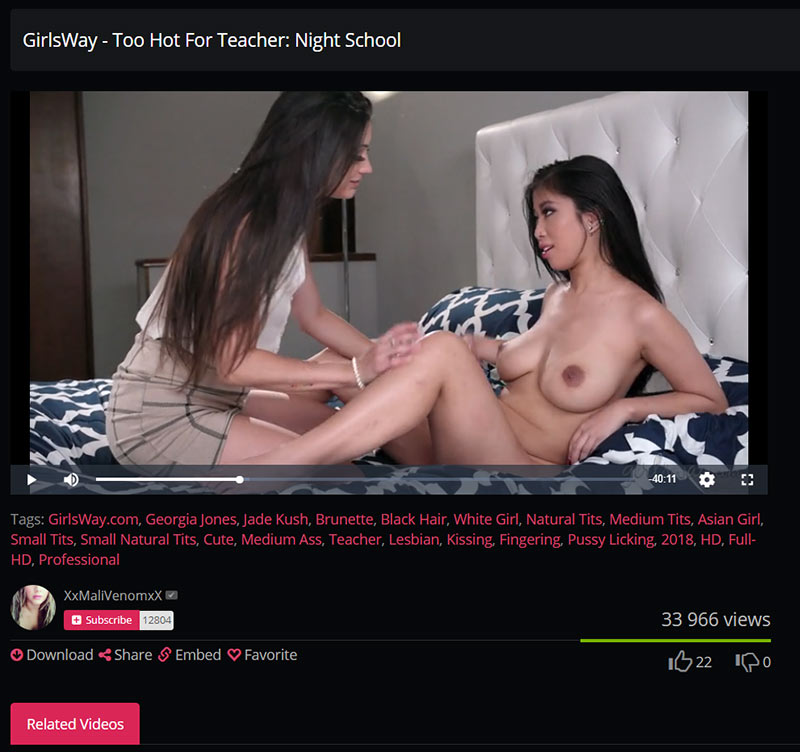 YesPornPlease Categories
There are just over 40 categories of videos listed on YesPornPlease. All videos get categorized and tagged, with tags including these base categories, models, source website, and other custom categories. So, in addition to the traditional categories like Anal, Teen, Threesome, and so on, there are plenty of tags that provide good results through searching. In addition, search results for any term come up with a list of associated tags, that you can then choose to add to the results and refine or filter them down accordingly. It's a fairly simple system, but effective in helping to find what you are looking for.
Star Power
With much of the content on the site coming from pay sites and studios, there's a good mix of mainstream studio pornstars, as well as some obscure to well-known independent stars as well. Some of the top videos on the site as of this writing feature stars such as Lena Paul, Piper Perri, Lily Rader, Gianna Dior, Rosalyn Sphinx, India Summer, Amilia Onyx, Whitney Wright, Nicole Aniston, Amia Miley, and many more. As we mentioned above, there are also several independent stars whose content is uploaded to the site in a fairly large scale. But, we won't mention them by name here, because their content can be hard-to-find "in the wild" thanks to litigious and active copyright claims. If you know models like this whose content you look for, then check out YesPornPlease.
At the same time, as always, we want to mention – if you enjoy porn produced by custom or independent models, or even pay sites and studios, you should consider paying and signing up for a membership. This helps your models continue to output quality product for your porn pleasure, hopefully for years to cum.
Network
YesPornPlease does not appear to be part of any network or studio. While the content would suggest otherwise, it seems to be all user-uploaded. They do appear to have an affiliation with the site vShare.io, which serves as the place to upload videos for YesPornPlease, and does the actual video content hosting. This provides participating affiliates with Bitcoin rewards based on video views, so it's likely this is how the site is funded (there are no ads on the site, unlike many other porn tube sites).
Subscription
Access to YesPornPlease is totally free. You can view the site as a guest, or sign up for a free account for access to the added features described earlier in this review.
The Money Shot
YesPornPlease is a fairly basic site in terms of design and features. It doesn't have a huge amount of content compared to other sites. But what it does have is easy to find, mostly HD quality, and free from ads. It's also one of the most reliable sites for finding pay site content and full-length pay site and independent scenes that quickly get pulled down from other tube sites. There's always something new and interesting from major studios or independent artists here, so while it may not be your go-to tube site, it's worth checking out and searching for specific videos, sites, or models from time to time to see what's new.