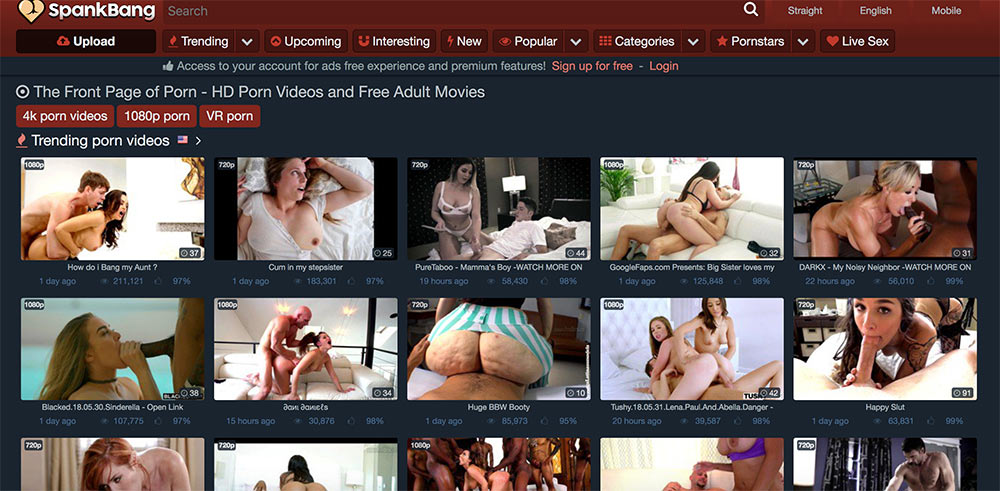 User Rating:
SpankBang is a free porn tube site. It has content from studio partners, as well as user-submitted content (often uploaded videos from other porn sites, including some pay sites). It offers many of the same features that you find on "freemium" pay sites like PornHub Premium, at no charge, though doesn't have quite as large of a catalog or diversity of videos. Still, it's a great site, offering a good number of free videos, with more being added every day.
The site is owned by BigBang Media LLC of Long Beach, California. This makes it an exception on the Internet, since many free tube sites these days are all owned by industry giant Manwin (now MindGeek, the largest porn conglomerate on the planet). Perhaps this independence, as well as a commitment to solid technology behind-the-scenes, is why SpankBang does so well. As of October 2019, they were the 200th most visited site globally by traffic, across all categories, and 100th in the US.
SpankBang Content
As a free tube site, the content on SpankBang is largely porn videos, ranging from professional studio content/promotional clips to user-uploaded videos, often from paysites, Clips4Sale, and other pay platforms. Videos are tagged and categorized, and range from SD quality up to 4K Ultra HD. They can be searched, browsed, and filtered in many different ways – by direct text search, by category, by trending videos, newest, most popular, and so on. Each category has numerous, sometimes dozens, of sub-categories to help refine a search, and results can be filtered by video quality, video length, and other parameters.
In addition to the videos, there's a fairly detailed database of pornstars present on the site. Through this database, you can access videos featuring those stars, or subscribe to that star. Subscriptions provide updates for registered users when any new video featuring that star is added to the site. The same kind of system exists to be able to subscribe to and follow users, typically because you enjoy the content or categories of content that they upload. This helps consolidate a feed of videos into your user account profile, which is just another way of making it easy to find the content you enjoy.
Though not implemented yet, the company has promised photo and animated GIF galleries will be added soon. They are also focusing on VR content, with over 100 scenes or videos added so far, and more expected to be added soon. Even without a headset, you can watch these scenes right in your browser (albeit in normal format, though with the ability to scroll side to side and up and down within the scene, usually about 180 degrees in each axis).
One of the nice things about SpankBang is they are very open and encouraging of you to download content, or embed it on your own site. Every video has a direct download link for you to save locally, so long as you've ever uploaded at least one video (that's the only requirement, designed to prevent bots from chewing up bandwidth). You can also add videos to your own playlists for later spank sessions, add public comments, rate/review the video, and similar activities.
A cool feature that SpankBang offers is an AI-based, machine learning algorithm running behind the scenes, that helps to capture sex acts in the videos, and index them to certain time codes. This means that in many of the videos, you can skip specifically to the start of a blow job, certain sex position, or whatever you like, quite easily. This is true regardless of category of video (though not all videos have this feature or have been processed in this way).
While no total number of videos featured on the site is disclosed, based on the categories and search results we'd estimate it to be in the several millions, but less than 10 million – still, more content than you could probably watch in several lifetimes, at any rate.
SpankBang Categories
There are 70 major video categories on SpankBang, representing all the typical mainstream areas – Amateur, MILF, Big Ass, Gay, Hentai, Lesbian, Solo, Shemale, Toys, and more. Each of the categories have several sub-categories in them. For example, under Lesbian, sub-categories include Babe, Teen, Big Tits, Brunette, Blonde, Small Tits, Masturbation, MILF, Fetish, Hardcore, Toy, Amateur, Big Ass, and Massage.
In addition to these categorizations, all videos that are uploaded can have tags added. These tags help with search results from the direct text box search for specific acts, fetishes, types of video, even adult stars. So there's quite a good mix beyond these basic categories in terms of what you can find on the site. The vast majority of the content comes from studio partners, pay sites, or other third-party sources – there's minimal "true amateur" content that is being uploaded directly by users to SpankBang and nowhere else. Despite this, the amateur category itself offers several thousand videos, so there's no shortage, regardless of your porn preferences.
Star Power
With a lot of content coming from studios and pay sites, most mainstream pornstars have content that can be found on the site. In addition, various niche stars, who have their own pay sites, Clips4Sale stores, or similar can also be found here. As ever, while this is awesome for users, we do suggest if you particularly enjoy a star's pay content, even on a free site like this, you should check out their official sources and purchase a video or two, to ensure they keep the good content coming (and keep you cumming).
The pornstar section of the site automatically brings up the top trending pornstars on SpankBang, as well as a full alphabetical listing. You can use this interface to easily find all the videos on the site featuring that star, and then sort and filter them with the usual tools the site interface offers. Top stars have thousands of videos, such as Riley Reid (3,998), Lisa Ann (5,223), Dani Daniels (2,226), Alexis Texas (2,418), Abella Danger (1,971), Sasha Grey (1,159), and many, many more. In total, close to 10,000 different pornstars are listed in their database.
Network
SpankBang is not part of any network or studio. It does have studio partners that provide content, in addition to user-submitted content (often videos found on other tube sites or elsewhere, including pay videos, rather than amateur content). It does have its own cam site, SpankBang.xxx, but that's really just a white label with their branding, which runs on the ICF camsite platform (the same platform owned and used by sites like Streamate.tv).
Subscription
Access to SpankBang is totally free. There's an optional account signup, but that's also free. Accounts allow you to mark and save your favorite videos, subscribe to channels and your favorite pornstars, earn achievements, and more.
The Money Shot
SpankBang, first and foremost, is a free tube site. That immediately gives it a lot of positive points, since most of us have limited funds to spend on porn, if any at all. They feature a simple interface, but feature-packed with ways to find the porn you're looking for, and also to save favorites for repeat or later viewing. With content from studio partners, as well as user uploads, this is a great place to find content that's normally behind paywalls, such as from niche models, Clips4Sale, and other pay sites. There's also a good mix of different content, since, unlike many tube sites, it's not part of the MindGeek adult conglomerate. At the same time, the content offerings in some categories are a bit limited. Despite this, it's a free site with several million videos, so it's worth a visit, and signing up for a free account, if for no reason other than you might find some videos and content that you haven't seen anywhere else.