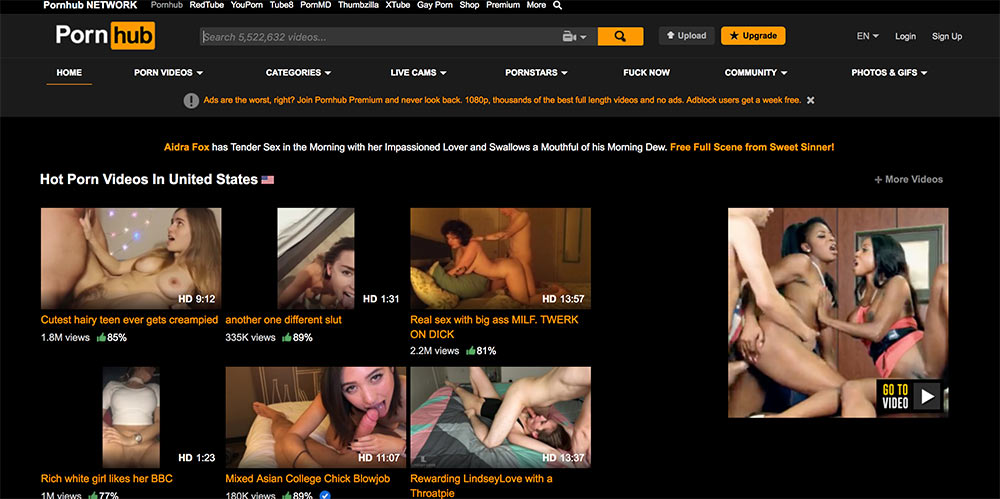 User Rating:
Pornhub is a ginormous porn tube site, boasting over 6.7 million videos of various sexual escapades and counting – the site actually went from 6.6 million to 6.7 million over the course of this review. If you can't get your rocks off browsing through this site, then you should probably consult a doctor. In addition to an amazing selection of videos containing people in various stages of nakedness and sexual situations, from college bimbos twerking in their panties to seasoned mattress actresses getting double anal poundings leading to messy double facials, the site also includes a variety of other content. There's also a library of porn pictures and GIFs, and the ability to subscribe to porn "channels" and customize your own feed to name just a few. Creating a free account is easy and gives you access to the majority of site features.
Pornhub Content
The majority of the videos on Pornhub are professional, but with an option for users to upload videos, there are a lot of real amateur videos on the site as well. Random guys showing off their ejaculation skills, barely legal girls shoving random objects in their snatches, etc. The preview thumbnail for each video on Pornhub includes both the scene length, number of views and the percentage of viewers who like the video and clicked the thumbs-up button. Each video page includes the option to mark it as a Favorite (if you create a free account) and options to like or dislike, share it on social media (just make sure it's not the account your mom follows) or download it.
Brief video previews are available by swiping over a video's thumbnail image. When you click on a video's thumbnail and go to the video's page, you can see related videos below it, comments users have left, the categories and tags associated with the video, and some screenshots from various spots in the vid. You can also see what user uploaded the video and subscribe to them if you want other videos they upload to appear in your feed. You can easily add a video to your Favorites, and you can also create different lists if you want to keep your favorite smut organized.
In addition to the crazy selection of videos, there is also a huge library of photos and gifs available. Pornhub also offers live cams if you're willing to offer some tips to play. You can also choose to open your wallet and sign up for Pornhub Premium, which apparently gives you access to more HD 1080p and 4k movies. But there's so much content available for free that if you ever run out of content, you probably need to rethink your porn viewing habits.
Pornhub also offers social interaction, as you can subscribe to and "friend" other users. Once you are friends with a user, you can message them.
Pornhub Categories
With over 100 categories to choose from, there's plenty of options to scratch all kinds of itches. In addition to the wide variety of categories, which are displayed alphabetically, Pornhub has a great search feature that makes it easy to find what you're looking for. The search bar has an auto-fill feature to help show you what's available. Into anal? Type "anal" into the search bar, and a list will appear below the bar with options like anal creampie, teen anal, milf anal, ebony anal, first time anal and surprise anal. When you search by category or the search bar and select a video, additional videos that are categorized similarly will appear below your selected video.
If you find a category or tag that particularly gets you going, you can probably find a channel for it. Pornhub appears to have over 3,000 channels you can subscribe to so you don't miss any of the content you love to cum to.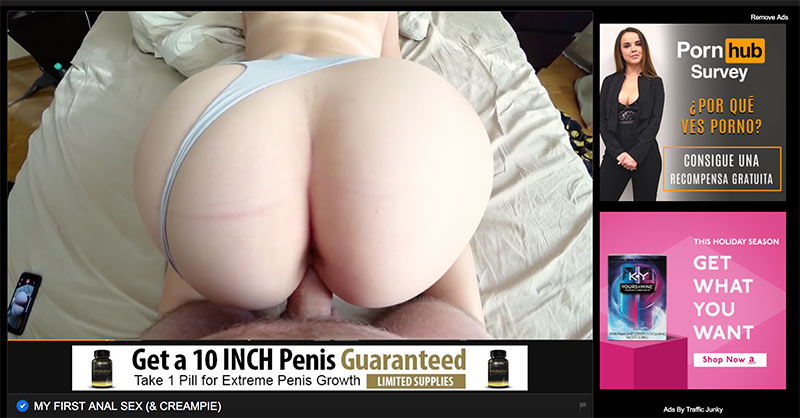 Star Power
There are hundreds of mainstream porn stars to choose from. You can search by popularity, which will show you results based on their popularity ranking, or you can search alphabetically. Each mattress actress or woodsman's thumbnail tells you their rank and how many of their videos are on the site. You can subscribe to your favorite stars so their videos appear in your feed.
Network
Pornhub appears to be an independent site and not associated with any particular network or studio.
Subscription
Pornhub is a totally free site, and indexes free tube site content. You can sign up for a free account if you wish to mark favorites, upload your own videos or interact with other users. Pornhub Premium is an optional pay-to-play option for some additional content, but there's plenty of free content to keep your juices flowing if you want to stay with the free option.
The Money Shot
On a protein shot scale, this site is one of those messy, spurting shots that starts when the dude pulls out, cum already dripping onto the chick's stomach, and then a second later cum rockets start hitting the pillow around her plastered face, with sticky dick yolk running everywhere in between. This site is that hot. Grab some lube and get comfortable somewhere that's easily cleanable. Guys, assuming that you haven't recently taken a little blue pill, an erection lasting for several hours while on this site is entirely possible, though you may develop a severe case of blue balls if you don't go ahead and clean the pipes at some point. Ladies, arm cramps or friction burn on your girl may occur if you stay too long. Seriously, break for a meal or something!