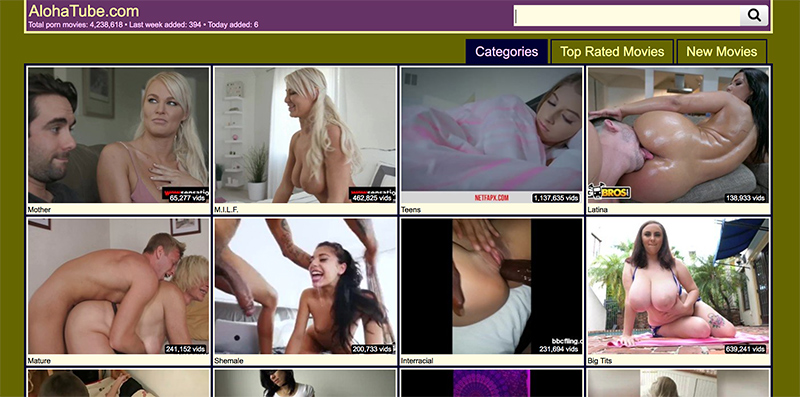 User Rating:
AlohaTube is a smaller-size porn video tube search engine and index site. The search feature is fairly basic, though browsing features large video stills as well as 10 slideshow image stills from the video that play on mouseover. There are about 500 categories of videos to browse through, as well as a direct search feature. Like most similar sites, no content is hosted on AlohaTube – all links re-direct to one of several different free porn tube sites, to the chosen video.
There's no information indicating the ownership or affiliations of AlohaTube, and given the layout and size, we believe it's a stand-alone site run by an individual rather than a company. Despite the fact that it has a very basic interface and looks a bit amateurish, it's fairly well-rated, with a traffic rank of around 3,200th across all categories globally, and around 5,200th in the US.
AlohaTube Content
The content on AlohaTube is indexed videos from external porn video tube sites. They have a relatively small catalog of just over 4.1 million, compared to TubeGalore and other large providers that offer tens of millions. Nevertheless, the quality of the indexed content is quite good, and is drawn from a decent number of different tube sites. There's a good mix of categories, styles of video, and so on, with large quantities in typical mainstream categories.
One cool feature that we like is that when you search in the search box, the auto-complete shows you a good range of terms based on what you're typing, just like when you use Google. It ALSO shows you the number of videos on the site with each of those category terms, which is really handy, especially when your hands are otherwise busy.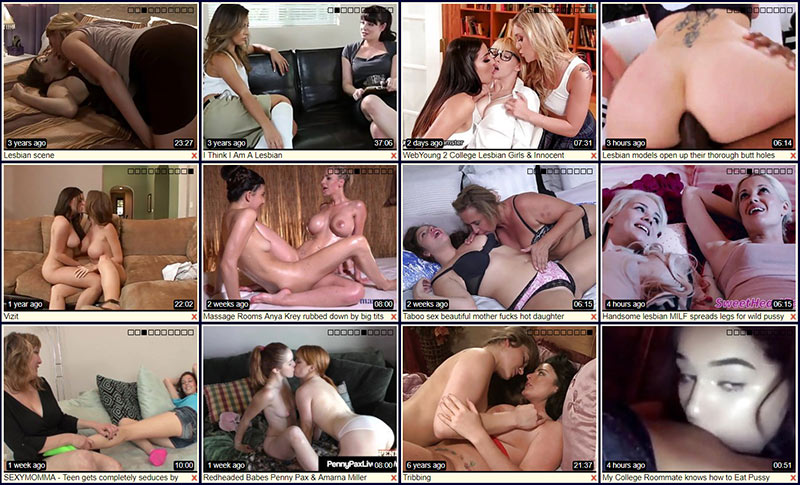 AlohaTube Categories
Using the simple search function at the top of the site lets you search for whatever categories or content you're looking for, and then browse the results below. You can also browse the top rated videos, or the newest added videos, via navigation tabs at the top of the page. The site also tags videos as part of the indexing process, into one of almost 500 different categories. These categories are listed at the bottom of the page, and can be clicked to browse content in those categories directly. The default home page "results" tiles include some of these top categories, along with the associated number of videos that exist in those categories in the index, and can be directly clicked as well.
Star Power
As the videos on AlohaTube are simply indexed from external free video tube sites, there's a pretty good mix and range of content. You can find videos from amateurs as well as many pornstars at all levels of popularity. It all depends on the content on the indexed sites, but there's a good deal of variety.
Network
AlohaTube is a stand-alone site and is not part of any network or studio.
Subscription
AlohaTube is totally free (there are just some advertisements present at the bottom of the page).
The Money Shot
AlohaTube isn't the largest, or even close to the largest, of the free porn tube indexing sites. It's got a very basic layout, and limited features compared to other indexes – no advanced search, no filters, and so on. Still, it's free, and searches far more porn tube sites at once than you can individually. It's got a few nice features, including the large thumbnails in the results, the 10 slide images that playback on mouseover, and so on. So there's definitely some cool stuff here. And it's free. We can't promise you'll find more or better content using AlohaTube than some of the competition, but it doesn't hurt to fire it up and give it a try – or just browse and find some new, free content you haven't seen before.