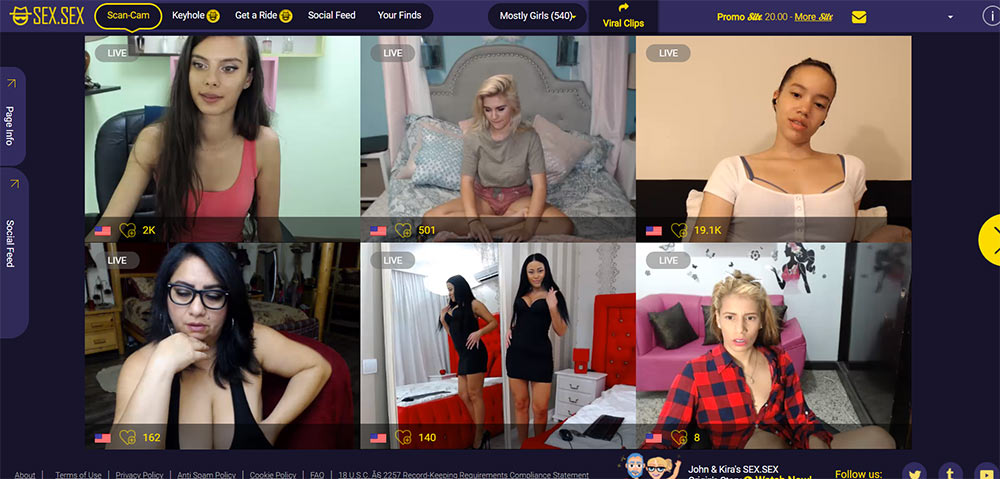 User Rating:
Sex.sex is a webcam site featuring female, male, and transgender performers. Like many webcam sites, the focus is on providing a diverse catalog of models from which users can choose to initiate private chats and other pay services. However, where they differ from most sites is in how they present their cams in a fun and unique way, utilizing a "scanning" theme that finds cams from around the globe as the main motif for the site. You also cannot search for models by name or filter by other criteria – rather, the scanning feature shows 6 at a time and refreshes often, from which you may access their feeds and add them to your list of favorites, putting a new spin on webcam sites.
While not heavily trafficked (the site sits around 500,000th globally by traffic across all categories), it boasts a respectable 500+ models on during off-hours and 1000 or more during weekends, which is not bad for a site that is only 2 years old.
Sex.sex Content
The main focus of sex.sex is the webcam streams and private chats, like many cam sites. They have several features, though, including:
Free video stream chats that can include fully nude and explicit content
Private one-on-one video chats for a pay-per-minute price
Keyhole feature – watch performers who aren't actively performing but leave their cameras on while they go about their daily life
Cam2Cam, allowing for intimate 2-way video chat experiences
Get a Ride feature, which essentially allows you to spy on private shows that others have paid for, at a reduced price
Tipping, ability to give models tips, which is especially encouraged in explicit free chats
Pre-recorded shows and more traditional porn videos are also available
Various features and social media elements round out the site experience
Sex.sex features performers of all genders and orientations, including solo female, solo male, lesbian and gay couples, hetero couples, transsexuals, and everything in between.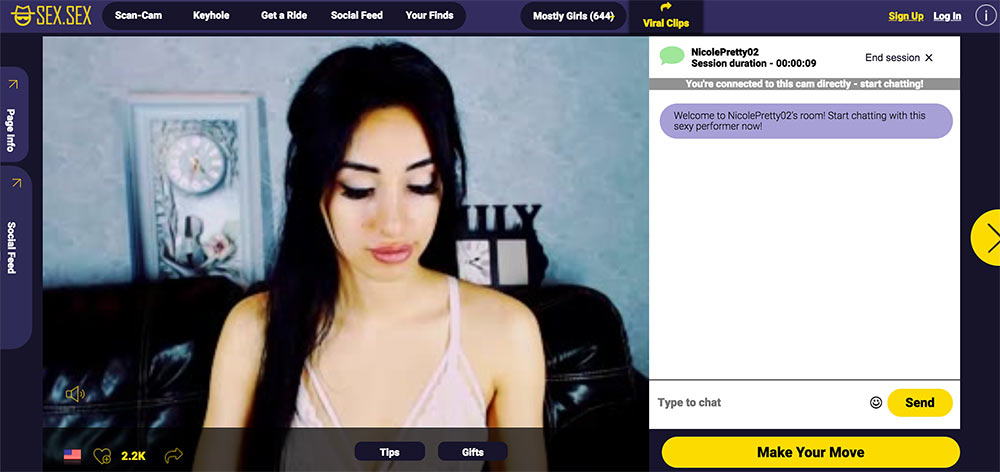 Sex.sex Categories
As Sex.Sex does not have a traditional browsing or search function, it is difficult to exactly pinpoint the categories of activities on the videos on the site. In general, though, they mirror those on most webcam sites, with performers in all categories doing a variety of different things, some in public free chats, and some only in private. What a model or model(s) are willing to do in private can be negotiated between the user and model.
Star Power
While the site offers a wide range of models of all genders and body types, there are no big-name pornstars on the site as far as we can tell. However, with 500+ models online at any given time, and over 1000 on weekends or peak times, there're definitely some girls, guys, or transsexuals here to get you hard or wet.
Network
Sex.sex is a stand-alone cam site, and not affiliated with any particular studio or network. They are owned by IML SLU, based in Andorra.
Subscription
FREE CONTENT ALERT!
The site features free video chats for registered members, which only requires a free signup – username, email, and password – and no credit card or other verification. Free chats are generally teasers, but some models provide shows for free and request tips before performing various activities, meaning fully nude and explicit free streams are available.
For private chats and many of the other features on the site, however, users need to purchase tokens, in the form of Silx, the custom currency of Sex.sex. These work similar to the tokens or credits on other cam sites, with a set amount for certain services (like the Keyhole or Get a Ride features), and negotiable rates per minute between a user and a model for a private show. Show rates run from around 10 Silx to 60 Silx per minute. As the best packages for Silx equate to just under 10 cents per Silx, this works out to $1.00 to $6.00 per minute, so it can add up very fast.
There are various ways to earn Silx without paying for it, including recruiting new users, social media posting, and other options, though even significant investments of time to generate free Silx will not amount of much compared to the cost of shows.
While there is a prestige/points system, awarded based on purchases, there are no VIP or other membership/subscription programs – merely Silx credit purchases. Purchases can be made via credit card or Paypal. In addition to individual purchases, a one-click purchase option is available, to buy-up and refill credits while in or entering a private show, to avoid interruption, which is a nice feature.
New accounts get an 80 Silx bonus on their first purchase, which we've omitted from the cost calculations below. Note that all purchases also come with a small amount of free viewing time that can be used on the Keyhole and Get a Ride features of the site only.
We do the math so you don't have to! Below, find a comparison of the different packages of Silx credits that are available.
Porn Explosion Advice: Take advantage of the $25 package as well as the free credit offer for first time purchasers, before committing to the more expensive purchases. If you do want to go all-in on the site, as always, the largest $200 package is the most economical – credits are slightly more expensive than the $25 package, but 10 additional minutes of Keyhole and Get a Ride access offset the $0.007 price
The Money Shot
Sex.sex is an interesting, updated spin on the webcam site genre. While some of the interface choices are annoying (the lack of ability to browse models by any criteria aside from gender and the Scan Cam stream 6-packs), it is these same interface aspects that lend the site a bit more mystery and "chance" element than the more traditional cam site catalog browsing. Credit prices are nominally in line with most other cam sites, and there are a large number of models to choose from. We think it's worth checking out and having some fun – since the site is pay as you go, there's no need to load up on a bunch of credits right out of the gate. Try out the free account or maybe take advantage of the promotional first-time offer of 80 free Silx and grab the $25 package. Find some models you like, check out some free shows and have a good time!