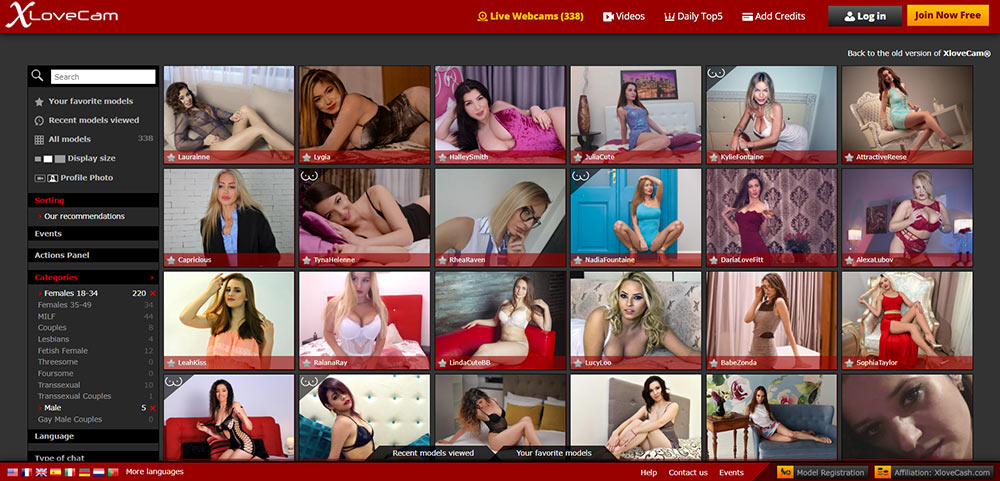 User Rating:
XLoveCam is a popular webcam site featuring performers from around the world in free and pay video chats. It offers a good interface and a large number of models online at any given time – women, men, couples, and transsexuals. Founded in 2006, it has steadily gained followers over time, and maintains the same commitment to quality and affordability as when it was founded. While not the biggest or most heavily trafficked site, it boasts over 80,000 registered performers, all of whom set their own rates for private shows, VIP access, and other services.
XLoveCam Content
The content on XLoveCam is primarily live webcam shows, with some image galleries and pre-recorded shows available as well. Most cam models are broadcast in HD, though not all, and there is no filter option. But aside from that, there are a number of nice features similar to other cam sites, including:
Free webcam shows to chat with models and request private shows
Private group or 1 on 1 Xclusive shows with models paid for with credits, including talking via microphone or Cam2Cam features for a more intimate experience
Free image galleries in performer bios
Free videos from some performer bios
VIP membership from some models, offering exclusive access to special shows and videos
Free email messaging on the site with all performers
Competitive rankings and feedback systems for performers
Some private shows offer a Sneak Peak feature to view short bits of action before deciding to join in
Interactive, controllable sex toys in private 1 on 1 shows (varies by model)
The site is non-discriminating in model type, meaning solo women, lesbian couples, male/female couples, male/male couples, solo males, and transsexuals solo and coupled are all available. As with most cam sites, however, the vast majority of the performers online at any given time are solo female.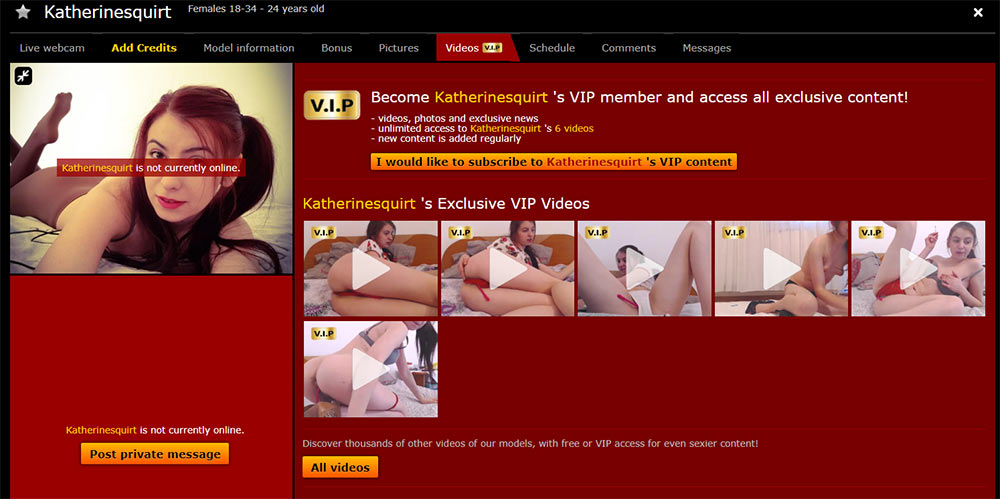 XLoveCam Categories
The categories of performers on XLoveCam are primary distinctions based on the type of performer. These include Females 18-34, Females 35-49, MILF, Couples, Lesbians, Fetish Female, Threesome, Foursome, Transsexual, Transsexual Couples, Male, and Gay Male Couples.
Users can further refine their search or browsing for models by any number of criteria, including languages spoken, type of chat, rates, age, bust size, hair color, ethnicity, and much more.
Star Power
XLoveCam is predominately an amateur site, and there is no top-level category for pornstars. While it is a filter option under the Featured Private Shows tab, we were unable to find any big-name pornstar talent on the site. However, most of the models reviewed are very attractive, and some could easily be pornstars – they have the looks for sure!
Network
While not part of any specific network or studio affiliation, XLoveCam is owned by Shoshoro NV, a video chat and services technology company that runs several other sites. As such, some models and content may be found on other sites as well. Credits and other features of XLoveCam do not transfer to other sites, however, so it is virtually a stand-alone site.
Subscription
FREE CONTENT ALERT!
Access to XLoveCam is free, and signing up for an account only requires a username, password, and valid e-mail address. Free accounts can access all free chats, which are generally teasers to allow you to text chat with models and entice you into a private show. Free image galleries are available in each model's profile page, as are some free videos and pre-recorded shows. For private shows, of course, you need to purchase credits.
Unlike many sites, credits are directly tied to dollars – that is, $1 is $1 once converted to credits, so there are no complicated conversion rates to figure out, which is nice. The cost of credits can vary somewhat based on the payment method used to purchase them. Band transfers take the largest cut, with Paysafe cards and Paypal in the middle. Direct credit card billing gives you 100% of your purchase price in credits, and is the best deal.
The rates for each performer are chosen by the performer, so the cost for private shows can also be quite variable. Lastly, VIP passes are available on a per-model basis, also at variable cost. These give access to special VIP features and shows that models hold, though not all models participate so availability will vary by model. As always, we recommend users be cautious in buying credits, as a single private show can deplete your wallet pretty quickly.
Porn Explosion Advice: Start with a free account, look around, and if you like what you see, buy a small amount of credits. They can be depleted very fast, so it's better to start small and understand what you get for your money, as the cost of private shows and VIP passes can add up very quickly!
The Money Shot
XLoveCam is a good middle-of-the-road cam site with some very attractive models and nice features. It is comparable to other cam sites in terms of technology and layout, though it is nice that the credits are expressed in dollars and are 1:1 equivalent, so you know how much you are paying for a show or service. If you like solo female webcam girls, grab a free account and grab yourself, then browse the site before dumping a bunch of money into credits. But if you find a model who you really like, give a private show a try – just don't spend more than you can afford.