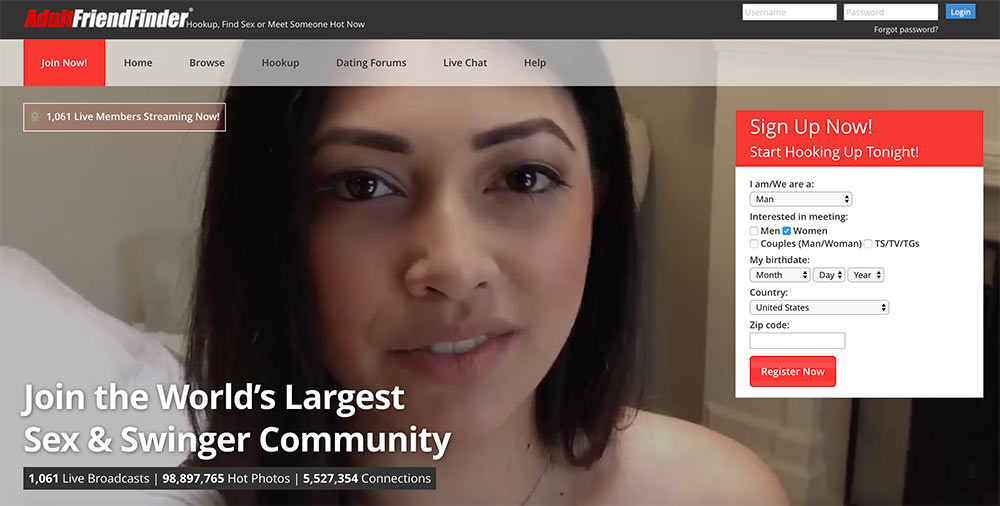 User Rating:
A rap gentleman once lamented in the late 1980s about "Sittin' at home with my dick on hard. Picked up the book for a freak to call." If only AdultFriendFinder.com had been in existence then. While "Friend" in the site's name might lead some to believe that the main goal of its millions of users is to find someone for wonderful conversation, the "Adult" part of the name should help clue would-be visitors into their real intent. No, these users are not looking for someone to accompany them to book club, they're looking for someone to help them have an orgasm. Period. In person or online, these horny people have itches to scratch and loads to blow.
Adult Friend Finder Overview
A well-established site, Adult Friend Finder was launched way back in 1996 in an effort to bring together horny people looking for more action than they could find in person and on their own. From shy-but-naughty types to married people looking for side action, the users are as varied as their numbers are large - membership is in the millions. In addition to the usual features of a dating site, AFF incorporates features similar to those found on porn sites: adult blogs, adult chat rooms, live member webcams, adult videos, a course-by-course sex academy (yes, you can actually display certificates of completion on your profile), and more.
Registration for Adult Friend Finder is am easy process that can be completed in just a few minutes. You fill in some information about who you are and what you're looking for. You can include as little or as much info about yourself as you want, add pictures (showing as little or as much as you want) in public or private albums, and write blog posts. There are various optional tests you can take, like personality and purity tests, as well as optional profile questions to answer about your sexual appetite. You can be open about sexual talents or fantasies and any specifics you like. If you are especially talented at curling her toes and getting that O-face while eating pussy, you may want to include that to help attract some ladies. If your specialty is deep-throating dicks up to 9 inches long, let the fellas know!
Members can be as active as they're comfortable with, with options ranging from simply browsing the site and passively contacting members by marking them as favorites or giving them a wink, to interacting in live webcam sessions. Free members can't initiate contact and are forced to be more passive, so if you're trying to use the site without breaking out the credit card, try filling out your profile as completely as you can, upload some enticing pictures and then see who bites.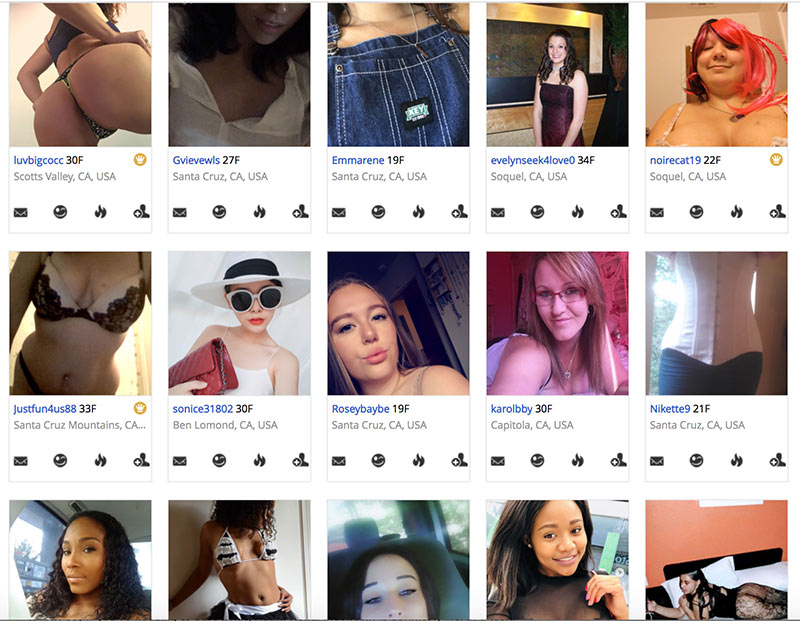 Subscription
If you're open to spending some money on the site, you're in luck. Upon your free registration, you're immediately presented with the option to "Upgrade now so you can hook up tonight!" The prices at the time of this review are as follows:
12 Months Gold - $180 billed yearly, $15/month
3 Months Gold - $60 billed quarterly, $20/month
1 Month Gold - $25 billed monthly
Paid members are able to initiate contact and message other members on the site free of charge, although some video sections do require additional payment to unlock. The site also operates on a points system that helps to gamify the entire experience. Points can be earned through various activities on the site or via purchase. Points can be used to "tip" member updates, member images, and member videos you like, watch naughty videos, purchase free membership months or prizes, and gain access to certain areas of the site.
Navigating through Adult Friend Finder
Member updates, such as new pictures or videos, provide a social media-like way for you to interact with other members. If responses to your update, such as likes, comments and tips, cause an update to trend, it will be featured in the site's livestream. The more active you are, the better chance at getting some profile views.
Navigating to AdultFriendFinder.com on your mobile phone will bring you to the mobile version of the site, which is more condensed and easier to use on a smaller screen. However, you do still have the option to switch to the full desktop version.
Awards
2010 - XBIZ Award for "Dating Program of the Year"
2012 - About.com "Best Adult Dating Site of 2012"
2015 - YNOT award for "Best Dating Company"
2016 - GFY award for "Best Dating Company"
The Money Shot
With AdultFriendFinder.com you have a better than average chance of having an orgasm. With another person, no less. With millions of users, it's not hard to find someone with the same interests and kinks as you, and there's interaction options for all comfort levels. So, if you're needing to bust a nut, AdultFriendFinder.com is definitely worth a look. Good luck getting your freak on.