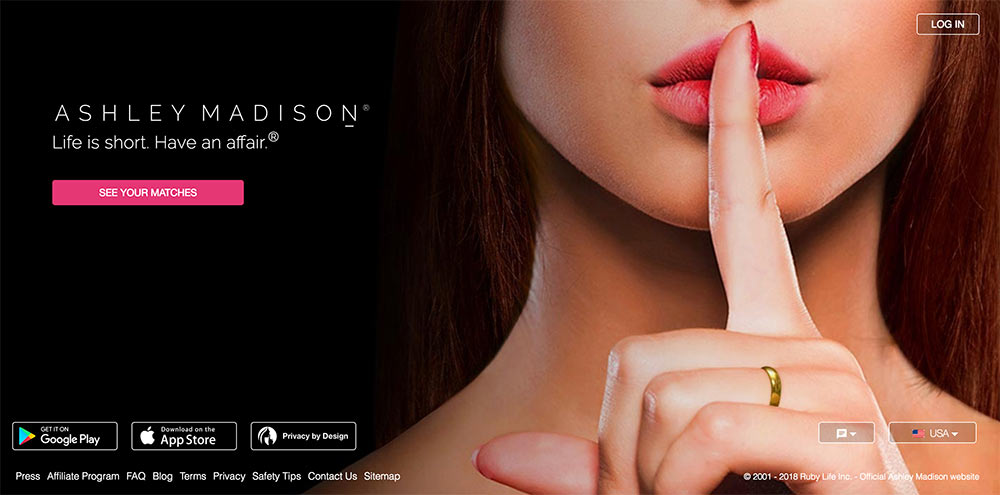 User Rating:
For many of us, the thrills of simple, ethical online dating simply aren't enough. Our carnal desires yearn for something even beyond hot, local singles, kinky hookups, or emotionally healthy relationships. Those that have cast morality to the wind may find something a little more tantalizing with ashleymadison.com: a dating site that specializes in facilitating affairs amongst its married users.
Ashley Madison Overview
As discreet as the name Ashleymadison.com is, so too does it seek to help its users be discreet in seeking illicit affairs. Though the site isn't limited specifically to those who are married, it was originally marketed as one of the first online dating spaces where discontent spouses could connect with other fellow discontent spouses.
Creating an account is easy enough and basic accounts are free. In addition, you're prompted to put in your marital status immediately and what you're looking for on the site. Since the name of the game is "discretion," you'll have the option to upload a profile picture, but AshleyMadison.com allows you to disguise your photo with a number of editing techniques, such as cropping, blurring, or adding a mask.
Once your account is up and running, you'll be able to browse local singles, and not so singles, in your immediate area. Ashleymadison.com doesn't automatically match you up with potential flings, nor are there chatrooms or groups to browse, so you'll have to find matches the good ole fashioned way: by looking.
If you come across someone who piques your fancy, there are several ways to reach out to them, but almost all of them cost money. If you want to send or receive messages, you'll have to pay for "credits" that are used to purchase various services across the site. You can also start a "chat session" with a particular user, but again, this will require money paid to unlock features.
Should you find someone that is truly breath-taking, you can send them a priority message, which bumps your message up to the top of their inbox, making it more likely that you'll catch their eye. Expect to pay for this feature as well.
If you don't like the idea of paying for these features, might we suggest that you instead be a woman? Women on AshleyMadison.com use the site for free, not having to pay anything to unlock usable features (items like virtual gifts will still cost, though). A pretty handy method to increase the female user base and attempt to limit male users.
AshleyMadison.com has other features that set it apart from other dating sites as well. Men can choose to pay to be a "Priority Man," which thrusts your profile towards the top of search results, greatly increasing the chances that a disappointed housewife will notice you. They also offer a feature called "Traveling Man," which allows you to send messages and view profiles of women that are going to be in the area that you're traveling to, should you be looking for something discreet on the go.
Aside from those features, AshleyMadison.com is a pretty lean, simple site that's quite easy to use and navigate. There is a large emphasis on discretion and privacy, which makes sense considering what most are looking for on the site.
Subscription
Unlike a lot of dating sites, AshleyMadison.com doesn't offer a flat subscription rate to unlock all usable features. Instead, it operates through a "credit" system. These credits can be used to use the messaging features (again, unless you're female, then it's free), as well as buy virtual gifts or boost your profile. The credit purchase options are as follows:
100 credits for $59.00 ($.59 per credit)
500 credits for $169.00 ($.34 per credit)
1000 credits for $289.00 ($.29 per credit)

This option also comes with 30 days of being a Priority Man for free, as well as unlimited messaging for the first 24 hours of use.
If you're wanting to use the Ashley Madison App, it will cost you an additional $19.99 on top of the price of the credits you buy. These purchases are billed discreetly if you're trying to buy them under the radar.
Navigating through Ashley Madison
Navigating your way through AshleyMadison.com is incredibly easy. Once you've created your free account, you'll immediately see potential hook-ups of people based on their location. You can scroll through these matches as well as clicking on profiles. As you can imagine, most profiles are blurred or otherwise private, so don't expect to see much without first reaching out with a message.
Beyond browsing profiles, you have the option to refine your search by selecting options at the top of the webpage. You can use the basic search, which filters based on age, location, and last time the user was online, or you can use the advanced search, which has literally dozens of different options to choose from, including the primary language of the user, ethnicity, and whether or not there are public photos on the given profile.
Next to the search tab towards the top of the page, you can manage your profile on the "manage profile" tab. This allows you to add or remove photos, beef up your biography, add or remove interests, among a number of different ways to customize your profile. You can also choose "Lists" to see users you've saved as your favorite, "view profile" to see how your profile is publically viewed, "viewed me" to see who has viewed you, and "mailbox" to see if anyone has sent you any messages. This same row of tabs also has the option to activate the "traveling man" feature and a tab where you can go to buy credits.
Finally, and perhaps the most important feature of all to those who are regular users, there is a "panic" button that will quickly navigate you to an inconspicuous website should a suspecting spouse try to pounce behind you.
Awards
Though AshleyMadison.com has received a lot of press and publicity, we were unable to find any awards it had won.
The Money Shot
AshleyMadison.com is a clean, easy to use site that offers ready access to a niche dating sector: those looking for affairs far and wide. The site has made tremendous progress since its inception in 2002. It has persevered through an insane data breach in 2015 where any and all customer information was released publically, including emails, credit card info, sexual fantasies, and more. The site also used to charge a $19 "full delete fee" that supposedly completely scrubbed your info from their servers (spoiler alert: it did not). However, we were able to delete the account we created with no fee at all.
AshelyMadison.com has also faced scrutiny about the number of female users on the site and AshleyMadison.com revealed that it has tens of thousands of bot accounts as company policy (this has since been phased out).
So what does this mean for you? AshleyMadison.com is in its best iteration to date. The site still gouges you with very high prices (it costs 5 credits to start a convo with someone, for example), but it is at least upfront about its pricing and privacy rules.
If money is no object and you've always wanted to try to be the "other person," then AshleyMadison.com is likely a good choice. Decent userbase, great search functionality, and unique features all come together to help make it likely you'll find someone you jive with pretty well. Go find your special already-taken someone and just have a wonderful time!